This new seaside fixture will make your day much more colorful.
Featured photo taken by Stephanie Munguia
When you walk down Venice Beach, you may expect to see impossibly muscular powerlifters, local artists selling their wares on the boardwalk, and azure waves crashing onto unsuspecting sunbathers lying on golden sands. Recently, though, a new feature of the beach may catch your attention: a rainbow lifeguard tower.
In June, local LGBTQ+ husbands and artists Patrick and Michael painted the lifeguard tower at the end of Brooks Avenue in all the colors of the rainbow as a way to celebrate Pride Month. This perfectly Instagrammable fixture was never meant to be permanent, but to be repainted its original blue at the end of the summer.
The site quickly became popular with the LGBTQ+ community, however, and a change.org petition was started to keep the tower painted in its rainbow hues. It quickly garnered nearly 11,000 signatures. Sheila Kuehl, who became the first openly gay person to be elected into California state legislature in 1994 and currently serves as a member of the LA County Board of Supervisors, urged her colleagues to save the rainbow tower. She suggested that the tower be dedicated to the memory of the late Bill Rosendahl, the first openly gay person to serve on the LA City Council. On September 5, the Board of Supervisors voted unanimously to keep the tower as a gleaming monument of equality and representation, and in the process honor a local LGBTQ+ trailblazer.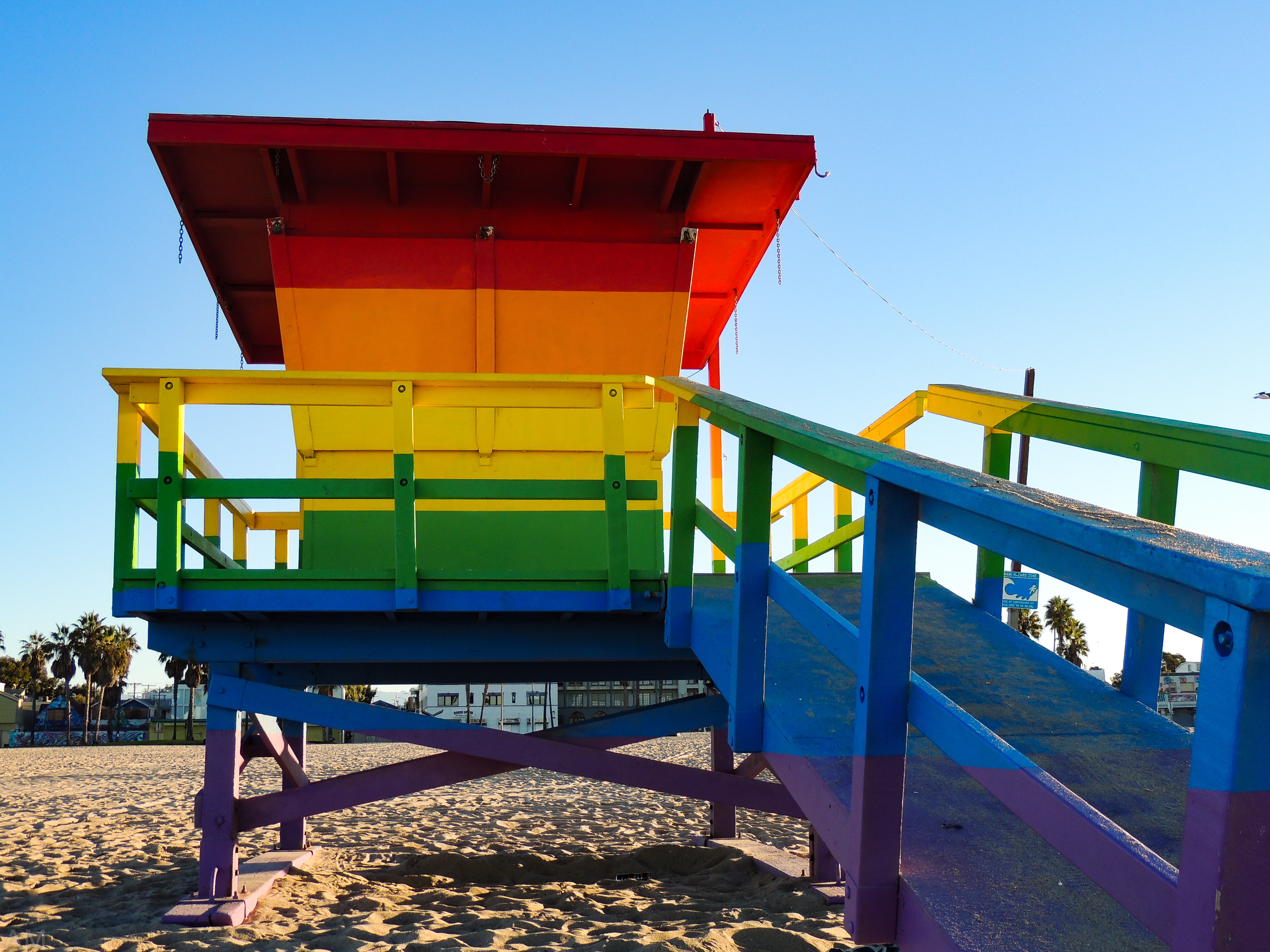 We in the LGBTQ+ community can find a significant amount of visual representation during Pride, but during the other eleven months, the Pride flags retreat back into the LGBTQ+ enclave of West Hollywood. This means no more visual outward support from public places until the next time Pride season rolls around, aside from LGBTQ+-specific places and events.
That's why this lifeguard tower, in all its kaleidoscopic glory, is of momentous importance to me. I can walk down the beach or the boardwalk in a place that has not been designated specifically as an LGBTQ+ area, where I maybe would not expect to see anything pride-related, and see this beacon of solidarity that is not dedicated to a tragic happening in LGBTQ+ history, but to love.
This is the message that the artists wanted to convey, as stated in an Advocate video documenting their achievement: "For the first time, we wanted something that had nothing behind it with pain. This was simply by love." This is a heartwarming message of hope and solidarity for current and future generations of people, no matter who they are or who they love. It is so, so important for LGBTQ+ people to have this public display, this public affirmation that they are accepted, that they are worthy, and that the community around them accepts and loves them for who they are. Perhaps this not-so-innocuous tower can become a symbol of love for our community not only in Los Angeles, but across the world.