Graphic by Carmen Ngo
Let's be real, dating is difficult for queer people. Personally, as a queer, agender, polyamorous person of color, I find it difficult to find like-minded people to form genuine romantic connections with. We would all love for connections to happen organically; I for one would love to meet a queer cutie selling strawberries at the farmer's market, but unfortunately, it's unlikely. Furthermore, considering our minuscule dating pool, you will probably end up pursuing your ex's girlfriend's brother's partner's ex. Cisgender, heterosexual people may have far more options, but queer people want to find love (or anything else) too!
I wondered: why not try dating apps? They're simple, accessible, have options to filter people to adhere to specific preferences, and most importantly, provide a way to meet queer people beyond one's immediate connections. Perfect, right?
Turns out, there are numerous reasons why not, and not all dating apps are created equal. You, dear queer (or otherwise identified) reader, will hopefully learn from my queer experiences of using seven dating apps.
I will be evaluating four apps marketed to supposedly everyone (Happn, Bumble, OkCupid, and Tinder), and three apps marketed specifically to queer people (LGBTQutie, Grindr, and Her), and evaluating them based primarily on queer friendliness, with a discussion of functionality as well. For the sake of consistency, for every app, I selected an age range of 18 to 28, used a similar profile, and chose the binary gender of female when I had to, clarifying that I am actually nonbinary and use they/them pronouns. I rated each app on a scale from 1 to 5 rainbows.
Happn 🌈
Let's start out with the least eventful (unlike the name implies) app. The basic premise of Happn is that within your chosen preferences, the app will show you people you've crossed paths with, giving you the option to like and message them. I'm sure this app would intrigue many; the appeal of it seems to be that you have the chance to encounter again people who you passed by once without a second glance. I tried this app due to fascination, but alas, it was not all it was cracked up to be.
I signed in by connecting to Facebook, and I first noticed that although my gender on Facebook is nonbinary, Happn automatically listed me as a man. I went to the settings to change it, and to my frustration, was unable to. I had to manually go to Facebook and change my gender to female there for it to appear on my Happn profile. There were no options for other genders; the only vaguely queer-friendly feature is that I could select to see both men and women.
Nevertheless, I gave Happn a chance, watching people who I had supposedly crossed paths with pop up on my phone. The majority, however, were older straight men, and I did not receive any messages. Nothing seemed to be Happning, and regardless, I was terrified of this app at this point, finding it decreasingly romantic and increasingly creepy.
Bumble 🌈🌈
Bumble is interesting. Although Bumble has a similar swiping mechanism to Tinder, when two heterosexual people match, the woman must message first, within 24 hours; otherwise, the connection is lost. If the other person does not reply within 24 hours to an initial message, the match also disappears. In same-sex couples, both people have 24 hours to message. Although I did not like the heteronormative set up, with the assumption that matches would contain a man and a woman, I did like this structure, because it forces people to actually talk to each other to show interest, instead of swiping endlessly and never speaking to their matches. Bumble does not have any option for nonbinary genders.
I eventually got bored with this one, finding that even when I remembered to message people within the 24-hour deadline, I rarely received a response back. I had a few forced interactions with people I knew previously, and that was all.
OkCupid 🌈🌈🌈🌈
OkCupid is the best dating app for queer people. Upon signing up, it provides a diverse selection of genders and sexualities, allowing you to pick up to five of each. (As you can see, I took full advantage of the gender options.) The only aspect I was not happy with was that I was asked to choose if I wanted to be seen in searches for men or for women.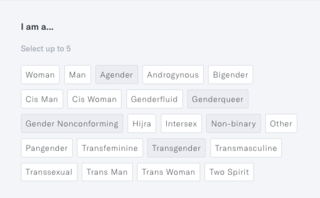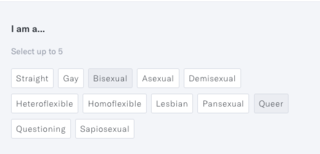 However, this was still acceptable because of possibly my favorite feature ever.

In my opinion, every dating app should have this beautifully tempting button. I'm not interested in being seen by straight men who fetishize me, and I have no desire to see them either, so this is a wonderful solution. As a nonbinary person, I felt mostly accommodated by OkCupid. It was refreshing to not have to misgender myself, although I am still upset about having to still abide by the gender binary in searches.
If you are looking for a relationship, I would say that this is the app where most people are also looking. OkCupid has a lot of space to fill out a complete profile, and also includes questions to find people similar to you. It's not as addictive and transactional as other apps, and does require more effort.
Tinder 🌈🌈🌈
Ah, Tinder. What can I say about this one? When most imagine dating apps, Tinder is the quintessential app. The sole dependence on swiping left or right on matches, however, renders it quite binary for people like me. Although Tinder recently introduced a variety of options for gender identity, one must still choose to included with either women or men, and select interest in men, women, or both.
By including myself within the category of women, and selecting interest in men and women, I encountered a selection of hoards of cisgender, heterosexual men, with occasional queer women, and rare bisexual or nonbinary people. This was frustrating, because although I frequently matched with straight men, they would often ask me intrusive questions about my anatomy with the first message. It didn't matter to them that I am nonbinary, only if I have a vagina, which apparently welcomed sexual commentary. I often just turned off my preference for all men on the app, even though I am interested in men, to avoid this harassment.
My clueless self did not anticipate that since Tinder is hugely popular, I would have to duck behind a wall or avoid Bruin Walk so as to not run into Tinder matches, oops! I did not have this problem with any other app, so it's either a testament to the benefits of Tinder, or the detriments.
Grindr 🌈🌈🌈
I have to be honest: I was on this app for only a few hours. I am definitely not a gay man, which this app is geared towards. Upon signing up, I was prompted to choose a tribe, for which the options were Bear, Clean-Cut, Daddy, Discreet, Geek, Jock, Leather, Otter, Poz, Rugged, Trans, and Twink. Being innocent and unknowing, I immediately chose "Trans". I quickly realized that the majority of other people in that tribe were transgender women, a category which I definitely don't belong in. This was the only option for gender identity other than listing it in a profile, so the app automatically assumes that anyone who signs up is a man.
On Grindr, one can filter by age and tribe, so most people who I showed up in searches for were "chasers," or men who fetishize transgender women. Almost immediately I received a message of a man who had custom set his name to "TS Girls Only," introducing and sending a picture of himself (at least it wasn't his dick!) Freaked out by this incident, I deleted Grindr right away. Furthermore, racism is prevalent on Grindr, with many profiles openly rejecting people of certain races. Although this app is beneficial for cisgender, gay men who are primarily white, it provides a hostile environment for any queer people who fall outside this category.
However, coinciding with this years' Transgender Awareness Week, Grindr is now rolling out various trans-friendly features, allowing users to specify their pronouns and gender identity. Although it is definitely still a masculine-dominated space, many nonbinary people may feel more comfortable here.
Her 🌈🌈🌈🌈
I was initially reluctant to sign up for Her, a lesbian geared app, due to the implications of a womanhood I've always been insistent on separating myself from. However, it turned out to be fairly good for queer people who fall outside of the lesbian category. I was able to list my actual gender and bisexuality directly, which was useful. However, I was not allowed to filter specifically for bisexual or nonbinary people, unless I bought the paid version of the app. In this way, Her does assume that each individual who creates a profile is comfortable as being seen as a woman looking for other woman. Her isn't for me, personally, but it does well overall.
LGBTQutie 🌈🌈🌈
I am really conflicted on LGBTQutie. This is the only app that I've joined that is marketed towards LGBTQ people overall, which is really rare. It is also the only app that does not impose any kind of binary gender, with a diverse selection. However, the usability of this app did not appeal to me. It requires filling out of several surveys to create a full profile, which, full disclosure, I was just too lazy to complete. Additionally, the majority demographic on this site appeared to be older people, most of whom are either married or looking for friends, which doesn't make it appealing to college students. This doesn't seem like an app to find relationships (or honestly, hookups) on, but if you just want to talk to more queer people, I'm sure you could on here. This app gets points for queer-friendliness, but I'm not a fan.
Through my dating app adventures, I found that both mainstream and queer dating apps have a lot of work to do on being actually accessible and functional for diverse queer people. Although creepy people are easily found on any app, I love the feeling of finding fellow like-minded queer people, and being able to know that I don't have to explain myself, that we already have an unspoken bond due to our queerness.
Although Bumble, Happn, OkCupid, and Tinder make efforts to appeal to queer people, they are still intended for Straight People™ due to the pervasive assumption of heteronormativity. Out of all of these apps, I found that Okcupid succeeded the most in queer-friendly features, and Happn succeeded the least. Out of the queer-specific apps, I found LGBTQutie to be the most inclusive, yet least accessible, with Her and Grindr targeting specific parts of the queer community but doing so relatively effectively. Personally, I would love to see an app geared specifically towards transgender and nonbinary people.
As I dissolved into exam stress, I slowly deleted all the apps of off my phone, with the exception of Tinder. As ridiculous as it is, I find it entertaining, easy, and hopeful. Besides, it's good for my self-esteem.