Photos by Jaden King
When UCLA announced that online instruction would begin Week 10 of winter quarter and last until April 10, ultimately to be extended throughout the remainder of the academic year due to the COVID-19 pandemic, I contemplated whether or not to go "home." I told myself it would be financially smarter to go "home," save money, and come back to Los Angeles whenever possible. Little did I know, coming "home" to southwest Washington had a larger price.
Of course, I love my family and seeing them is always a nice break from the usual hustle and bustle of Los Angeles. However, I can only handle being "home" for three weeks at a time, maximum. After three weeks, the emptiness of this town and the cold reception people have to anything related to left-wing politics eats my identity away. After three weeks, I see myself slowly conforming to my old high school self, someone who wasn't as comfortable and confident in my identity, both queer and political.
COVID-19 has forced me to be "home" for three weeks, plus another seven. In other words, way too long. In these last ten weeks, I have felt my confidence in being openly queer and expressing my identity slip away. I am more careful about what I say regarding politics, fearing that I might offend someone. I am more conscious about what I wear, hoping I don't veer too far from the side of masculinity. And, I would NEVER, EVER feel comfortable walking out in a full face of makeup. That would be "too much" for my hometown. Anything outside the heteronormative lifestyle would be out of place, and would certainly solicit disapproving looks and the occasional homophobic slur.
Well, here is what I have to say to COVID-19: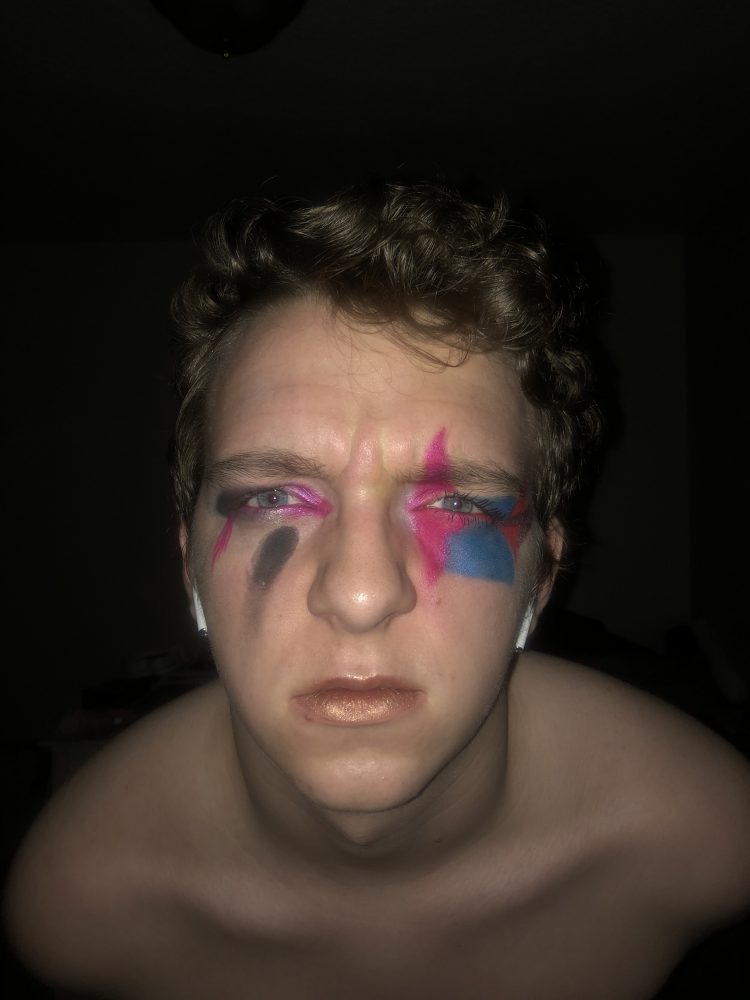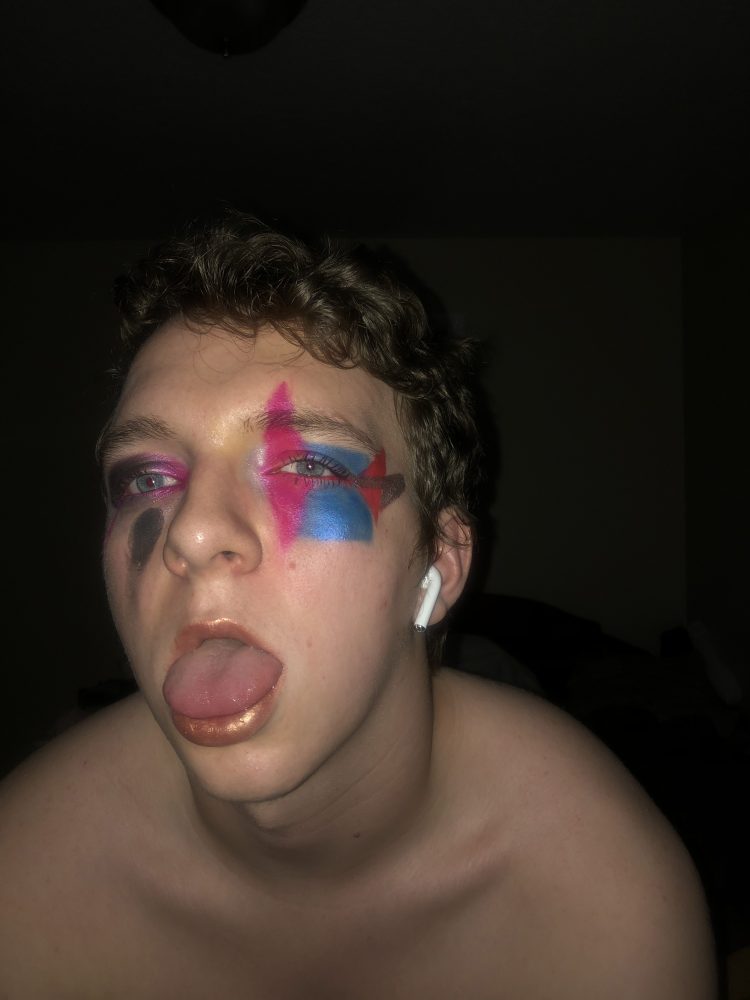 With this makeup look, I wanted to give an artistic representation of how my queer identity feels at "home," in a small and conservative town, in the time of COVID-19.

On the left side, I wanted to frame my queerness in a dark context. The black base of the eye represents the repressive feeling of being "home." I feel suffocated and drowned out by a community and sometimes family that is far from accepting. I wanted to show my physical identity that is forced to hide while I'm "home." To do this, I used my finger and placed it on my cheek and streaked it downward. I wanted to show that part of my identity is fleeting away. However, despite that suffocation, I still find times to express my queerness, often at night after all of my family members are well asleep. This is represented through the hot pink eyeshadow in my inner-corner, waterline, and the tears streaking down my cheek. There are numerous times where my queerness is dying to get out, through clothes, make-up, the "effeminate" flick of the wrist, dance, ANY medium, but I always find myself contextualizing these perfectly normal thoughts against repressive outcomes that may come from it.

(To contextualize this even more, I did this entire look at 2 a.m. There was a moment where one of my family members woke up, and I immediately rushed to turn the lights out and pretend to be sleeping. I prayed that they would not open my bedroom door and find out what I'm doing. Luckily, they did not.)
On the right side, I wanted to position my queerness with absolutely no limits. Therefore, there are no restrictions on the dimensions of "typical" eyeshadow. I wanted to approach this side with a geometric and abstract point-of-view. This side of my face is how I aspire to express myself at all times. It's how I approach my queerness when I live in Los Angeles. I use bright colors with metallics and mattes to symbolize how bold and out-there I want to be 24/7. In addition, the use of geometric shapes was to try and add dimension. Queerness is extremely multidimensional, and it has layers. Ultimately, the right side expresses my ideal sense of identity, where I have the ultimate freedom to explore who I am without the fear of societal standards and pressures.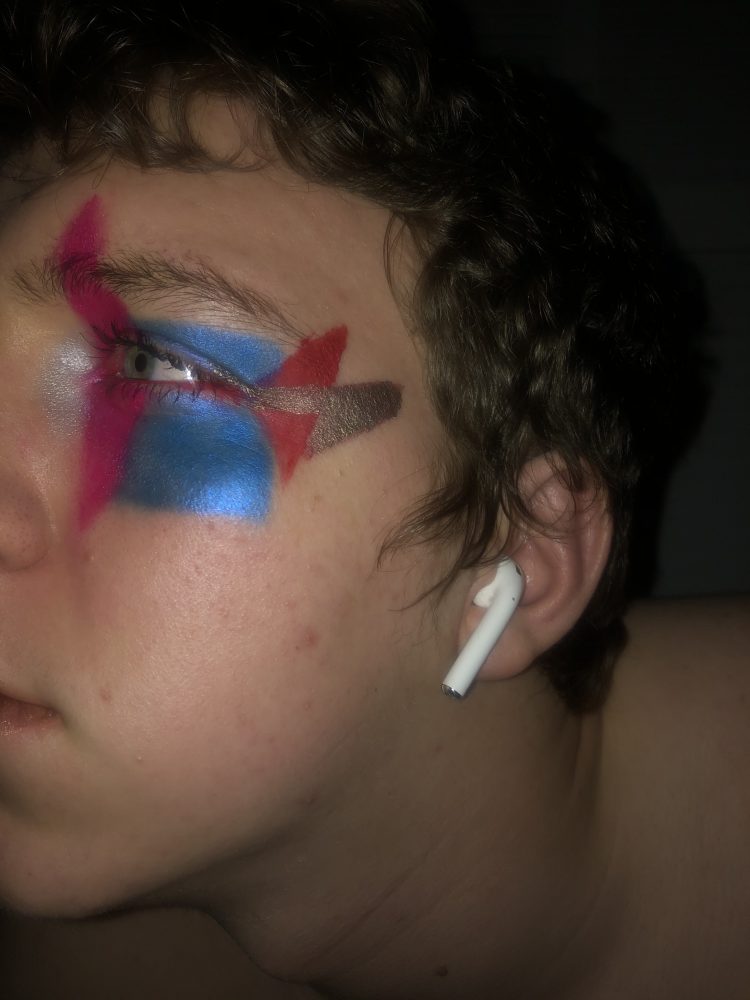 While doing this makeup, I felt extremely inspired by Lady Gaga's album "ARTPOP", her songs "Stupid Love" and "Rain On Me," and her recent interview with Zane Lowe about her upcoming LP "Chromatica" (releasing on May 29 – this Friday!). In the interview, Gaga discusses how her brain doesn't understand the concept of attributing gender to personality. Gaga states, "I tend to like aspire for things to be genderless just because I think it's significant." She continues, "I really have a tremendous disdain for people that attribute gender or sexual identity to your personality. Like, I hate that." When watching this interview, I felt this statement resonate with me on such a strong level. I reflected on this and concluded that this is exactly why I have a hard time being home. Gaga adds, "I think if someone says like oh you're like 'your personality's masculine,' I'm like, 'what does that even mean.'" Almost everyone at "home" does this: they define somebody in terms of their masculinity and/or femininity. Some of my closest friends do, and even I do. I'm not going to say that I don't, but Gaga made me question why I do this. Gaga made me question my own concept of gender and sexuality. 
Overall, this makeup look tried to comment on my own identity and how I feel about my time being queer in a small town during COVID-19. COVID-19 has forced me to be surrounded by such a binary way of thinking, and I hate it. It has made me think more often in harmful and shameful ways about my own identity. It has made me yearn for my return to Los Angeles in July. COVID-19 has made me realize that a little town in southwest Washington will never be my "home," but that Los Angeles and places where I feel safe to explore myself are more home than anything.