Photo by Sarah Joyce
---
For the second spotlight of this series, we have Sky Cubacub (pronounced Koo-BAH-Koob), an exuberant and innovative fashion designer and artist currently working in their hometown of Chicago, Illinois. Sky (they/xe) is the founder of Rebirth Garments and has been into fashion and design from an elementary age. Rebirth Garments is a fashion group focused on creating "gender non-conforming wearables and accessories for people on the full spectrum of gender, size and ability," through fully customizable looks and designs. As someone who became quite interested in fashion at the start of the COVID-19 pandemic, and the niece of a fashion designer, I was so fascinated by Sky's use of color, fabric, and textures to create overall unique designs that bring accessibility to fashion and to the wearers of xyr clothes.
During our 45-minute talk, we went through numerous topics, from their cool head tattoo to making fashion accessible to the Filipino erotic "Macho Dancing." I was impressed by Sky's relentlessness to keep xyr feet in fashion albeit the challenges of being a queer artist working during the pandemic. It was an honor to interview them and I hope you enjoy this conversation as much as the last.
Giulianna Vicente: If you could give me a little introduction about you, that'd be fantastic!
Sky Cubacub: Cool. Yeah. I'm Sky Cubacub. I use they/them and xe/xem/xyr pronouns. I run Rebirth Garments; I started it in 2014 after I had to take a year off from college because my stomach stopped working properly and I also stopped being able to wear a lot of the clothing that I had previously worn. In high school, I wore a lot of like, really tight skinny jeans that were like the tripp jeans. I stopped being aware of that because it hurt my stomach quite a bit, so I started making clothing that was really soft and comfy and stretchy, mostly made out of spandex and like, especially things with soft waist bands like this *shows garments*.
I've always had sensory sensitivities, being neurodivergent and also having a lot of folks on the spectrum in my family; sensory sensitivities are very intense, especially as a child, so I wore, like, my socks and underwear pretty much always inside out. And so yeah, making things where seams could be on the outside and it would still be part of the design, or just that it's soft enough, that seams actually don't bother me too much anymore. That's kind of the disability side of where I started.
But I also was very interested in making gender affirming lingerie, like chest binders and packing underwear and tucking underwear. When I was in early high school, I got super interested and wanted some of those gender affirming undergarments, but couldn't access them because of being a person under 18 who also didn't have access to any sort of digital money… And most of those garments were only sold in person at sex toy shops which you're not allowed to go into unless you're over 18. I originally thought they would be two separate clothing lines, but immediately I was like "Oh, it'd be really cool if I just made a clothing line where it talked about both of these identities plus other identities." It was at that intersection because I hadn't seen that before in any other clothing line.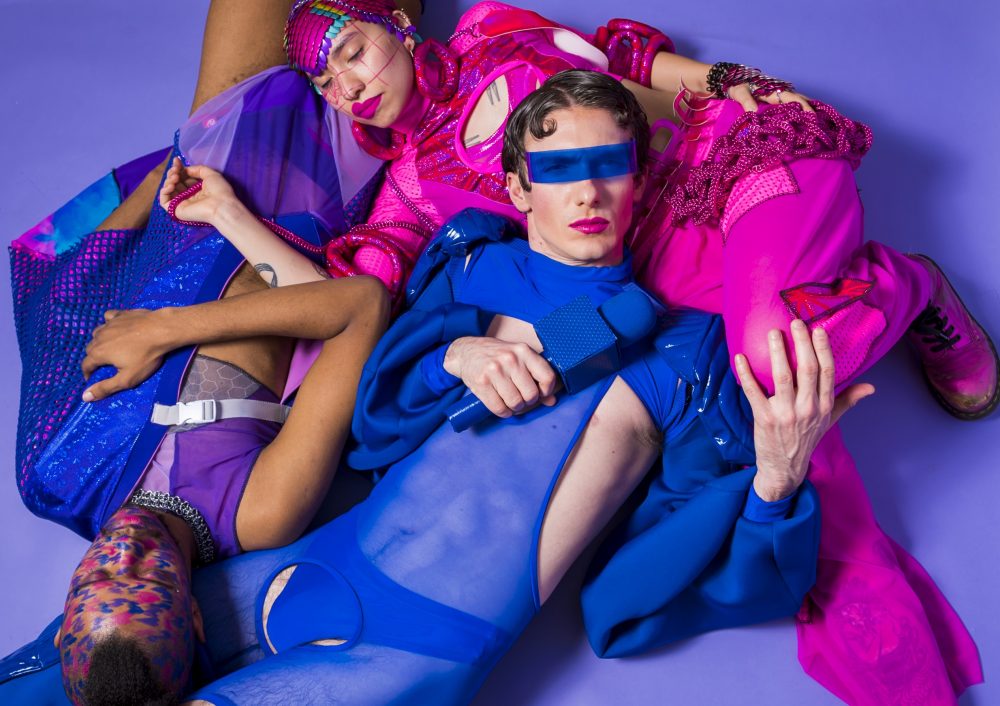 Photo by Colectivo Multipolar.
GV: That's really awesome. How did you get into fashion?
SC: I was interested in a lot of kinds of bodily adornment when I was very young. I started beading when I was five years old. And then, when I was 13, I was allowed to take a chainmail class. I was immediately the fastest chain mailer that my teacher had ever seen. It really vibed with my neurodivergency so well… I was just chainmailing, nonstop, stuff all the time, especially in high school. Sometimes I would chainmail for like 20 hours straight and forget to use the bathroom or eat (I didn't have the words for it then). Now, I know that it was a type of stimming and I just really needed that for my brain, so I just would be stimming at all times.
And that was what got me into fashion. I was making chainmail garments and actually I remember (maybe) my second chainmail class with my teacher, Rebeca Mojica. I was like "Oh, maybe if I worked my whole life, I could make one whole chainmail outfit," but then two years later I made my first one, and then I made another, and then I made another, and then in my senior year of high school, I made an 18 whole-look collection. So, that was like the first collection that I made (you can find those videos on my Vimeo).
My teachers at Northside College Prep were so amazing and super supportive. They were like "Okay, this is awesome. You have to come up with something to go underneath these outfits, though, because they're a little too see-through for high school. Like once you get to college, you can be as naked as you want, but in high school, we are getting in trouble with the other parents." And so I started wearing unitards underneath. The unitards that I found at stores were really ugly, they only came in like black or a baby pink or white or this weird beige that was marketed as nude. So I learned from my twin best friends' mom; [she] taught me how to make unitards on a serger because she is a great sewist and quiltmaker, but also a professional dancer, so she knew how to make her own unitards and leotards. I got really fun colored spandex from Spandex World and we made like 18 unitards to go underneath all of the outfits. That was my first sewing of garments that were spandex. And then in college, I got more and more interested in seeing where those could go. Chainmail is awesome — I went really hard in college and started making really complicated chainmail outfits — but then I was like, "You know what, making spandex outfits that are cool and fun and patterned and colorblocked is also really cool… and way faster." So I can make a lot of them instead of like, one really wild chainmail garment a month; I could do like 30 outfits in a month. So yeah, that's how I got really interested in it.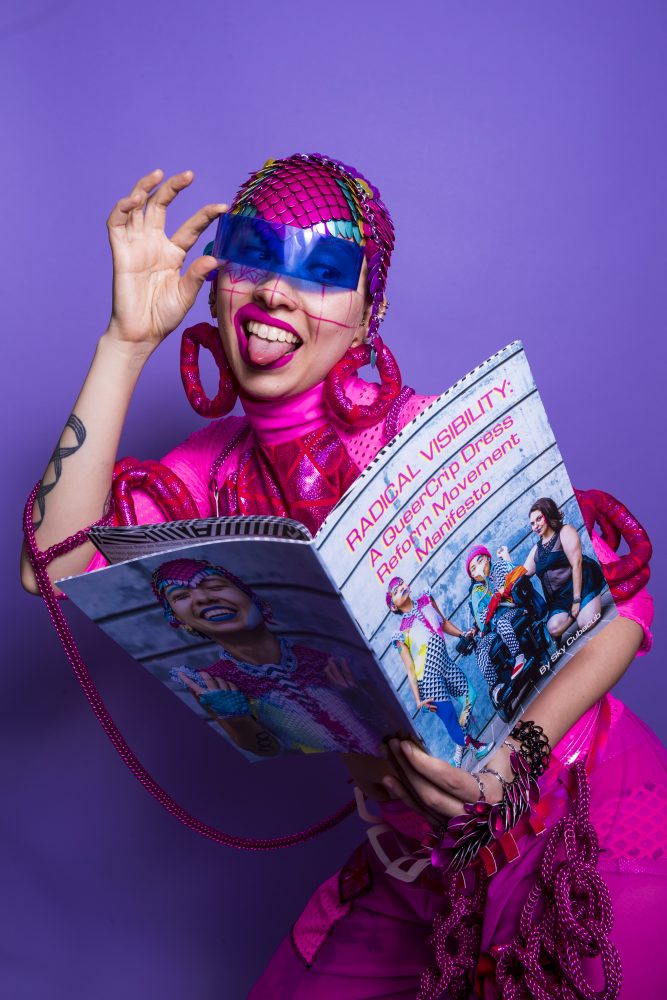 Photo by Colectivo Multipolar.
GV: That's really awesome. I was looking through your website and saw that you use a lot of disabled models, which you don't get to see a lot in the fashion world as well as just the world in general… Aside from the modeling aspect, what other inclusive practices do you implement when you're making garments and when you're producing and showing your fashion?
SC: Yeah, so all of my employees get to completely design their own schedules, they all just have keys to the studio, and then they can work whenever is good for their bodyminds, including myself (although sometimes I push [myself]). I'm still working on my side sometimes, but it is still nice because I've been hospitalized a lot in the past couple of years because of allergic reactions to vaccines…I [also] had one of my ovaries and a cyst taken out just two months ago, so yeah, taking off a lot of time for that, or like pivoting work towards giving interviews and lecturing and teaching virtually so that I could do it from bed. But yeah, my employees, they all only work at the times that are good for them. They just go in the studio when it's good for them, which is also pretty good for COVID safety, because we don't actually have a lot of overlap. But we also have always taken COVID very seriously and worn masks in the studio.
As far as the garment-making with my models, I always interview all of my models. I asked them "What will make clothing more accessible to your body? What will make clothing show your gender expression best? What parts of your body do you like to highlight? What parts do you feel vulnerable about? What parts do you feel vulnerable about, but want to highlight in this context?" And that's how I create their dream outfit for the fashion shows. Then any clients who want to can do that same interview process.
Sky patterning a garment. Photo by Colectivo Multipolar.
Now I think we're pivoting Rebirth a little bit because keeping up with the demand on the Etsy shop has become too hard. As my health has seemed to get worse in the past couple of years and I've gained more disabilities, like in December 2019 I got mono, so now I have chronic fatigue syndrome from that as a post-viral illness.
Etsy has really changed in the past couple of years, and [corporate Etsy] is trying to pivot themselves to be a competition with Amazon which makes absolutely no sense because the whole premise of Etsy was that you're getting handmade things. But they punish sellers for taking off time, not answering messages within 24 hours, if you get anything less than five stars every time… Like if you get 1% reviews that are less than five stars, you get punished. It's like, really wild. I've had to turn the shop on and off a bunch because of health-related things. So we're moving away from that and just selling a much smaller selection of garments on the Rebirth Garments website now because we just built the web shop… and seeing how that goes…Then we're gonna try and do some more of the full-look customs because everything we do is custom, but it's kind of easier sometimes to do a full look for a person than it is to do just a ton of singular garments for people. We've started doing private teaching for kids and teens to make their own collections through a disability and queer and nonbinary lens. That's what we're working on now.
GV: Introducing [this form of art] to the next generation is really awesome. For me, I'm also [neurodivergent], so just existing is kind of political… So how does art influence your activism/advocacy?
SC: Both my parents are/were artists. My dad has passed… I always don't know how to [address that] correctly…Even though my dad was not a great person, he did have radical politics, which also kind of means absolutely nothing if you're not actually bringing that into your personal life…But I still saw that influence, like he emigrated to Chicago when he was 14, he right away started the chapter of the Students for a Democratic Society at Lane Tech High School, he was friends with the Weather Underground, he knew The Janes who did the underground abortions. He was always very much an activist and anti-Vietnam War when he came to the US. I saw how [he] from such a young age had to get into all this type of radical politics to survive because of being a very small immigrant from the Philippines, so that definitely influenced me in some ways, but then my mom actually — even though I don't think she views herself as political or an activist — treated me with such radical care and she actually acted the things that my dad spouted. Just always really advocating for me, from a young age, to let me express myself and however I wanted.
Sky at 5 years old with their mother.
I was getting in trouble a lot as a second grader for the way that I would dress. It was not even that wild, but I was getting in trouble and she would always super advocate for me because I transferred to a school that was a lot of…white people compared to the school that I went to previously [which] was pretty much only Latinx folks. The school principal hated me, just like having a grudge against me and would say that I was part of a gang for wearing two different colored socks. My mom did some research (I don't even know if it was real research cuz, you know, the Internet was still very new at the time) and was like "Oh, well, it's only a gang sign if it's a one colorful sock with one black sock, so we just threw away all of Skye's black socks, so it's fine." I don't even know if that was a real thing, but I just liked that she was like "No, no, it's, it's fine… let Sky express themselves." I feel very lucky that I had such a supportive mom, and, you know, a lot of queer folks and disabled folks didn't/[don't] have that, so [I'm] trying to spread that wealth.
GV: Thank you for that. So I'm gonna kind of go off the track: you mentioned that your father was Filipino — I'm Latine [and was] raised in a Catholic family — I don't know much about Filipino culture; is there that type of tension between sexuality and gender?
SC: Because the Philippines was also colonized by Spain, Filipinos, culturally, are a lot more similar to Latine folks than they are to most Asian [or] Pacific Islander folks. Plus, Latinx cultures smush…I've grown up with Latinx folks (my first grade school [was mostly] Latinx folks), so I've always felt super comfortable with [them]. Luckily for me, my dad really rejected Catholicism; in general, Filipino culture is extremely Catholic. The Philippines is really intense just because there are people that have almost always been colonized; there's hardly been a time pre-colonization. Even the earliest name for the Philippines is a Chinese word — there's nothing before that…
I've gotten really interested in pre-colonial Filipino culture and expressions of sexuality and gender because it is in our lineage. We have a third gender called Bakla. Typically, in history, it's seen more for trans women…In recent years, I feel like more genderqueer folks in the Philippines are calling themselves Baklas. Sometimes, [folks use the term] with very strict and Catholic families [so that the families] can kind of be like, "Oh, I kind of understand," take the ideas from the past and be like "… I can kind of put that together in my head."
I [also] got super interested in macho dancing, which is typically done by gay men. In the Philippines, it's an erotic dance for gay men, but it's amazing. There's this whole genre of macho dancing movies that a couple of different people made that are banned in the Philippines; even though they were made in the Philippines, they're banned. But if you look up macho dancing on Wikipedia — the suppression is so much that even though it's 100% gay and queer — it'll be like "This is an erotic dance that men do for women." Even in the Wikipedia [page] somebody changes it to be like, "No, it's Heterosexual," when it's not.
GV: Have you danced it?
SC: Yeah, I mean, I'm not trained, I don't really know if there's necessarily training, but [there's] this amazing dancer who dances in this Peaches' music video…I have kind of learned that dance. I did some drag king performances, where I kind of copied that dance — body rolls and then just posing. I am obsessed with this [macho dancer],Eisa Jocson, [who also does] high femme pole dancing. It's typically done by gay men, but it's so exciting for me to see an androgynous AFAB person [performing it].
GV: Yeah, absolutely. And you touched on earlier and now on nonbinary-ness and, just in general, expressions of gender fluidity. How does gender and sexuality interact with disability for you?
SC: I've always been neurodivergent, and I would say, pretty radically, visibly mad. My whole childhood, I did not have the knowledge or skills to cope with my neurodivergency… whatsoever. So I was almost always having panic attacks all the time…up through college. It wasn't until after college and after I left a really abusive relationship that I mostly stopped having panic attacks, which is wild, because I thought that that was just how life was: just [having] panic attacks multiple times a day, every day. But then I was like, "Oh, it's actually when, I have full autonomy over myself, and I'm in a fully supportive environment, I don't have panic attacks."
When I was one of the co-presidents of the Gay Straight Alliance at my high school in my sophomore year, we went to a summit for all the presidents and co-presidents for Chicagoland. They had a really awesome presentation by drag kings on how they did their looks and that's when I became obsessed with thinking about wearing a chest binder and packing underwear, but I didn't have access to it. I started questioning my gender and stuff, but I didn't know that it was an option to be nonbinary. I only knew about binary trans folks and I didn't feel like a man. But then when I was 18, I met somebody who is nonbinary. I was like "Oh my gosh, that's what I've been feeling."
It wasn't until last year that I found out from my current housemate (who runs Vulpinic Vestements, which is also a really cool neuroqueer, disability-friendly fashion line, but has silicone embedded into it, so it's really fun and stimmy), Vieve [about] xenogender and I was like "Oh my gosh, that's how I feel." I mean, there's all the studies about how folks on the spectrum are more likely to be trans or nonbinary just because [they are] more likely to break the rules. So I feel that [disability and xenogender are] very much tied.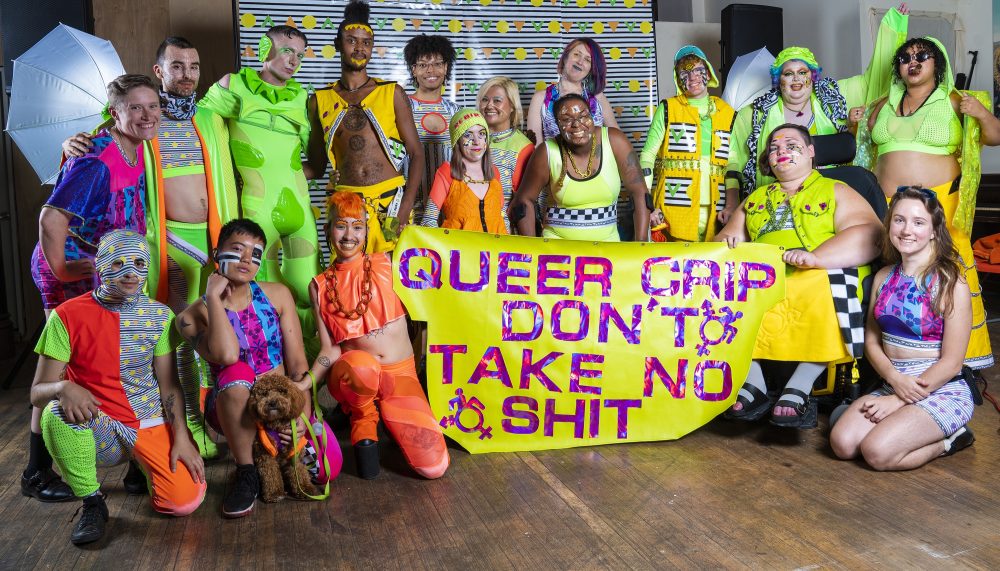 Photo by Colectivo Multipolar.
GV: You were just talking about xenogender and that idea. How do neopronouns help represent you?
SC: I was pretty interested in neopronouns when I first came out as nonbinary. I guess it was kind of a process I was interested in when I was 18, and I just slowly would be like "Okay, use they and she," just because I was [trying] to get other people to transition smoothly. I felt like it was too difficult to get people to use they/them pronouns that I didn't bother using neopronouns even though I was interested in them. It wasn't until last year that I was like "Okay, I'm gonna go for it" because I [recently] saw so many people shitting on them and being really horrible about it. And I was like "What?! This is a beautiful way to express yourself, and getting the autonomy to choose your pronouns fully or create your own is so amazing." So yeah, I started using xe/xem/xyr as well as they/them. I just don't really understand why people — I mean, this has been my problem all my life — want to control so many people for such silly reasons. Why can't we all take each other at our words and just go along [when] somebody says who they are? I decided, now that I do have quite a large platform, [that] it would be good to just come out and talk about it more so that it can help to destigmatize it and get more people used to it so that hopefully in the future everybody can get to choose whatever pronouns they feel matches them and not have it be such a big deal.
GV: Thank you for sharing that. So, last topic. July is Disability Pride Month, as we both know. Do you think it's important to have a month dedicated to disability pride?
SC: I don't really care for the months or days because I feel like they all get very corporatized. But I think that for some people it is the only time they see disability representation. So the more we get into their eyeballs, hopefully, [nondisabled people will] start to learn a little bit more and have more empathy for us. But [even though there's] still a pandemic, people are completely ignoring it and pretending that it doesn't exist anymore. It feels especially hard this year. Last year, people were already like "It's over!" But, now that everything is "getting back to normal," we're all just being left behind completely. Again, it just feels even more like a slap in the face. I just keep on truckin' with my own work and hope that I can affect the people around me or people who see my work in a positive way. And I do see that and I do see them then taking in teaching other people. So that's what I just always focus on year round.
GV: Awesome. Generally, why is Disability Pride important to you?
SC: I think it's always been very important to me as a person who couldn't pass as sane as a child. Just to be able to be like "It's just a part of me and I feel proud of who I am." I know that it's really hard to live in this world as a disabled and neuroqueer. Lots of times, it feels so impossible, but ultimately, I think we're the ones who are doing super important things in life. And even if we weren't, we're still extremely important, just as people. So yeah, I've always felt very proud. I've always been very confused by other people's ideas that you shouldn't be proud of who you are, it just never made any sense to me.
GV: Thank you. Thank you for making time for me to do this. And yeah, if there's anything else you want to share, feel free.
SC: I've been working with the Chicago Public Library [for] the past two years on a queer DIY fashion curriculum called Radical Fit, which also has a lot of disability-centered things just because that's what I'm about. We have like 85+ videos up there…They're all free to everybody. It's centered on stuff that's for teens, and [uses] either free or super cheaply priced materials, but it's for everyone, because it's on YouTube.
You can find Sky and their art, resources, and other goods through xyr website (or through xyr AllMyLinks) and on their instagram @rebirthgarments.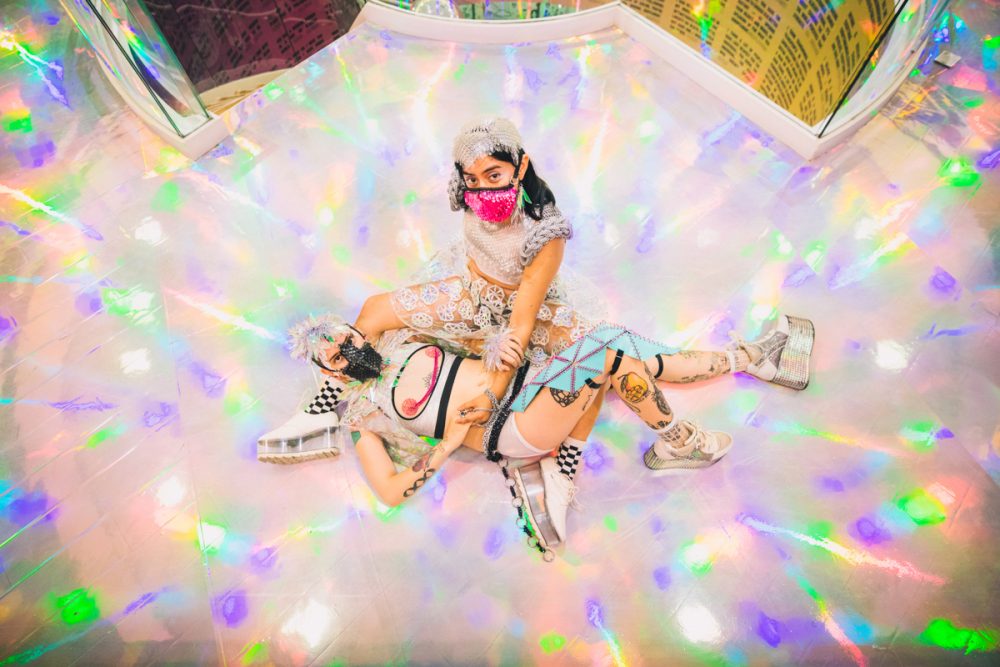 Photo by Colectivo Multipolar.
---
Credits:
Author: Giulianna Vicente (She/Her)
Copy Editors: Christopher Ikonomou (Xe/He), Emma Blakely (They/She/He)