Photo by The Mother Birdie
---
As we make it to our fifth piece in the Disability Pride (Month) series, I am excited to introduce our spotlighted advocate, Birdie (they/them). For those who are on TikTok, you may know them as @TheMotherBirdie. I had the pleasure of getting to interview Birdie and talk about a grand assortment of topics, ranging from them being a Deaf singer to their love for drag, learning, and advocating. They were such an amazing person to talk to and learn from!
This article will include our discussions on the Deaf community and its acceptance of trans and nonbinary identities, Birdie's experiences with drag makeup, and some great stories that have come from them being a popular TikTok creator. As always, I hope you enjoy reading this article as much as I have enjoyed writing it and interviewing our spotlighted folks.
Giulianna Vicente: If you don't mind, will you tell me a little bit about yourself? Anything you feel comfortable talking about?
The Mother Birdie: I'm The Mother Birdie, my pronouns are they/them, and I am your local Deaf singing drag queen.
GV: Thank you for that. In terms of identification, what would you identify yourself as?
TMB: I'm not sure. I just usually say I'm queer and trans and Deaf and disabled. And if you want to stick around, cool, if you don't, I'll see you later.
GV: When did you get into singing?
TMB: I've been singing since the beginning. I'm a fourth generation professional musician and singer, so I've been singing on stage with my dad since I was like four years old.
GV: Did that have an influence on your musical theater interests and career?
TMB: It did for a long time, especially because I felt like I had to…be a woman singer and I'm a soprano, a high soprano. It started to get to the place where I was auditioning for stuff and going out for roles and people didn't want to cast a nonbinary Deaf singer in a musical…It's a lot to take on and I definitely had to renegotiate what music looks like for me and how I experienced music as a Deaf singer because I started losing my hearing when I was 16 or 17 years old. I had to teach my body how to hear music rather than my ears how to hear music.
GV: What's your favorite performance you've done?
TMB: I played Diana Next to Normal years ago, that was probably my favorite role. I'm used to playing older woman roles, but it's been a long time since I've performed in a musical just because people don't want to cast a Deaf singer. But I'm looking forward to doing more in the future.
GV: Hopefully with COVID-19 becoming more and more controlled, there will be more openings and things start opening up like within diversity too.
TMB: Yeah, and I think a lot more queer people [along] with Deaf people, disabled people are getting to have the director's chair now, we're getting to have a say in what we're producing and what we're involved in. So I'm really excited to see what the next 10 years [bring], how the world of theater and musical theater and drag progresses in the way of inclusivity and accessibility for people. I'm really excited to see that.
GV: How do your experiences and your background and music translate into what you do on TikTok and your other social platforms?
TMB: So I haven't done a ton of singing on TikTok. Honestly, just because the numbers don't do great. But I prefer to sing opera stuff; that's where my niche is in music and that comes from the world of musical theater, also the world of classical opera and stuff like that.
GV: When did you get into drag makeup and drag [culture]?
TMB: As a nonbinary trans person, I like to say I've been doing drag my entire life because that's just how it feels, but I started drag really for two reasons. The first one, I wanted to recognize the person that I saw in the mirror, and that's as a nonbinary trans person, but also as a person with facial difference. I have a birthmark called the hemangioma which is basically a bunch of extra face veins, so I've had many, many surgeries on my face and I got very used to seeing a different face when I look in the mirror after a surgery or whatever. Experimenting with drag makeup and drag as a visual art form was one of the ways that I started to recognize myself and really see the person that I feel like I am. The second reason is my background is in theater…I got so sick and tired of my acting coaches and professors telling me that I can't do everything, "You can't write the show and direct and stage manage, lighting, design and costume. You can't do all of it and star in it," and I said "Oh, yes [I can]." That's how I got into drag.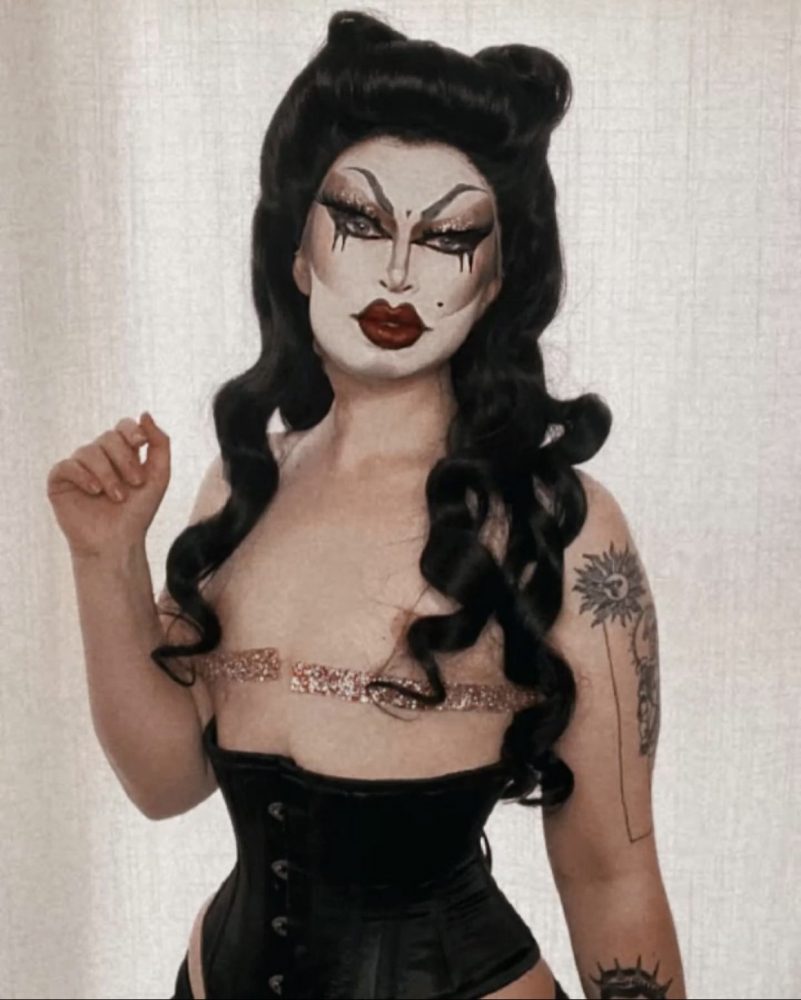 Photo of The Mother Birdie in drag wearing a long wavy black wig, black corset, and rhinestones across their top surgery scars. Photo by The Mother Birdie.
GV: How do you think art as well as social platforms help you with advocacy and activism?
TMB: To be honest, I don't really know how to feel about calling myself an activist. It might come as a little bit of a surprise to people who are familiar with my page because I do talk a lot about being Deaf and disabled and trans. And I do post a good amount of educational content surrounding the communities that I'm in, but I tend to not call myself an activist because I feel like those of us who are in marginalized communities, we're often forced into the role of activists when we're just sharing our life experiences. You know, I'm just telling you what happened the other day.
One of the most important life lessons I learned was from Dominique Jackson, who played Elektra on "Pose." She's a phenomenal public speaker, I highly recommend any of her speeches. In one of them, she said "Asking someone to respect me or tolerate me implies that they have some kind of power or authority over my life." That really changed my view of what activism is and can look like because many of the spaces that I've been in are activist spaces — it's felt like the thing that we're fighting for is people's respect and their tolerance. To me, that's the bare minimum; that's where it should start, not where it should end. So, when I'm online talking about the world that I envisioned for people like you and me, a world where we can be ourselves fully and wholly, the longing for that world where my community and my family can thrive as our full selves, that alone doesn't qualify me to be an activist. I feel like I'm just being myself loudly, unabashedly with pride. Anything that [lets me express myself], I'm able to call people in and see the world from our perspective, that's really just a bonus for me.
GV: What got you into posting on TikTok?
TMB: I got into TikTok because my little sister got me into TikTok and I saw space that wasn't being filled. I wasn't seeing people who are (I mean, it's a really small niche) queer and trans and Deaf and disabled and drag queens…There's not a lot of people that have all of those marginalized identities combined together…I got into TikTok because I guess I had some stuff to say.
GV: In terms of your marginalized identities…, how does gender and sexuality intersect with disability?
TMB: I love this question. I feel like disabled people for so long, we've been infantilized and viewed as these asexual genderless beings that are just here to inspire other people…It took me 20 years to be able to call myself disabled and not be ashamed about it, but people see us oftentimes first as disabled, and then everything else. Second, when you see someone who comes into a room and they're a wheelchair user, the first thought that pops into your head a lot of the time is "Oh, that person is in a wheelchair," not "That person has lovely hair," or "Man, they're well spoken," or whatever. So I think being Deaf and being disabled gives me an interesting perspective on gender, as I think it does [for] many of us who are disabled or Deaf. We can observe the way that gender is experienced by other people, by able-bodied people, by hearing people.
I got to the point where I was looking at how men were interacting with the world and how women were interacting with the world and how people were treating them…None of it made sense. Like, I'm not a man, I'm not a woman; I'm a little bit of both. I don't want either of those experiences and I think being Deaf and disabled gives us an interesting perspective on that.
GV: Do you think that there is more of an openness within Deaf culture for genders and sexualities? What's your experience within Deaf culture, if you are a part of it?
TMB: Yeah, so in American Sign Language (ASL), we don't have pronouns at all, so I feel like sometimes it's easier to be trans and nonbinary and not have to explain myself every time when I'm interacting with people. When I meet hearing people, I say "These are my pronouns" or whatever. But I think in that way, because we don't have pronouns in [ASL] and we don't use them, it feels easier to be trans and nonbinary to me.
GV: You started becoming Deaf around 16. Did you immediately go into learning ASL or did it take some time?
TMB: Well, I didn't tell anyone I was losing my hearing for about three years. I didn't go to a doctor, I didn't go to an audiologist, I just got real good at faking it. But when I was little, I had like three near death experiences. They said I was gonna have all this brain damage, blah, blah, blah, so my mom decided she was going to get me fluent in 12 foreign languages, and ASL was one of them. So I was familiar with ASL; I knew the alphabet and some basic signs and stuff. I went to a performing arts high school and our senior year, we were doing a show that had ASL in it and I knew some of it. So I was working on translating the script into ASL [and] that's when I really started learning it and getting involved with the Deaf community, but I still didn't tell anyone I was losing my hearing.
GV: How does makeup and clothing help to bring you gender euphoria or to affirm your gender identity?
TMB: My gender expression changed a lot after top surgery (which I had almost exactly a year ago). Before that, I wore all black, head-to-toe, all day, every day. Having top surgery, I could start exploring femininity a little bit more in trying to figure out what ways I was comfortable with it and what ways I wasn't. These days, I wear makeup and sometimes I'm a little more [masculine], sometimes I'm a little more [feminine].
GV: When did you like start figuring out the term/identity nonbinary?
TMB: I was probably 21 or 22 when I came out. I decided to call myself nonbinary before I was fully sure that I was nonbinary. To be honest, I'm still not sure. I think a lot of queer people have the experience of when we're young and we don't know any queer people, we don't know what queerness is. There are people that we gravitate towards and feel connected to and we're not sure why. For me, I was probably 10 or so and we were doing a papier-mâché project in my private Christian school. One of the articles on the newspaper I was going through and reading was talking about a sex change, which, we don't really use that phrase anymore, but that was the first time I was like "Wait, there's more out there? There's other people?" Of course, my very conservative Christian teacher snatched it and threw it in the garbage…My view of being nonbinary was very Tumblr-influenced and very infantilizing for a long time…until I discovered Jeffery Marsh.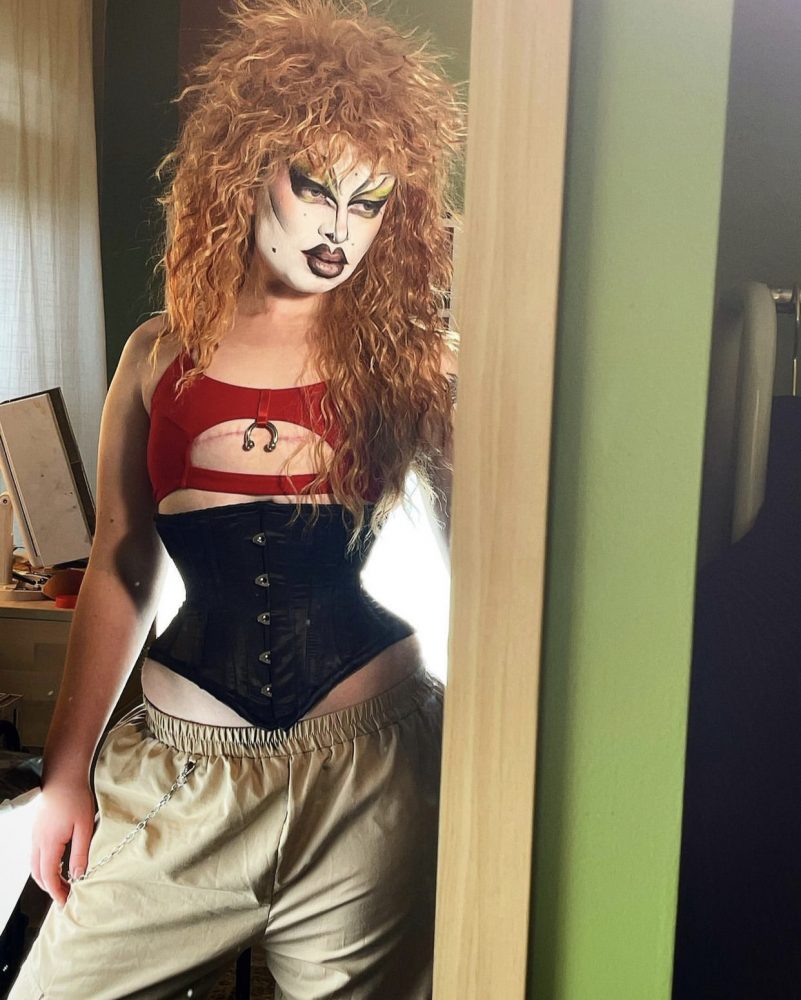 Photo of The Mother Birdie in drag wearing a voluminous lion's mane wig, a deep red cropped shirt showing their top surgery scars, a black corset, and loose fitting beige pants. Photo by The Mother Birdie.
GV: What are your opinions and views about Disability Pride?
TMB: I think [for] many people who are outside the disability and Deaf communities, one of the biggest misconceptions is that because we need accommodations, people see us oftentimes as being lazy, and it really could not be further from the truth. I feel like disabled people, Deaf people, we have better problem solving skills, we have a stronger work ethic, a stronger drive for our goals, just because we've had to fight tooth and nail just to get a seat at the table. So for me, Disability Pride is a way to connect with the young Deaf disabled people out there who are looking at the world [and] they're not seeing anyone doing the things that they want to do in their life. It's not because those things can't be done, it's because you are the one person that can do them…My heart is so in Disability Pride because I just want the young people out there who feel like they're so alone, like you're the only person having that experience, [to know] that they are not alone. They are not broken.
The questions that I get most often are "Am I still trans even if I don't want surgery or hormones? Am I nonbinary even if I want to use she/her pronouns? Am I disabled? Can I call myself disabled even if we haven't figured out a diagnosis yet?" And my answer every time is yes…You have community here, you have family here. You have people fighting for you…I feel like if I had seen people like that growing up, I can't imagine how different my life would have been. So if there are any young people that are reading or [listening] or whatever, you are not alone, you have a family, you have community here. And if you haven't seen someone do the things that you want to do with your life, it's not because they're not possible, it's because you're the person that needs to do them. So please stick around and do them.
GV: That was so beautifully said, thank you for that. You mentioned that you get a lot of people who [direct message] you. Do you feel like somebody who has a voice to be a support system for people?
TMB: Certainly to an extent. I mean, I'll have people DM me and say "Hey, this is my experience… Am I trans?" I get that all the time and nobody wants to hear this, but I can't tell you that, I can't…My answer is always go try this list of things and see how they make you feel; go try binding, try talking, try wearing a dress in public, try these different things and see how it makes you feel…I know that I'm a person that young people look up to and it's my favorite part.
GV: Does that have to do with your title "The Mother Birdie"? How does your platform name come into play?
TMB: Well, I had the name "The Mother Birdie" long before TikTok and long before interacting with young people, young queer people, just Deaf disabled people. I wanted to sort of pay my respects to the Black and Brown trans women who were mothers in their communities, especially in the ballroom scene…and also to show people that not all mothers are women.
GV: What are your opinions on the fact that there is a month celebrating Disability Pride?
TMB: For now, I'm on board, specifically for the young people, really…I wasn't comfortable calling myself disabled until I was in my 20s and I had been disabled my entire life. There's still so much stigma and so much shame around being a disabled person or being a Deaf person. Like 80% of the time when you tell someone "I'm Deaf and disabled," the first thing that comes out of their mouth is "Oh, I'm so sorry," like they just heard about a death in the family. Of course there's commercialization of Disability Pride, but I feel like our communities are still in the growing stage of people learning about what it really means to be disabled, what it really means to be Deaf. So for now, I'm on board.
GV: Do you think with TikTok now there are easier ways to have better representation?
TMB: Oh, 100% yeah, absolutely. I feel like TikTok is definitely a platform where we can see more authentic representation than we get to see on shows like "Switched at Birth," or things like that. Also, seeing that the Deaf movie ["CODA"] won the Oscar this year; oh my gosh, that really felt like a big life-changing moment, like they see us. It's so easy as a Deaf person to be interacting with hearing people and feel like everyone's talking and you can't get involved. We're left in a corner by ourselves or whatever, but it's so beautiful to me to get to see [that] people see us.
You can find The Mother Birdie's content on their TikTok or on their Instagram or Twitter.
---
Credits:
Author: Giulianna Vicente (She/Her)
Copy Editor: Christopher Ikonomou (Xe/He)