Photo by Gage Skidmore/Flickr
---
First, enjoy.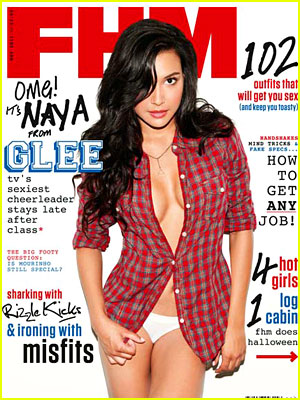 You're welcome. Now read these comments.
SantanaLover (8 posts)
on October 05, 2011 at 06:35pm
I really wish Naya hadn't done this cover for a scummy lads mag :/ Yeah, I probabaly wouldn't be complaining if it was for a lez mag, lol, but it just seems beneath her talent to be doing these pics simply for men to wank over.
Bittersweet1 (554 posts)
on October 05, 2011 at 07:21pm
Those pics of Naya Rivera (which have all been released all over Tumblr and I've been reblogging like a boss) have almost killed me. So beautiful, hot, gorgeous, stunning, etc.
Like the person above said, I'm a bit disappointed the photos are for a men's magazine because I do just instantly think 'scummy' with men's mags, especially ones here in the UK. But she looks nice regardless.
same here love…
livingthelife_girl (21 posts)
on October 06, 2011 at 01:25pm
"scummy" is a bit too mild….I'd go with peverted….but I do love the pics and I wouldn't mind seeing more…Naya or Amber…im easy
These comments are all in response to a picture of Naya Rivera, everyone's favorite lesbian cheerleader on Glee, posing seductively for the cover of FHM, a popular men's magazine. AfterEllen, a leading blog for lesbian entertainment and news, published the cover on its front page and linked to the rest of the steamy shoot.
Readers' responses, however, really surprised me. The comments, as you can see above, are not so much expressions of disgust in the photos themselves (the ladies seem to be quite happy with them, as am I) but rather in the fact that Rivera, our beloved queer cheerleader, took these photos for a men's magazine.
These commenters, and the many others who appear to agree with their sentiments, are treating lesbians like some divine judges on female sexuality. By saying that women are allowed to ogle these pictures, but that dirty men who are just going to "wank off" to them inherently degrade the shoot, is nothing short of reverse discrimination–it's the kind of thing that leads directly to the man-hating stereotype that continually plagues the lesbian community.
Is it jealousy? Perhaps–it's no surprise that men have a whole lot more sexy magazines geared toward them than the ladies do, especially women that want to look at other women. And judging from the comments, these women clearly want to keep Naya to themselves.
But it goes beyond that; there seems to be a deep-seated elitism in queer women that allows us to believe that because we are women, we are uniquely morally justified to look at women as well, in anyway we like–even if it's with the same self-indulgent, objectifying, and perverted gaze that men have employed since the beginning of time, the very same gaze that feminists deride and hold up as degrading and dehumanizing.
Is it because we as lesbians have had to repress our sexuality for so long that we are bitter about mens' expression of their own, to the point that we become hypocrites, "wanking off" to the same photos that we would deny to "disgusting" men? For so long, lesbians have been ridiculed and marginalized for simply having a sexuality that deviated from what society thought was morally right. We were called "disgusting," we were denied any outlet for exploring ourselves. Who are we to criticize men for simply having a sexuality, to prevent men from enjoying and exploring that sexuality? We are all sexual beings, straight or gay or anywhere in between: we need to stop looking at others as an opponent, and appreciate everyone for what we all have in common: everyone thinks Naya Rivera is super smoking hot.