Photo from  "Snapshot Into Queer Life: History, Hardships, & Unheard Voices" exhibit
The week of March 6th to the 10th, the pale walls of central campus's Kerckhoff Art Gallery were once again decked with multimedia artistic expressions from the UCLA and wider Los Angeles communities – but this time the theme linking reimagined neckties, sparkly sheer fabric, and torn planner pages was that of untold queer stories.
The exhibit, hosted by the Zeta chapter of the LGBTQQIAA sorority Gamma Rho Lambda, was titled: "Snapshot Into Queer Life: History, Hardships, & Unheard Voices," and was curated by UCLA Communications student Carla Bennahmias.
Gamma Rho Lambda acts as "a non-traditional all-inclusive social sorority" that works to create "safe space[s] for people of all sexual orientations, gender identities, and diverse backgrounds." The organization coordinates and endorses projects aimed "to raise consciousness surrounding LGBTQQIAA and progressive women's issues." The exhibit in Kerckhoff was just such a program, the installations all representing events or conditions that didn't (and don't) get much recognition in mainstream media.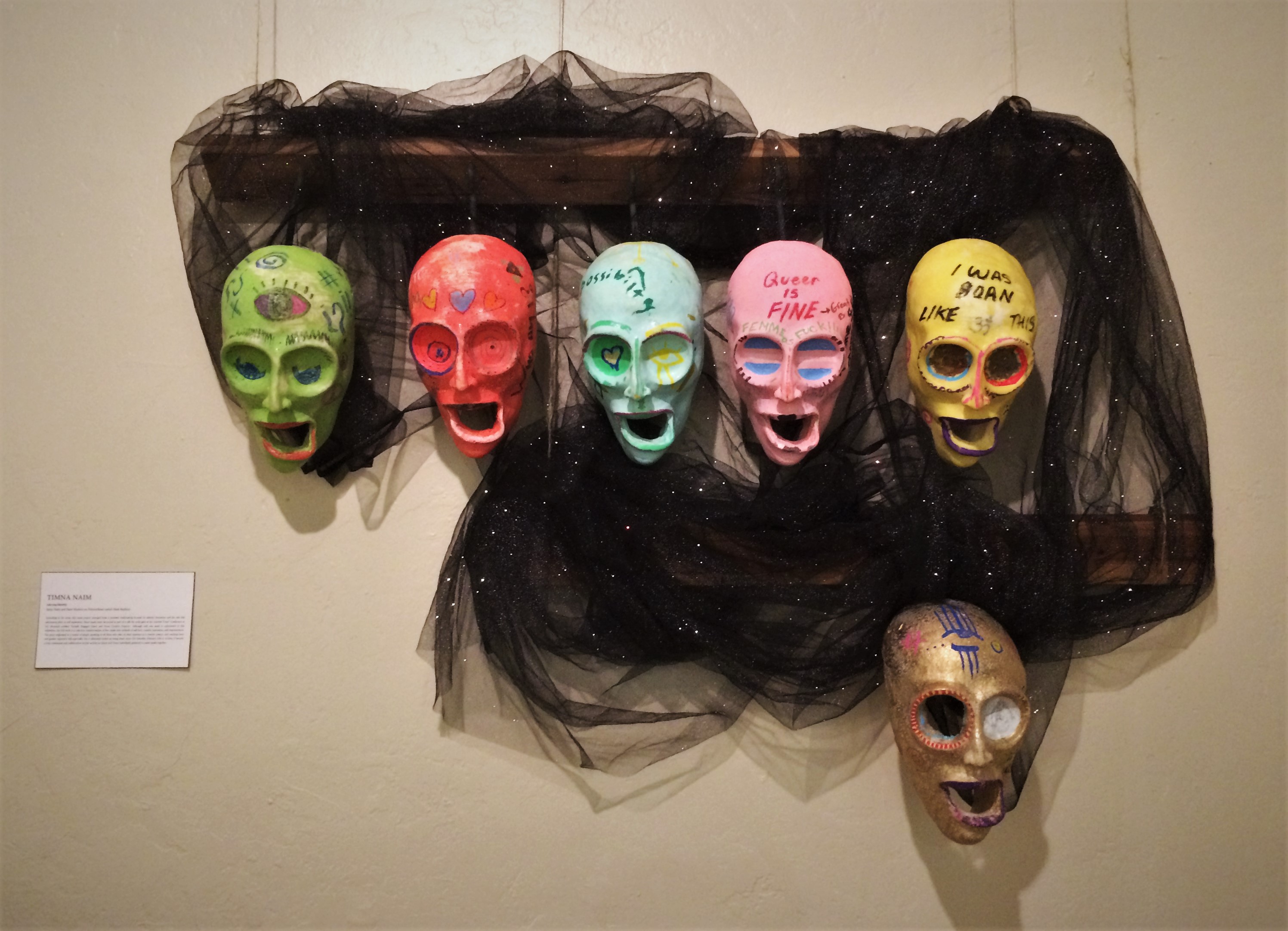 The piece entitled "Adorning Identity" by UCLA fourth year World Arts and Cultures and Dance student Timna Naim specifically rearticulates a common college-age theme with a queer lens. Six open-mouthed masks – replicas in shape, though decorated by many different hands – were mounted on chiffon-draped wooden planks. Presented with a talk Naim gave at the Asterisk Trans* Conference at UC Riverside a few weeks ago, the spray-painted masks were adorned and inscribed by trans and gender-expansive folks, who left messages like, "Queer is fine," "Femme as fuck," and "I don't have to belong… My existence is resistance." Curator Bennahmias characterizes the piece as a snapshot into "identity formation" that can speak "to all those who take on their existence as a creative project."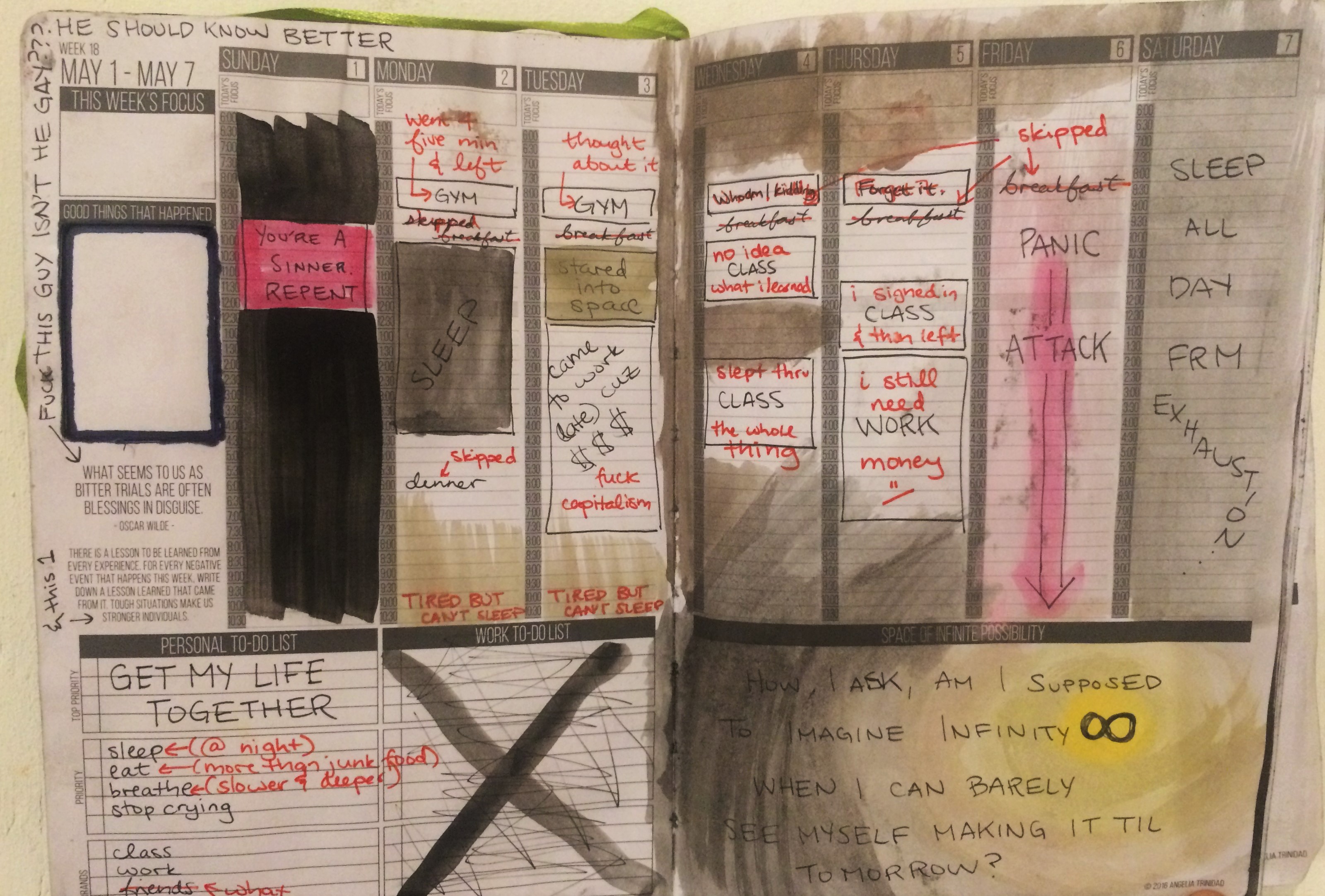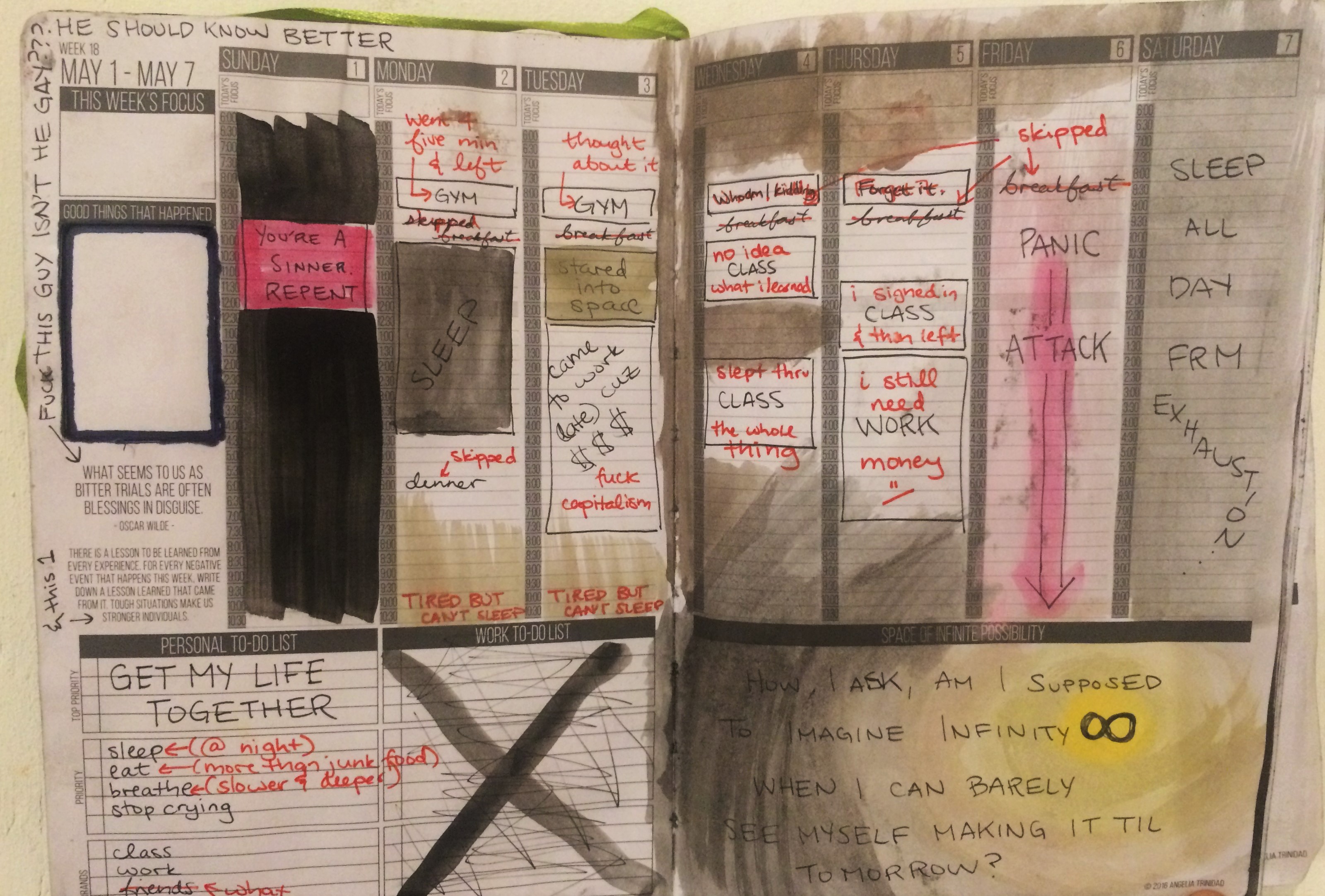 Tacked up across the room was Isis Piccillo's multimedia "Depression Planner: Expectation vs Reality." Two real schedule planners with preprinted boxes for tidy To-Do lists of "Infinite Possibility" and inspirational quotes from the likes of Oscar Wilde and Abraham Lincoln were placed side by side – one full of highlighter-heavy "tumblr-worthy planning," and the other a realistic and dark representation of the daily life of someone suffering from "depression and anxiety."
Though Piccillo's piece does not seem at first to explicitly refer to LGBTQ+ identity, Bennahmias cites the disproportionate effect of anxiety disorders and clinical depression upon LGBTQ+ individuals. Where the "organized and aesthetically pleasing" planner delineates a few hours for church on Sunday, the Reality Planner blacks out all the hours of the day around the mid-morning accusation, "YOU'RE A SINNER. REPENT." All week, disruptions of normalcy are illustrated by meal plans crossed out, chunks of time re-designated as panic attacks or unexpected exhaustion, dark smudges of watercolor covering unaccounted swathes of time – and in the space reserved for "Infinite Possibilities," the artist asks, "How… am I supposed to imagine infinity when I can barely see myself making it til tomorrow?"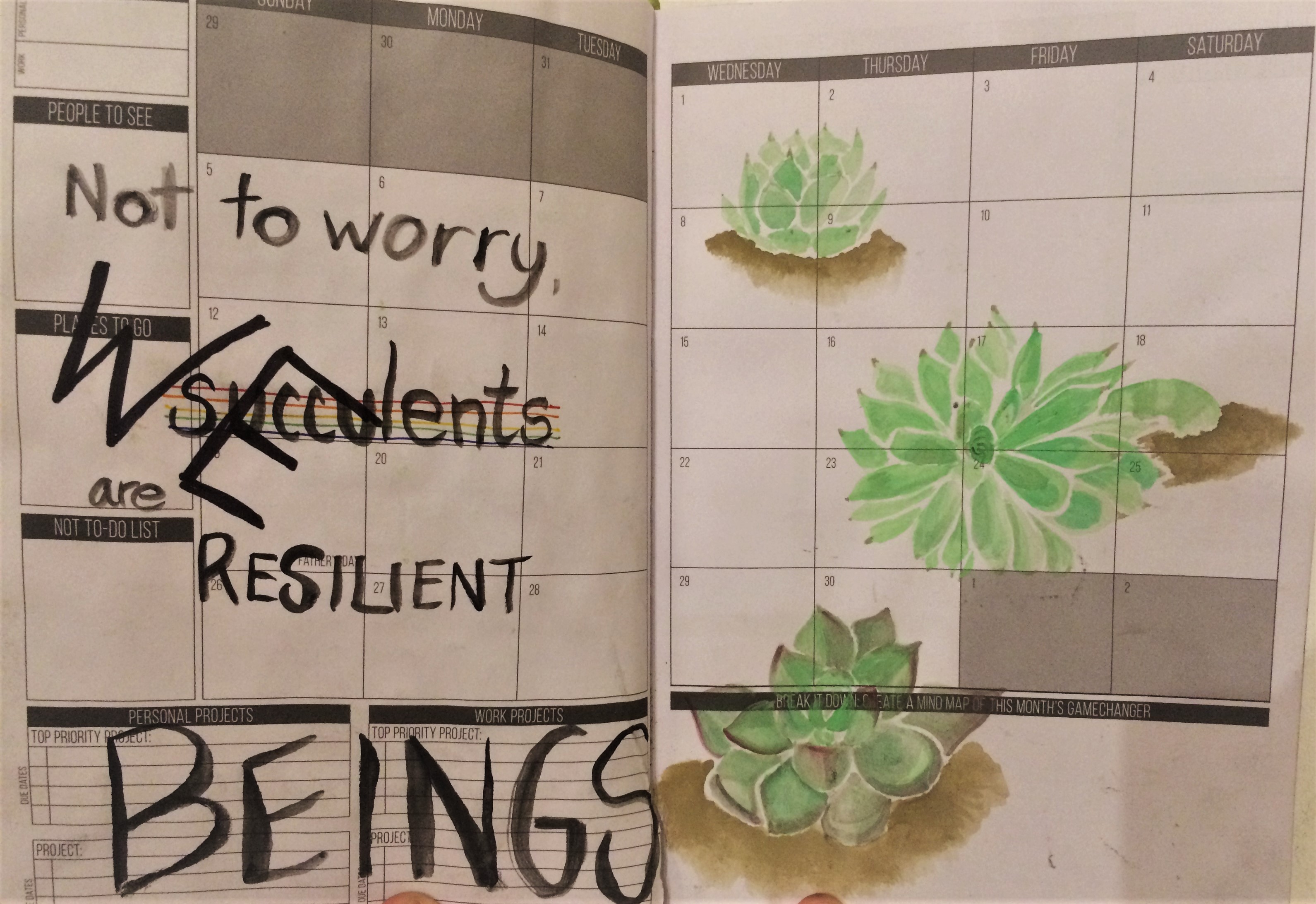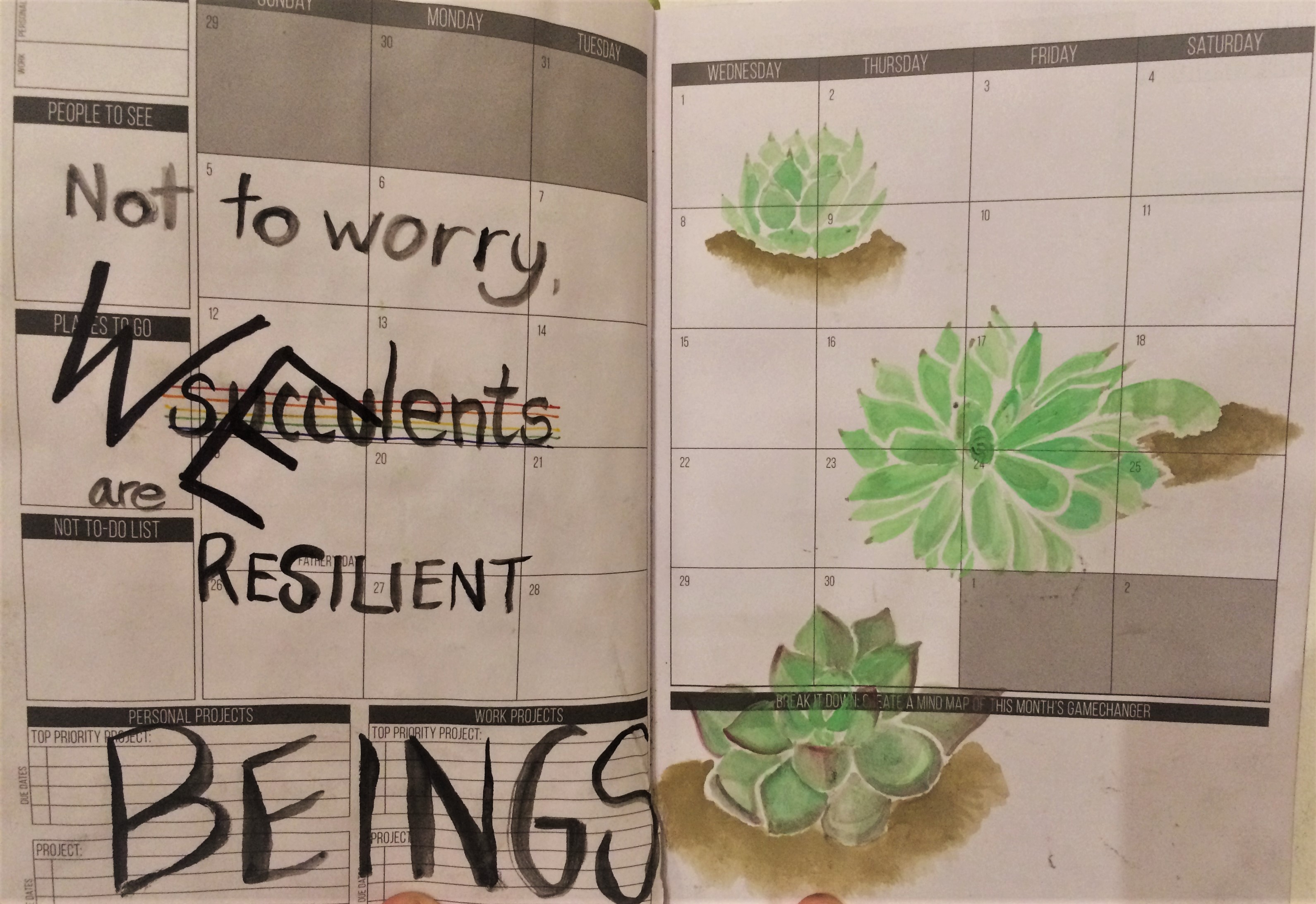 A hope for resolution comes a few weeks later, past a page torn apart, then sewn crookedly back together with black thread. Paying no attention to the straight lines and identical squares of the next month's calendar, this affirmation is painted: "Not to worry, WE succulents are resilient beings." Succulents being major figures in the current Instagram/Tumblr minimalist aesthetic, Piccillo masterfully reclaims the little hipster plants that survive despite neglect by crossing out their name with five thin lines of red, orange, yellow, green, then blue – a subtle rainbow flag for the thoughtful viewer.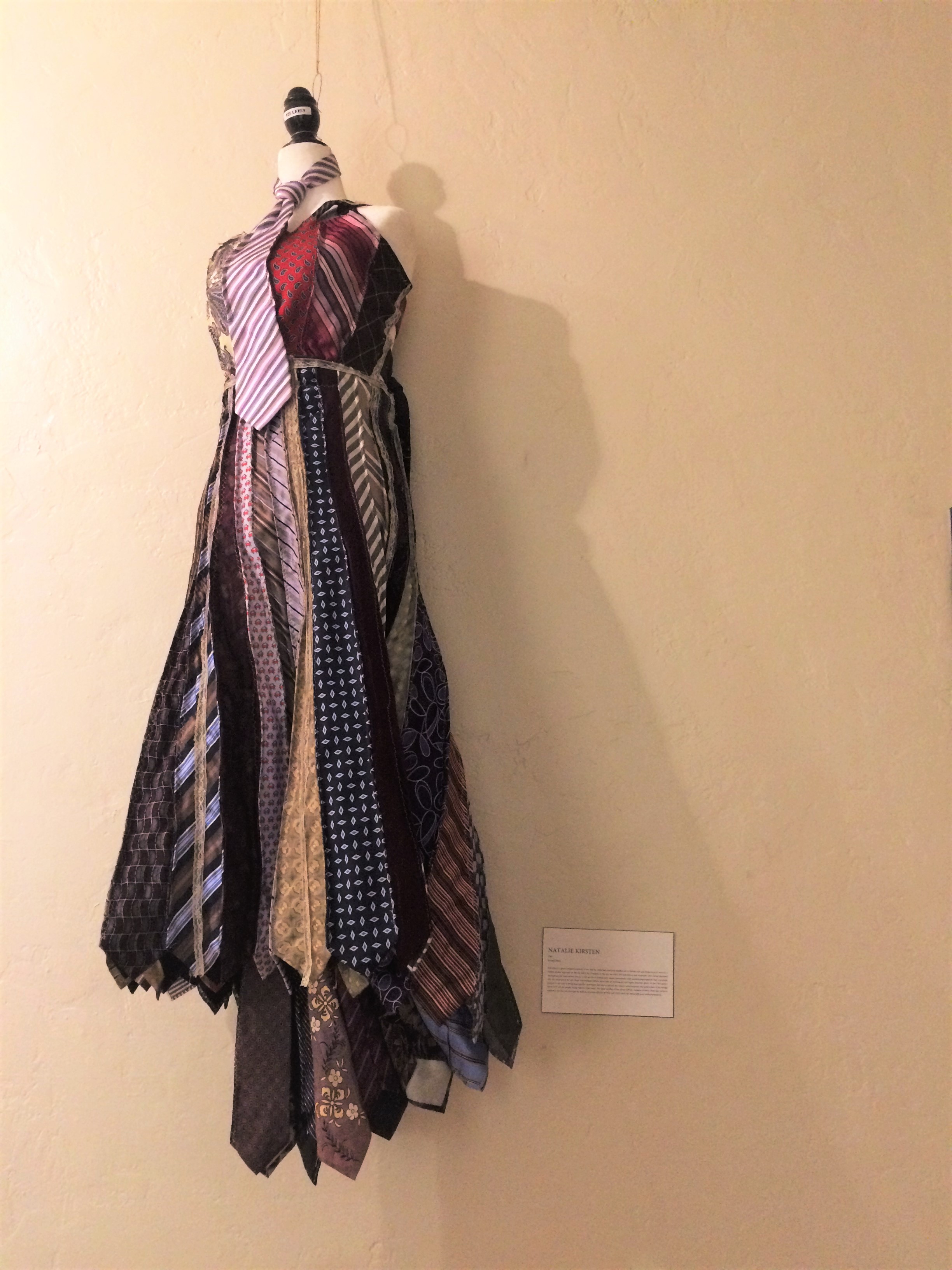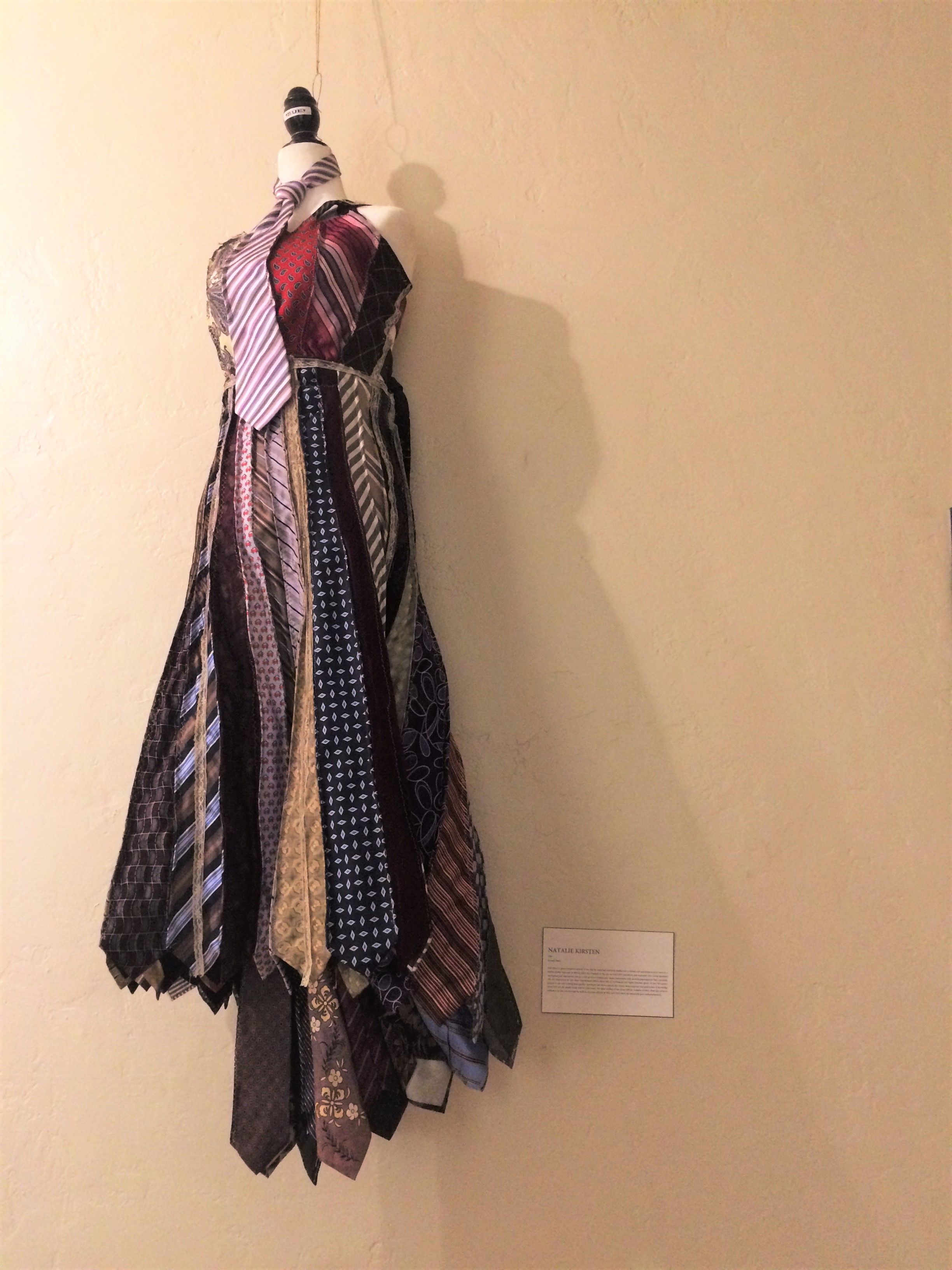 Another of the most striking pieces in the exhibit was Natalie Kirsten's "Ties." A headless, armless torso of a mannequin hung against the wall sporting a long dress sewn together out of neckties. Ties, as we all involuntarily know, are traditionally a part of the modern Western norm for men's business attire. By combining the exclusively 'female' garment of the dress and the exclusively 'male' accessory of the tie into a multiplicious whole that does not erase the gendered association of either the one or the other, but which exists as an individual costume simultaneously designated for both ends of the gender binary, Kirsten challenges a body wearing it and the gazes upon it to contend with the dissonance created by clothing that refuses to pass for either male or female.
Bennahmias' description of "Ties" also reports that before being incorporated into this dress, the ties were worn by friends of the artist on World AIDS Day. We may then be reminded of the sheer number of people affected by HIV/AIDS worldwide, who are so often either ignored completely or assumed to be an anonymous mass, each individual as interchangeable as any thread in a piece of fabric, and who are even now only pressed upon many people's awareness one day a year.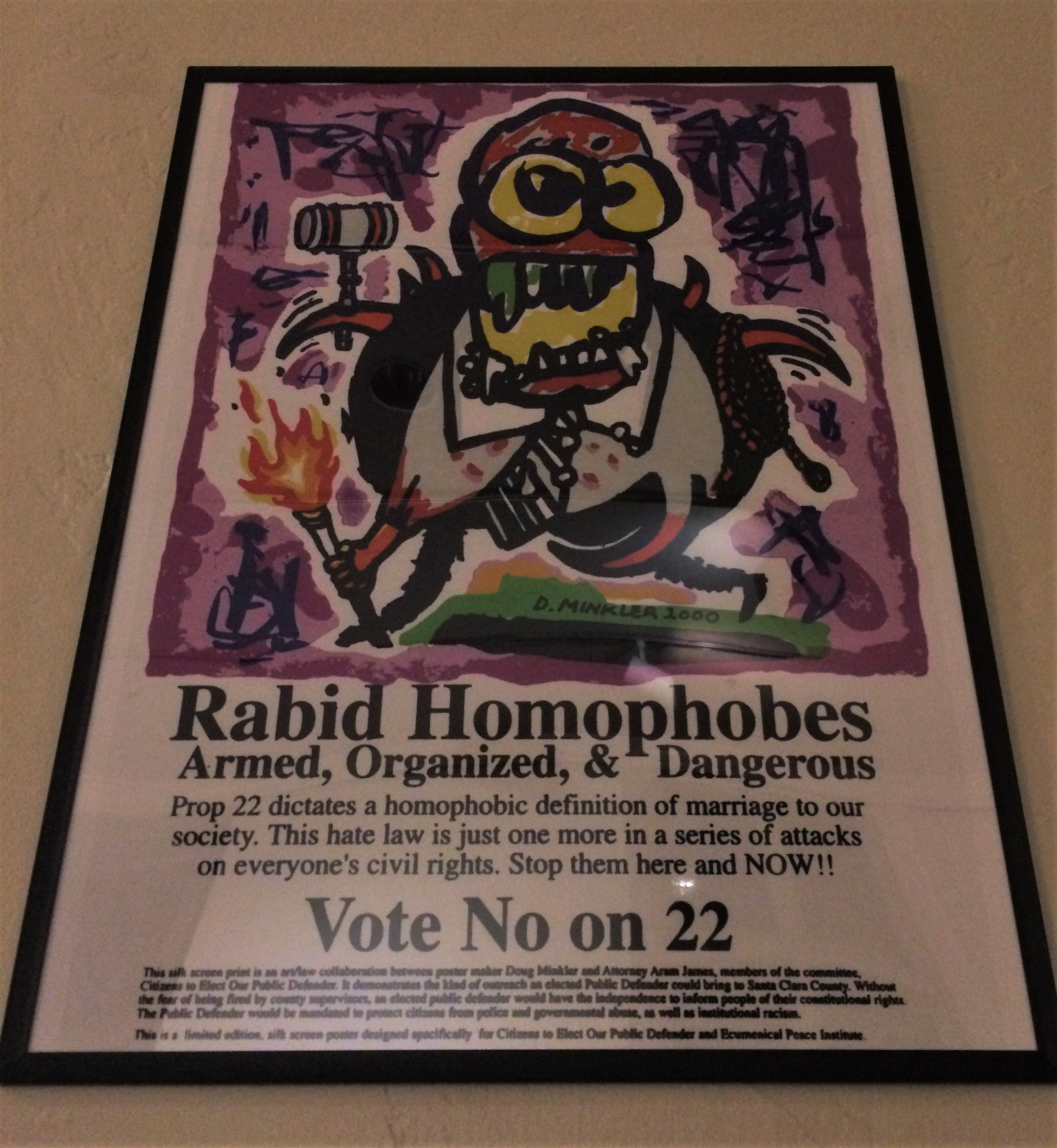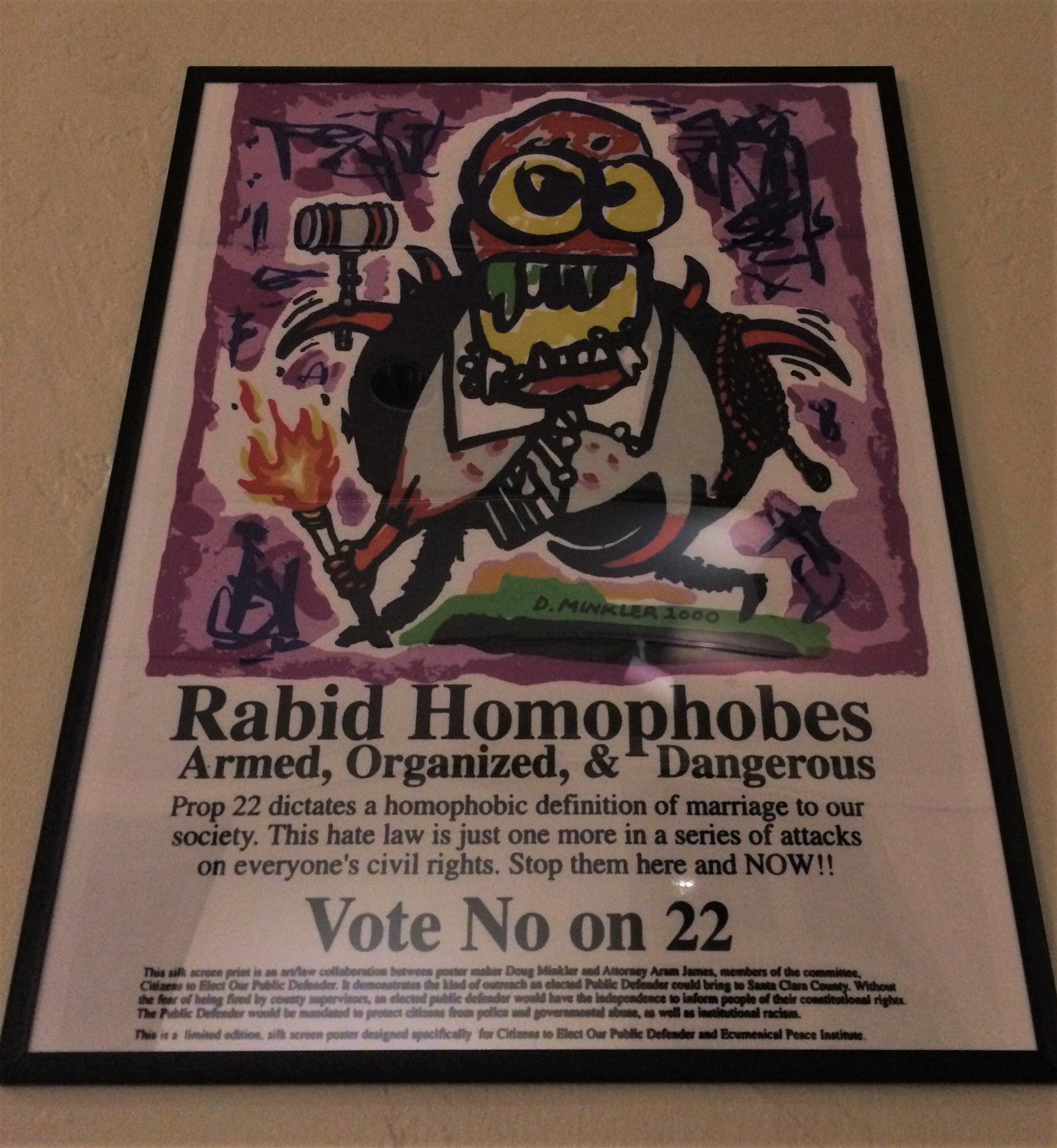 Neglected LGBTQ+ history was also represented by the inclusion of a stirring 2000 political poster from San Francisco printmaker Doug Minkler, titled "Rabid Homophobes," which satirizes California Proposition 22, one of the recent fronts in the contest over state-sanctioned same-sex marriage. Minkler's poster hilariously flips the script, casting homophobic bureaucrats as the absurdly violent offenders, lost to humanity in their refusal to extend government-guaranteed freedoms equally among citizens.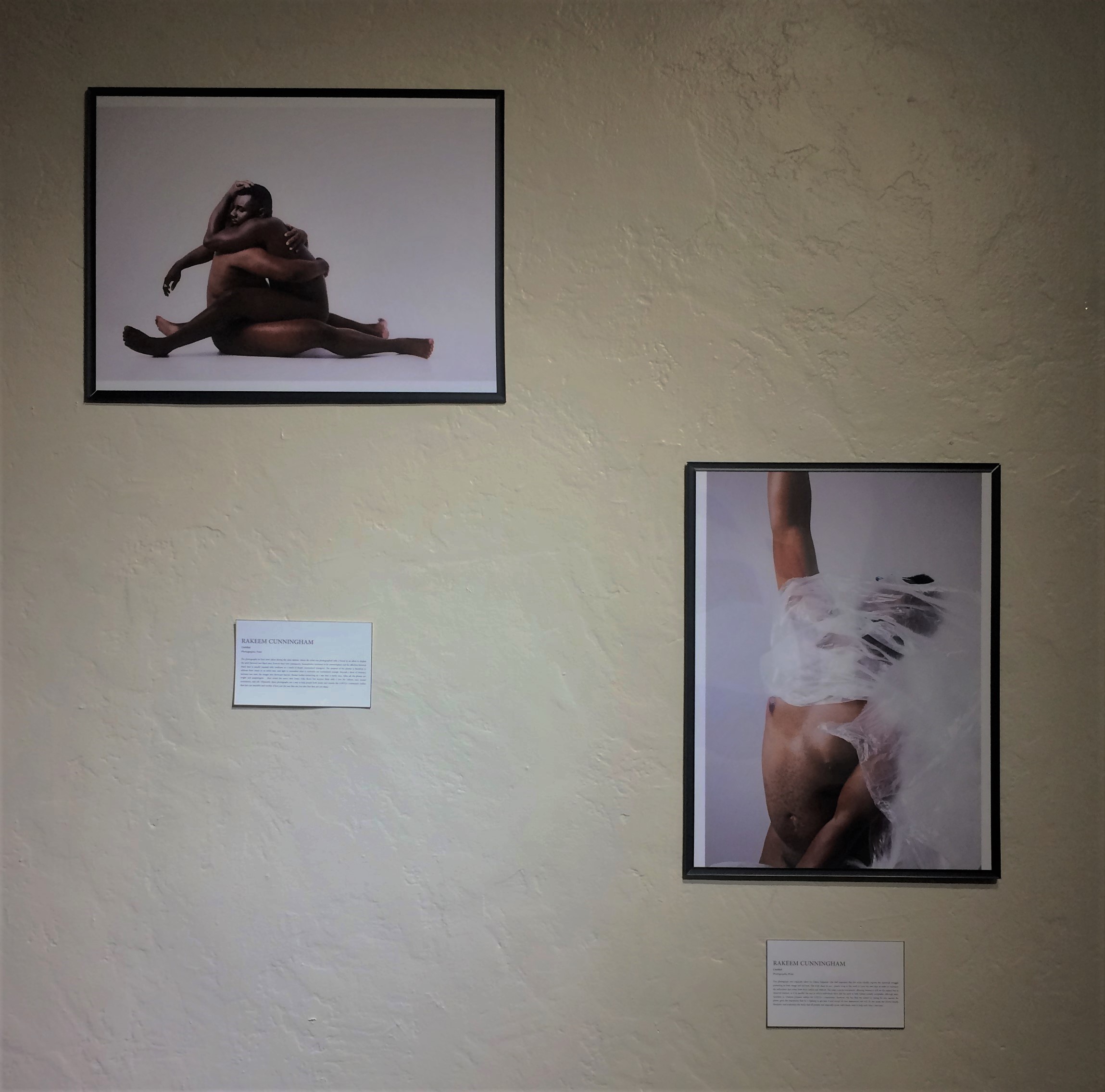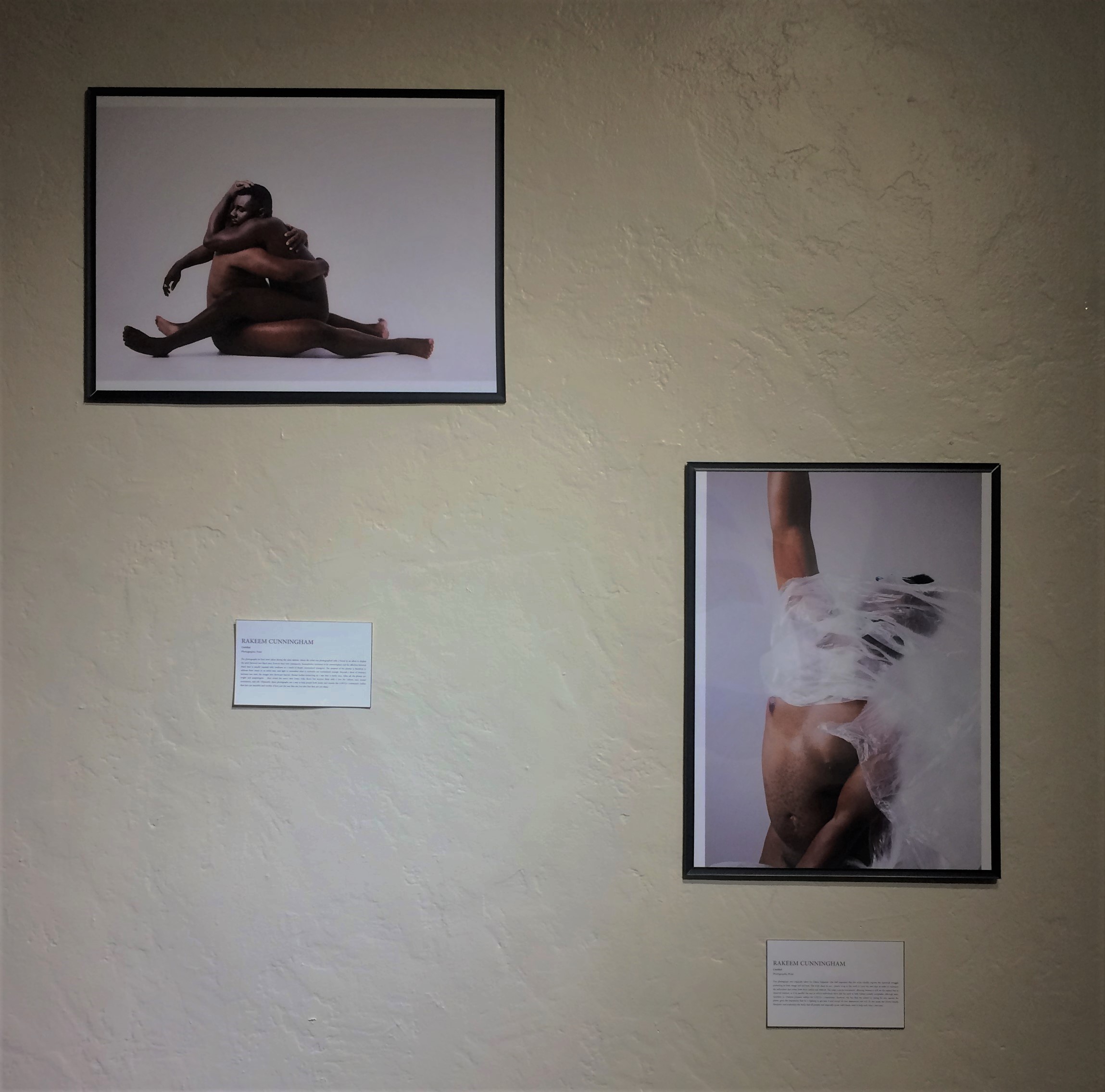 In another two-dimensional radical act, Los Angeles photographer Rakeem Cunningham contributed three beautiful untitled photographs of nude black men holding each other lovingly. As part of the fight "to normalize what is currently not normalized enough," as Bennahmias puts it, Cunningham unapologetically captures heavyset black gay bodies in queer intimacy and demands that they be recognized as worthy of their gallery wall space, even without a title that would cater to the curiosity of the gaze.
Other pieces in the exhibit included: Ben Cuevas' photo print, "Ghosts of The Trucks Of The West Side Highway" documenting a 1970's truck-sex art installation; Joey Terrill's acrylic painting, "Black Jack 8," a pop-art still life interpretation of the HIV cocktail; the carefree watercolor portrait "Leave Me Alone" by Kendall Kaufmann; Raul Pizarro's early personal painting of their partner, "Isaac;" three acrylic representations of queer bodies by Julie Mejia entitled, "No Gender Here;" and Jordan Angulo's beautiful domestic photograph of inverted gaze, "Javier," that puts a queer person behind the camera and a non-LGBTQ+ subject in a not-so normative light.
Gamma Rho Lambda's "Snapshot Into Queer Life," in addition to existing as a platform for LGBTQ+ artists to express their marginalized experiences, was a successful infusion of queer imagery into a free public space frequented by curious and passionate young people. What can we hope for from a whole week of queer art right at the heart of campus, in one of the buildings most likely to see folx of all majors and minors struggling through the end of the quarter on the fumes of those bitter cups of Kerckhoff coffee? Hopefully: openly queer dialogue across majors and departments.
The evening of my own visit, the gallery shared its polished wood floors with a small interdisciplinary group of students rehearsing an original queer Latinx play for the on-campus visual and performing arts group, Night of Cultura at UCLA. Hearteningly, some of the students had already spent time viewing the artwork around the walls. By the time I got there, they had found a favorite piece and were eager to point it out to this perfect stranger – ready to start a conversation by asking me for mine.
————