We're back this week with two episodes to RuCap, so let's get started ladies!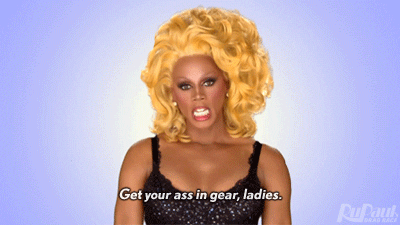 ---
Episode 2: She Done Already Done Brought it On
Is it just me or is the lack of mini-challenges unnerving? Like what are they fucking doing with that time? Where does it go??? And why is Lisa Kudrow here? Did they take the funding for the mini-challenges and funnel it into a guest star savings account? Because I want my money back.
So for some reason, Lisa Kudrow brought up cheerleading which introducedthe main challenge as a cheerleading stunt fest full of hurkeys, tosses, and the potential for serious injury to poor fifty-two-year-old Charlie Hides' old man bones. The queens were divided into two teams. One represented RuPaul's Glamazons and the other represented the guest judges, The B-52's, with previous winner Nina Bo'Nina Brown and returning queen Cynthia Lee Fontaine as team captains.
Workroom drama included Jaymes Mansfield insisting he be cast as the "floozy" cheerleader, despite Alexis Michelle, a trained fucking actor, expressing previous interest in that role. Instead, Jaymes insists that Alexis is assigned the role of "snoozy," which is honestly…much more on-brand for Jaymes anyway. #Choices. When they get to the mainstage rehearsal for their numbers, Jaymes Mansfield, who is known for her comedy expertise, continually misses her cues and flubs her lines, eventually leading her to ask Alexis Michelle if they can fucking switch back.
After this, the queens are joined by a bunch of professional cheer stunters and are taught the fundamentals of tumbling and tossing, which is really, definitely the best way to assess a drag queen's abilities…To exhibit their skills for judging, the teams literally had a stunting cheer-off in front of a fucking laser light show. It was like watching a corny CG scene in Doctor Who with frightened robot cheerleaders performing in front of a mix between the set from the PBS show ZOOM and a cheap laser tag course, which honestly felt so bizarre and foreign.
On the Runway, the queens rocked their best White Party look, which you can hear more about on this week's Fashion Photo RuView with Raja and Raven. Highlights for me included Farrah Moan's Vegas showgirl look, Shea Couleé's cutout jumpsuit, and of course, Valentina's fucking wedding realness. When she walked on stage I literally began shrieking and welled up at how wonderful and beautiful my little Echo Park princess looked.
Tops & Bottoms
TOPS: Trinity Taylor, Shea Couleé, and Valentina (WINNER)

BOTTOMS: Charlie Hides, Kimora Blac, Jaymes Mansfield (SASHAY)

---
Episode 3: Draggily Ever After
FUCKING FINALLY A SEWING CHALLENGE!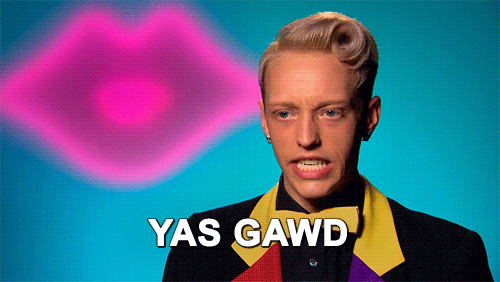 The queens are given the task of constructing not one, but TWO original looks–a fairytale drag princess, and a sassy sidekick. Vegas Queens Kimora Black and Farrah Moan were added to the list of Queens Who Fucking Enter RPDR Without Knowing How To Sew Even After Nine Fucking Seasons. Kimora reacted to this challenge by trying to tackle the task, whereas Farrah reacted by whining in a nasal-y voice about how she was worried, and basically guilted Eureka into helping her design her look. Meanwhile, Shea Couleé was apparently serving in as Ru and went around from queen to queen asking about their looks. It seems like the edit is painting Shea as someone who's very likable, so odds are she'll go far.
It wasn't until the runway that the sidekick role was featured, revealing superimposed faces of the queens in weird makeup, portraying characters from a "dirty starfish" to an angry New Yorker could nof smoke, over a crude flash animation of the character that looked like they were designed by every straight man animator VH1 could assemble in the building. There were no survivors. They were all fucking weird.
Meanwhile, the judges critiqued the Beauties and the Beasts of the episode. They criticized Farrah for her classic "Piece of Fabric Wrapped Around the Waist," as featured by Derrick Barry on Season 8, as well as Kimora for her shocking robotic-yet-horny sidekick monkey. Aja got fucking R E A D by Michelle for her makeup, and performance, AND outfit, which she took very poorly backstage, so I 10/10 recommend watching this week's Untucked, which is the behind-the-scenes series that goes along with the season. Another notable moment, from Untucked this week was a very drunk Shea Couleé interrogating all the queens on which queens they'd Kai Kai with, so get to watching! Also, special mention to Nina Bo'Nina Brown, who got fucking ROBBED for top three with her metallic, multimedia facial alien transformation that fucking blew my mind. Also special mention to Trinity Taylor for her speech to Aja about not taking judges' critiques as personal attacks, but as critiques with the intent of overall growth that they signed up for when they joined the show.
After the final critiques, Aja and Kimora found themselves in the bottom two. This was followed by a S C O R C H I N G lip sync to "Holding Out For a Hero" that allowed us audience members dying to see a World Class Aja Lipsync finally get what we asked for, and Kimora was sent packing.
Tops & Bottoms
TOPS: Valentina, Peppermint, Trinity Taylor (WINNER)
BOTTOMS: Farrah Moan, Aja, Kimora Blac (SASHAY)

---
Tune in Fridays at 8/7c on VH1 to watch RuPaul's Drag Race, and remember