Queer Alliance's promises of an evening full of "dazzling talent" did not disappoint at UCLA's 11th annual Queer Culture Night on Thursday, April 13.

As soon as I walked in, I knew this event was different from the handful of other student performances I've attended. This was all thanks to the audience—loud and energetic, they filled the auditorium with a palpable sense of excitement. Many of the attendees were newly admitted freshmen participating in Pride Admit Weekend, making this rainbow-lit curtain one of their first memories at UCLA.
The first performance of the night was a solo dance by Riy Mutakabbir. For the first minute of music, Mutakabbir sat absolutely still in the center of the stage with an unhappy expression on their face. The audience waited in anticipation until the dancer rose and began to move fluidly across the span of the stage. A necktie lay on the ground to stage right; Mutakabbir picked this up, handled it with uncertainty, and dropped it again. They then moved to the opposite end of the stage, where the same thing happened with a sequined dress.
Mutakabbir displayed intense emotional expression throughout. I was sitting close enough to hear their heavy breathing, reminiscent of a panic attack, as they clutched their chest and pulled at their shirt.
Upon returning to the center of the stage, Mutakabbir leaned down to inspect a part of the setup that many audience members may not have even noticed. A line of blue masking tape had been dividing the space in half, presumably laid down before we entered the room, and had gone unquestioned as part of the stage. But when Mutakabbir leaned down to pick at this boundary between the necktie and the sequined dress, a smattering of cheers broke out in the audience and a smile broke out across the dancer's face.
Mutakabbir ended their journey's narrative by sitting down in the same place they had begun, smiling, sans masking tape and sans that sense of suspense and anxiety that had prevailed at the beginning. Their dance had literalized the process of navigating an enforced binary, but the stillness at the conclusion was the stillness of finding peace.
"Raise your hand if that performance spoke to you," said the host as Mutakabbir left the stage, and hands went up all across the audience.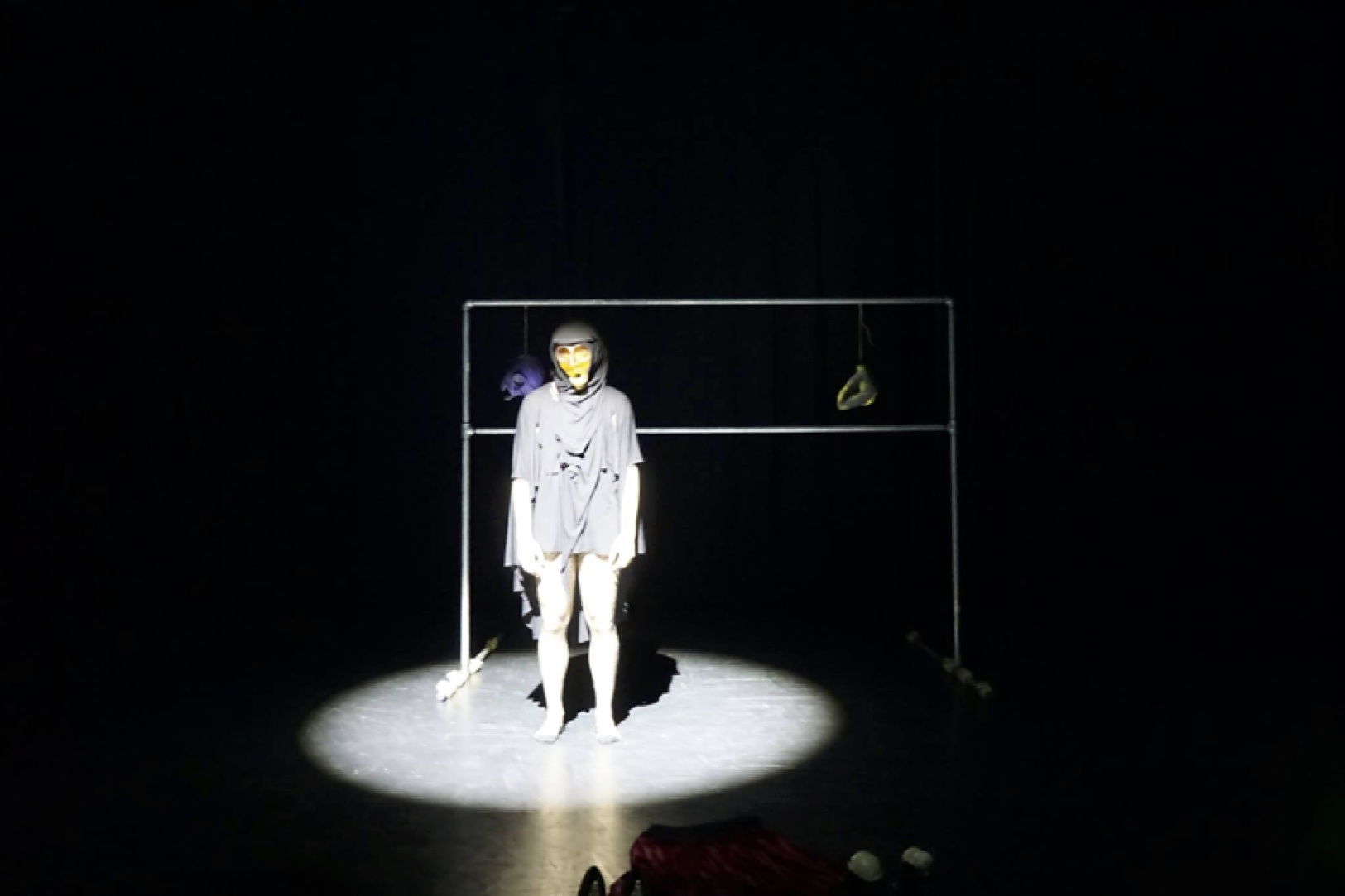 While Mutakabbir's dance began with stillness and suspense, the next performance turned these elements into prominent central features. Timna Naim came out onto the stage in an orange mask and a covering over their hair and shoulders, then stood between a set of bars and an arrangement of clothing. For the first several minutes of music, a spotlight illuminated this strange tableau as the audience held their breath. It was completely unclear what to expect. Naim had created a humanoid character that could not be categorized into any known, established identity.
Identity is a theme that Naim has explored in art before, as OutWrite has previously reported. The installation of painted masks exhibited on the walls of Kerckhoff Art Gallery last quarter were displayed again in the auditorium lobby before Queer Culture Night. A similar set of masks played a large role this dance performance.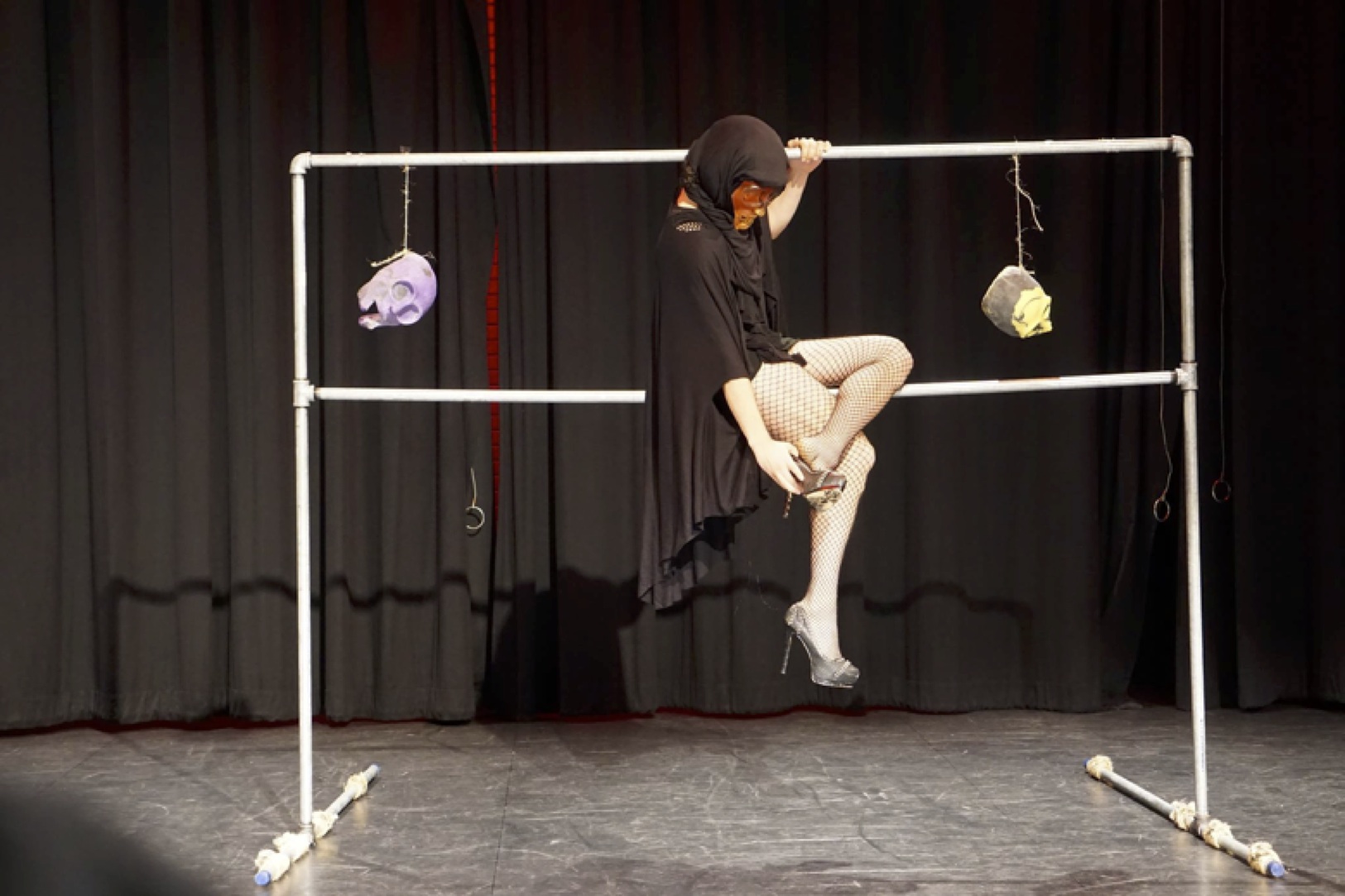 After what felt like ages of waiting, Naim began to move. They performed handstands and hung acrobatically from the set of bars, sometimes drawing their body out into graceful shapes and sometimes lurching erratically about on their knees. Moments of stillness turned into whirlwinds of movement and back into stillness again. Overlaid on the music were passages of non-English speech, and at one point a chorus of ecstatic moans crescendoed as Naim enveloped themself in a pair of red pants.
Throughout the dance, Naim seemed to step in and out of various identities. They slipped on a pair of high-heeled shoes, and while wearing them, kicked a second pair over so hard that the heels fell off. On the bars, they repeatedly held each of the masks over their own as if trying them on. Even their costume was a collection of contradictions, with draped cloth contrasting against the harsh lines of fishnets, and bared leg skin opposing the hidden face.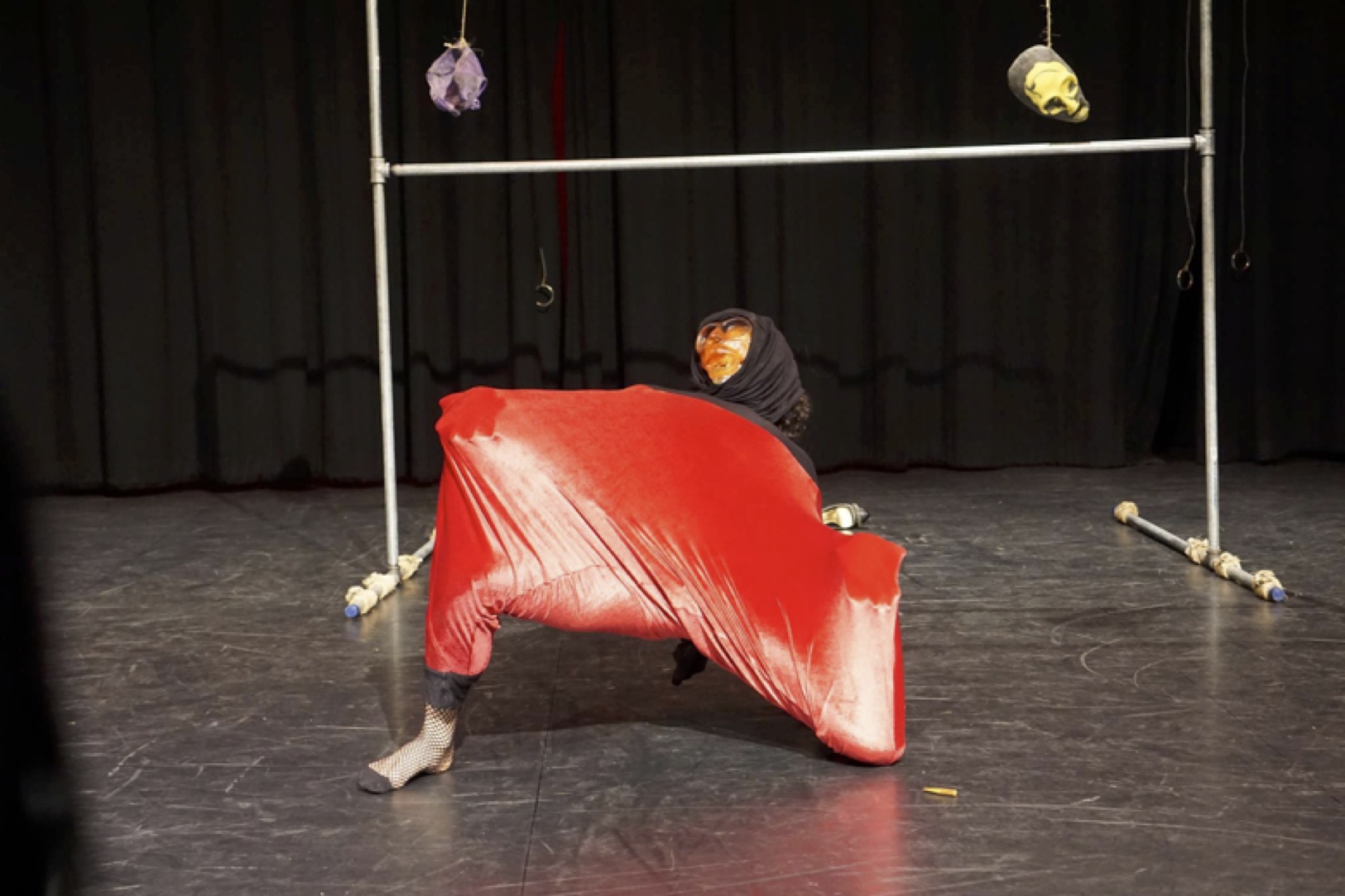 While both solo dancers had performances that explored identity, Naim's took on a more abstract method than Mutakabbir's. The first dance had told a clear and definite story. Naim, however, went from one side of the stage to the other and back again, walking across the foreground and returning to the bars several times. If Mutakabbir's dance was a narrative, Naim's was a character study. And while Mutakabbir's ended with a clear sense of peace, Naim's conclusion was left more open-ended. It raised questions more than it provided answers, and felt, overall, like an exploration.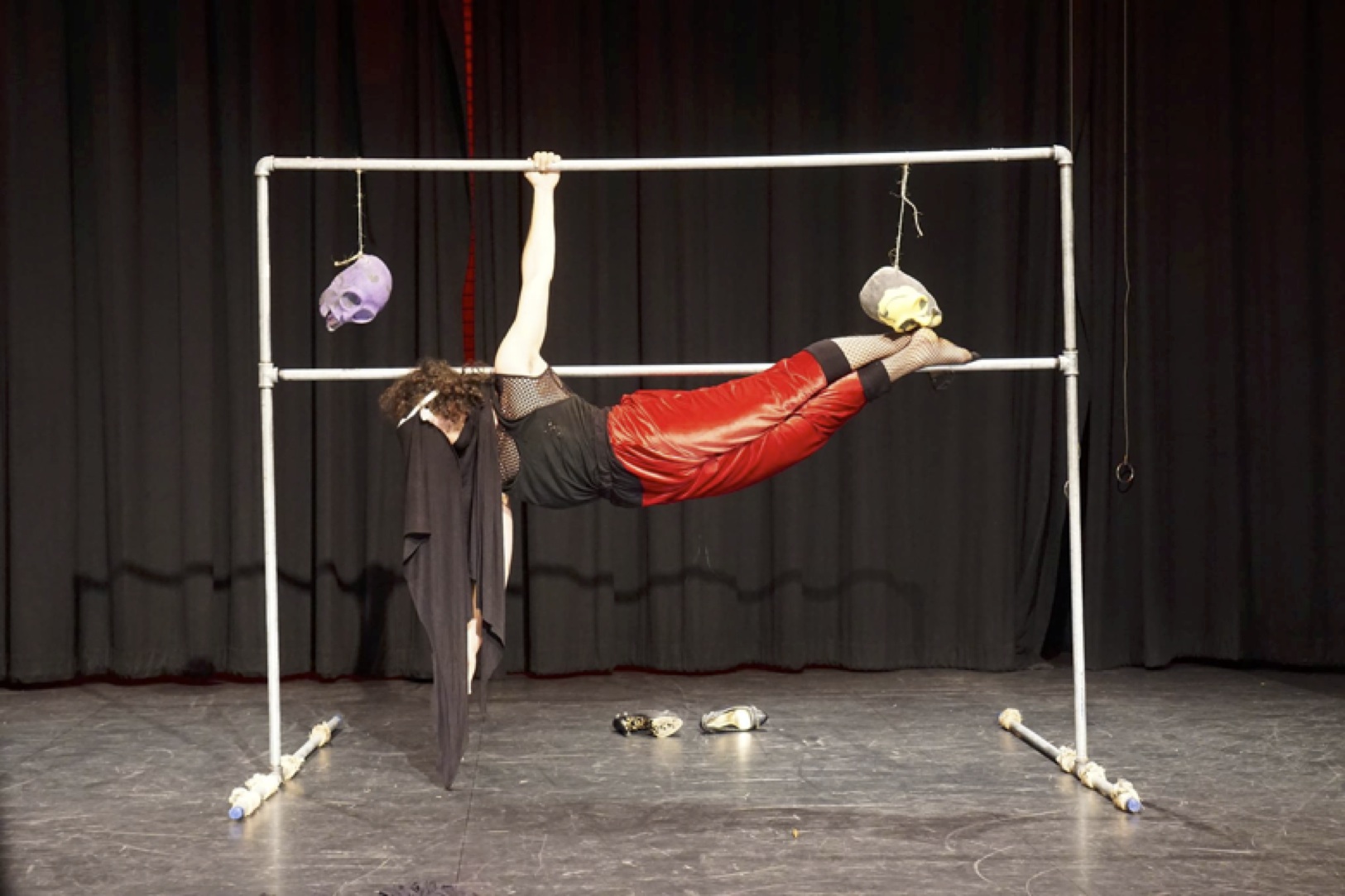 The thoughtful and introspective mood of the evening became more upbeat and celebratory as Taste the Rainbow, UCLA's queer dance group, took the stage. Beginning with a short and saccharine sound clip from Judy Garland's "Over the Rainbow," the music quickly shifted into a hip-hop mashup. High-energy choreography filled the stage as the dancers disappeared and appeared from behind the curtain, split into groups or pairs, and began gyrating across the stage.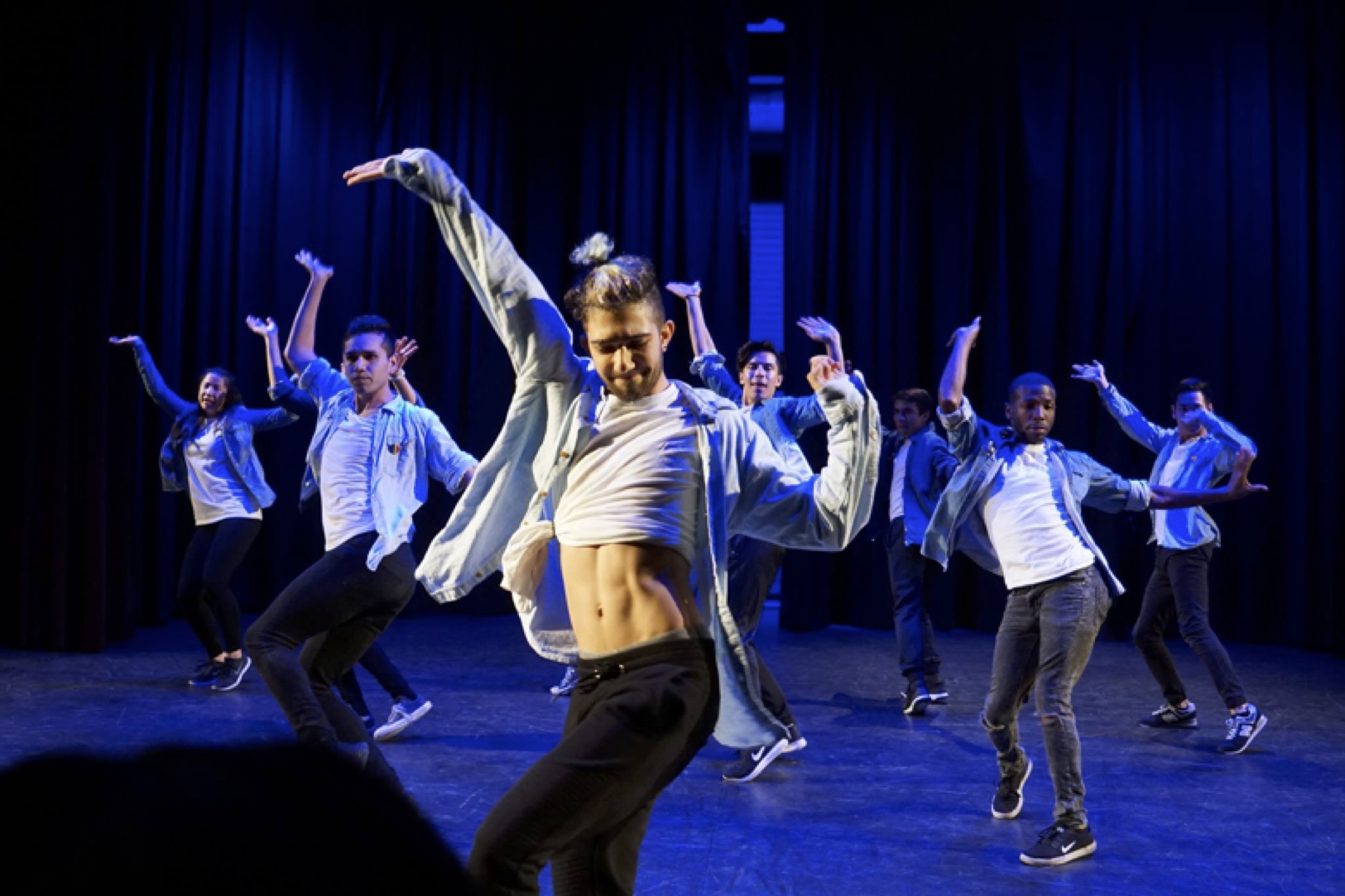 The audience was no longer quiet or on edge. The tension that had built up over the first two performances was released when Riy Mutakabbir encouraged everyone to shout or clap at "anything you see that you like." And there was plenty to like—Taste the Rainbow's ensemble danced with passion. With every powerful body roll and well-executed pirouette, the auditorium erupted into cheers. It felt like being in the middle of a conversation between the audience and the dancers. Some of the most enthusiastic applause came, unsurprisingly, when three pairs of dancers at the front of the stage went through some particularly suggestive moves—ending, rather sweetly, with a kiss.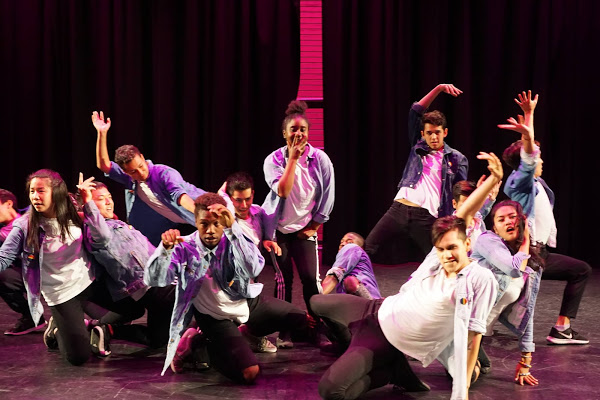 The final act of the night was not by students, but rather an artist and musician from Los Angeles whom many students may recognize from his appearance on RuPaul's Drag Race. AB Soto describes himself as an artist who seeks to "redefine what it means to be gay, as well as what it means to be Latin and gay in these times." His work contains "influences of not only his Latin heritage, but also rap, house music and dance music." For the lucky attendees at Queer Culture Night, he sang and danced to his songs "Cha Cha Bitch," "Fuk Dat," "Fashionz" (my personal favorite), and ended with "Club Lonely," a tribute to Pulse Orlando.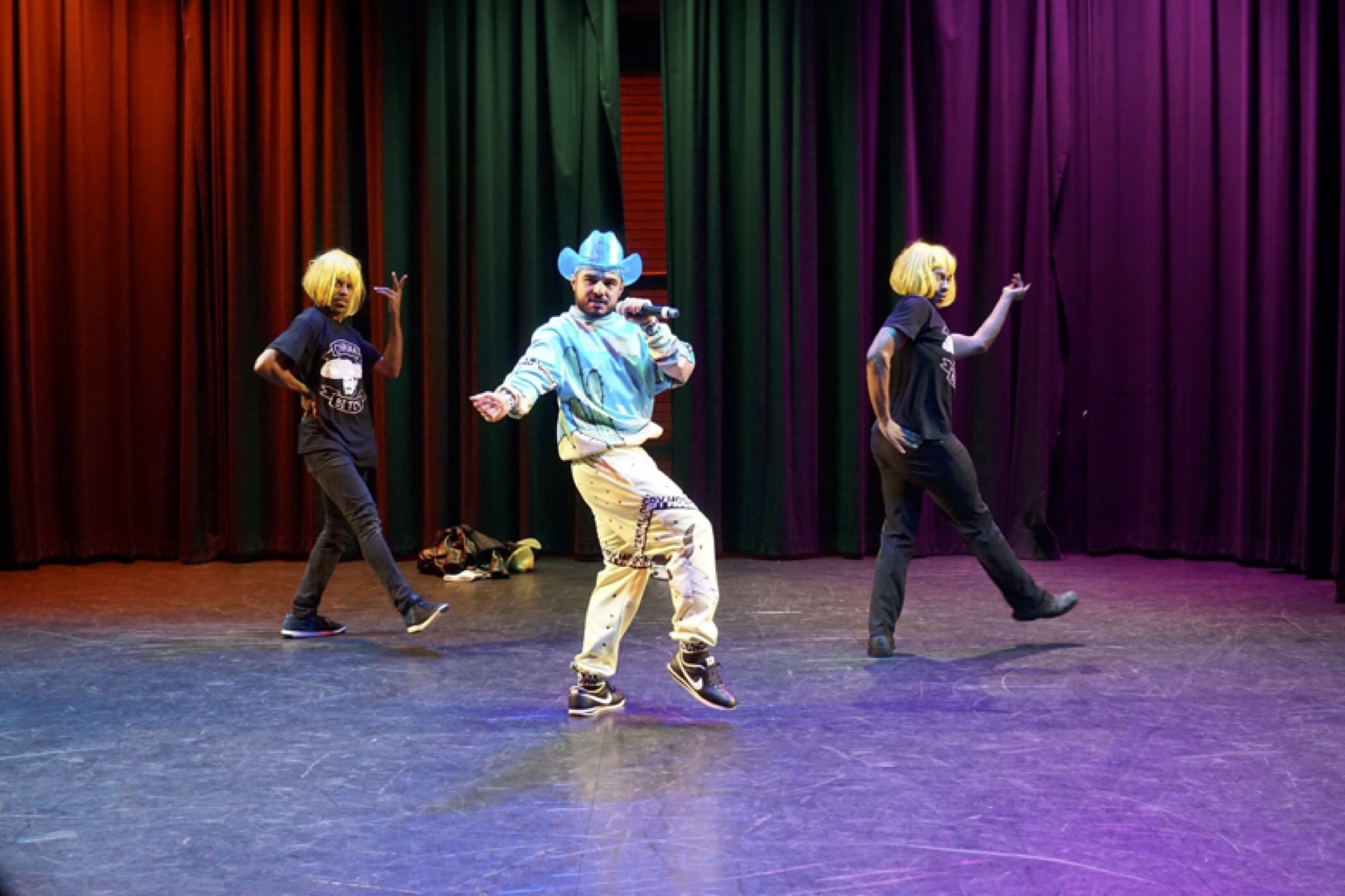 AB Soto was a perfect closing act to a night that had been an exuberant celebration of queer culture and queer life. Every performer captured an important aspect of queer experience: Riy Mutakabbir's sense of journey and growth, Timna Naim's feeling of strangeness, Taste the Rainbow's love of community, and finally AB Soto's unapologetic mission for uniqueness and sense of self.
At the beginning of the night, our host had, almost offhandedly, called Queer Culture Night "a queer tradition." The event's 11-year-old history certainly qualifies it to hold that title. After all, it does everything a good tradition should do. This year it brought together incoming freshmen, graduating seniors, and visiting alumni, students and professionals, artists and audience. Within two hours, it synthesized a community.

That evening, I entered the auditorium not knowing what to expect. I left it with a new appreciation for the incredible wealth of talent present among my UCLA queer community.