Photos by Lex Ryan/UCLA FTV Archive
---
As part of a larger showing presented by the UCLA Film & Television Archive on April 18th, some of the OutWrite staff had the chance to watch the film, "Framing Agnes," a tale about several trans people and their experiences with a social scientist at UCLA in the 1950s. The film flicks between real and unreal, truth and imaginary, but manages to stay grounded in transcripts located in the archive by the documentary's directors. The actors embodying several of the stories shown in the transcripts were all trans as well, breathing life into modern conceptions of representation.
The film nods to the iconic talk shows of the time period and the director, Chase Joynt, plays Harold Garfinkel, a sociologist, as he attempts to question trans people's experiences. There are subtle acknowledgments and tensions of disagreement and bewilderment between the scientists and those being interviewed. At the time, trans folks were appearing on television and gaining status, but not often was this elevation taking place because of an appreciation for transness. Rather, it was out of a need to know the unknown, to conquer a bewildering queerness for the average American eye. The similarities between the researchers' and talk show hosts' questions lead the film to play on this reflection. The show takes this on by situating the reenactments of these archived case studies and interviews as a talk show, stitched with real-life stills of the actors playing and embodying these characters in their everyday lives.
One case in particular, the story of Agnes, shines a light on the medical system and its exclusion of trans folks at the time. Agnes plays along with Garfinkel but outsmarts him time after time. She's witty, she's quick, and she even managed to convince doctors at the UCLA health center that she was intersex, leading to her getting a necessary gender-affirming surgery. While her story is told, the actor, Zachary Drucker, does her laundry and sits on a couch with a well-lit backdrop, evaluating Agnes' story and what it means for her. Humanity is at the forefront of "Framing Agnes," because where would queer film, storytelling, and representation be without it?
There's an acknowledged controversy in this tale of Agnes: is she an icon like so many posthumously view her now? Or is she a cautionary tale like the doctors and sociologists who attempted to study her life viewed her? The choice is up to the audience, but to many, it's clear that Agnes did what she needed to do. She later decided to leave town after revealing to researchers that she had tricked doctors at the facility. In fact, this was quite common practice for trans folks who received surgeries affirming their gender identity at the time. They were expected to create new lives, not draw attention toward themselves, and find new places and situations to move forward into. They could never talk about their lives before the operation. Just imagining how much becomes erased, how much gets hidden in the shadows, because of the conflicting need to survive and live one's truth makes the audience get a feel for what life was like for trans people in this time period.
"Framing Agnes" does not solely feature the stories of transgender women either. It highlights anecdotes and histories of trans men as well. Henry, a trans man who works a blue-collar factory job, is a fantastic writer and poet. He struggled with disclosing his identity, and when he wrote he talked about the separation of sexes as boxes that suffocate so many, including himself. Many of us have fixed images of what transness means within the workplace one works in, or the life one lives. But in reality, trans people are and were everywhere. Henry also, though not documented, suffered from cancer. He faced depression and near the end of his life many detailed that he had a despondent orientation based on his circumstances. It burns to hear how someone so full of vigor, able to bring life with so few words, suffered so greatly.
Agnes' tale is not the only one, and it's definitely not the only important one. The film acknowledges the whitewashing of queerness and of transness, particularly in the historical lens. Agnes was ultimately an embodiment of a transness that, although not acceptable, could find shelter in her racial privilege. Georgia, a Black trans woman, is also featured in the film as another story the researchers looked into. Her tale is one that requires much more critical understanding of conceptions of race and gender at the time. She lacked the ability to equally participate in the workforce because of workplace segregation and unequal labor access. She faced violence and discrimination even at a baseball game.
Angelica Ross, the actress playing Georgia, says something in the context of "Framing Agnes" featuring so many trans stories, mentioning how there are some stories she is tired of telling. Forty-five transgender people were murdered in 2021, with a majority of them being Black or Latinx trans women, the highest number of any years tracked. Considering that this data has not been tracked for long and that much of the violence trans people of color face often goes unreported, this story is far too relevant. There are too many contemporary examples and past histories of violence against trans women of color, particularly Black trans women. Asking this community to speak on their experience consistently and without any change is harmful.
Jules Gil-Peterson, a trans historian from UCLA, gives live reactions and critiques the film as she watches it back. The directors are asking for her feedback for the direction in which the film is going, clip by clip, and they interlace her visceral feelings throughout the documentary. One of the most beautiful parts of how these stories are told, and there are many of them, is that they are never told in the singular but rather as a collective. We get to see Gil-Peterson and her critiques stitched throughout the film because the narrative of "Framing Agnes" demands constant evaluation and accountability.
Gil-Peterson makes several points about representation, but there's something specific she said about Georgia's tale that the film really drives home. It's not wrong to look at Georgia's story and see a consistent tragedy, a consistent history in society that has left so many marginalized people facing violence. But at the same time, Gil-Peterson asks herself and the audience to question what they want from Georgia. These experiences of intertwined racism and transphobia and queerphobia that Georgia faces are that: her experiences. They can parallel many of ours and they speak to a collective experience that trans communities of color have faced historically, but they cannot be all of our experiences. It's not enough to point to Georgia and say that what she is presenting is a tragedy, because for her that is her everyday truth, and she is still so much more than that. She has a husband, she has experiences with religion, and her experiences of marginalization cannot be the only narrative we define her by.
Gil-Peterson points this out because we often look to representation and diversity as a way to make us feel better about the media we are consuming. To reassure us that maybe we have considered more perspectives and that we have done a better job at telling stories. She asks this because the instinct in watching this film is to criticize Garfinkel. To ask, why is he asking and demanding so much from the trans folks he is interviewing? And why is he dehumanizing them in the process? But we have to interrogate ourselves in this as well. Are we really that different from Garfinkel when we ask stories like Agnes', Georgia's in particular, to speak to us rather than engaging with them in good faith for who they are? At what point is it about what we want instead of what's best for the people whose stories we are telling? At what point is visibility a problem?
For trans people of color, unlike many other privileged groups of queer people, visibility is a double-edged sword. When people know what you look like, the ways in which your queerness and transness can be identified, you become more of a target. There is a risk that comes with the positives of visibility that ultimately hurts the most marginalized and targeted within the queer community and collective. Gil-Peterson mentions how sometimes invisibility can be a gift. She anticipates that many people may initially wonder about all the intersections of identity and transness that didn't get representation in this film, and she asks us to consider: what if those trans folks whose stories weren't told by these archives or this film were out living their lives? What if they were invisible and that was the thing they wanted most? To proceed without fear, without being studied, without being othered. To blend in.
At times, representation gives us this idea that we can do it all; that we can be that next actor, politician, singer, performer, etc. But what about the many queer and trans folks in particular who are just fighting to make it to the next day? Who just want rest? Who are tired of telling and repeating the same narratives over and over again? Representation can be powerful, but "Framing Agnes" asks us to question if it creates aspirations only for those who can afford it while slowly marginalizing those who cannot.
"Framing Agnes" goes beyond our idea of what it means to be represented or captured on the big screen. It asks us to reevaluate the paradigms we hold so closely to us in the modern age of queer media, storytelling, and reproduction. We so often have stories, tales, and truths that give us a sense of connection and meaning. But with "Framing Agnes," we are challenged, questioned, and asked, "Is this really what's best for us?" Do we really understand what we are asking for when we ask for the same story to be told? Do we know what we are requesting when we ask for representation? The documentary disconnects us from these frameworks, these traditional ways of thinking, and reconnects us with the values we know we all share as queer people, but with an acknowledgment that we can't always have it all nor should we.
---
OutWrite Newsmagazine would like to thank the Bruin Film Society for connecting us with the UCLA Film and Television Archive and establishing our media partnership with this event!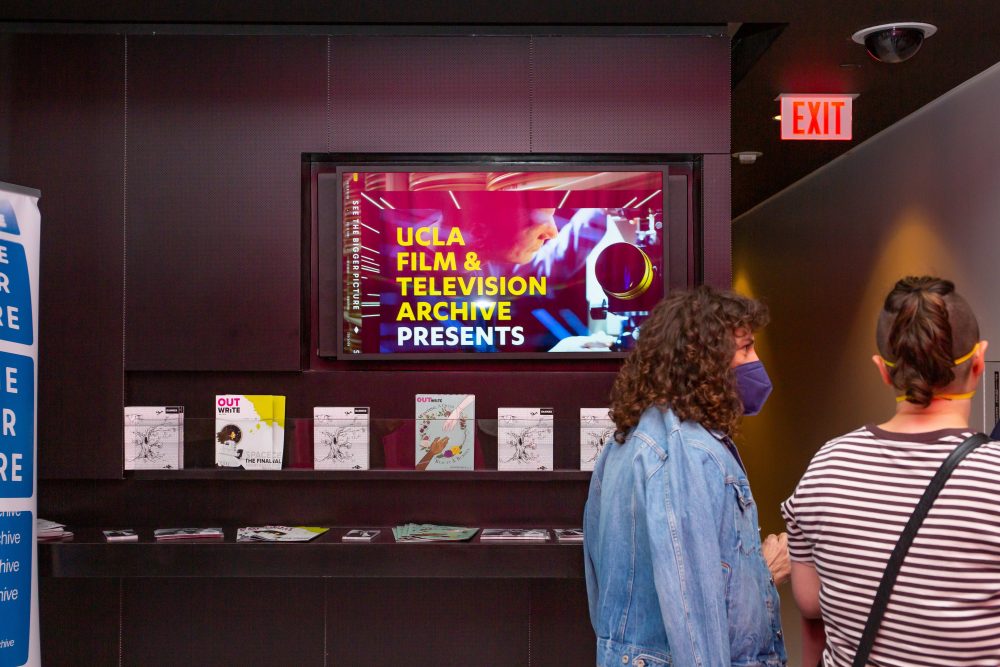 ---
Credits:
Author: Shaanth Kodialam (They/Them)
Copy Editors: Emma Blakely (They/She/He), Bella (She/They)