Photo by Myka Fromm (She/Her)
---
Roe v. Wade was overturned on June 24, 2022 reversing 49 years of legal precedent in the U.S.. Supreme Court Justice Clarence Thomas has made it clear he does not plan to stop there, and gay marriage could be next up to take a massive political hit.
Roe v. Wade had been an established precedent in the United States for seven times as long as the precedent that legalized same-sex marriage nationwide, Obergefell v. Hodges. This legislation has only been protected across the entire United States for seven years. The question can be asked: is same-sex marriage safe from the conservative majority on the Supreme Court?
Roe was established on the basis of the Constitutional rights to privacy and liberty, which were interpreted from the 14th Amendment of the Constitution by the Supreme Court in 1973. This amendment codifies that the government "cannot deprive any person of life, liberty, or property, without due process of law." In the case of Obergefell v. Hodges, the 14th Amendment was once again a legal standing for civil rights.
Because of the Due Process Clause of the 14th Amendment, the Supreme Court recognized the legal error in depriving same-sex couples the right to marry, as it abridged their right to life and liberty as well as privacy.
However, the 14th amendment Due Process Clause was also used as the legal backbone for the passing of Roe v. Wade. It has been interpreted as a fundamental "right to privacy," which allowed women to have safe and legal abortions for almost 50 years. When a precedent of this magnitude is overturned it paves the way for other legislation ratified in a similar way, such as Obergefell v. Hodges, to be questioned.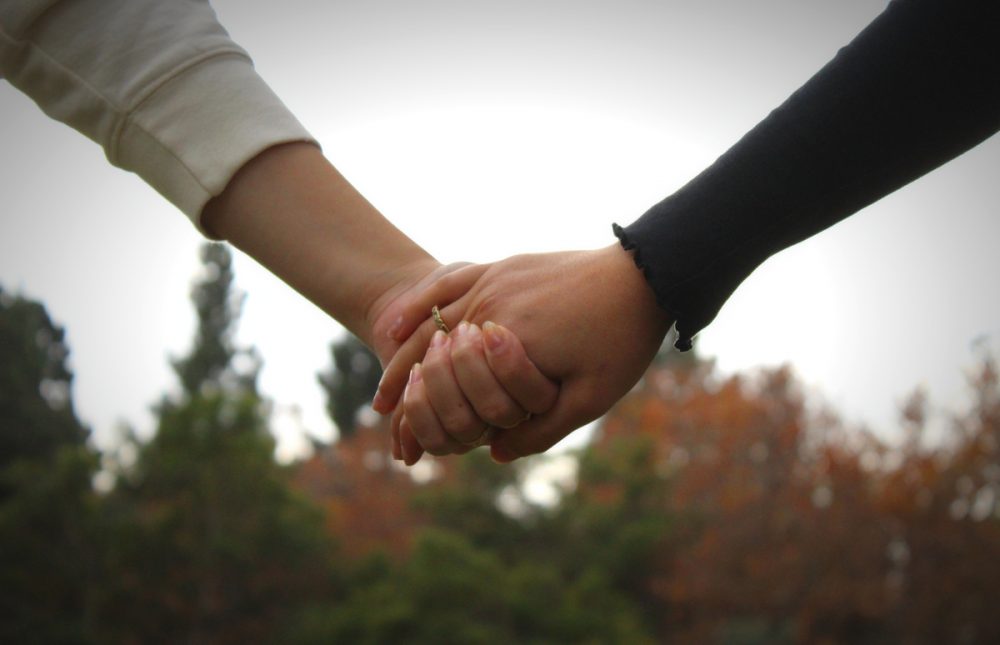 Close-up of two queer people holding hands. Photo by Myka Fromm/OutWrite Newsmagazine.
Many people across the United States, including UCLA students, never believed it was possible for Roe v. Wade to be overturned. Maya Palaniappan, a fourth-year computer science major said, "I still haven't processed it." As a member of the queer community, she understands the strength of will the LGBTQ+ community possesses and believes the "power of protest" will protect Obergefell v. Hodges. 
According to a May 2022 poll done through Gallup, only 13% of Americans believe that abortion should be illegal in all cases. This fact alone shows that protest and public support is not enough to bolster the legal precedents that currently protect queer people. The poll showed 85% of Americans show/support some form of reproductive legislation that protects the right to abortion, yet the Supreme Court still decided to tear down the legislation.
Gallup's annual Values and Beliefs poll from May of 2022 places support for same-sex marriage at 71%, the highest it has ever been. However, in a similar poll done by Gallup entitled "Support for Same Sex Marrige by Church Attendance," it was found that only 40% of weekly church-goers show support. The church is an extremely powerful force that is intertwined with the U.S. government and continues to have a powerful influence within the nation's political systems.
The assumption that public support will protect the right to gay marriage is misguided. There is no guarantee that LGBTQ+ rights will not be attacked next. In 2022 alone, there has already been a surge of anti-LGBTQ+ legislation that has limited the rights of the queer community.
Data from the ACLU shows that there have been 37 anti-trans bills proposed "restricting healthcare for transgender youth" throughout this year. For members of the trans community, acceptance and respect continues to be fought for in the courts.
A more overarching attack on the LGBTQ+ community can be seen in Florida's "Parental Rights in Education Act," — which has been coined the "Don't Say Gay" Bill — passed on March 28, 2022. Limiting talk of LGBTQ+ identities in classroom environments affects not only LGBTQ+ children but also children who have LGBTQ+ parents. When a word or a concept becomes taboo to talk about in a safe space (as schools should be), then it breeds fear as well as prejudice.
This is where America has headed.
There is no way to know for certain whether an opinion overturning Obergefell v. Hodges will be the next leaked draft to grace the headlines of newspapers and iPhone screens. However, it is clear that the legal system is already attacking the rights of the queer community. A Supreme Court that doesn't support the LGBTQ+ community can create a myriad of issues and judgments that limit our rights.
As of right now the Supreme Court is stacked with a majority of conservative-leaning justices who are paving the way to overturn liberal precedents (as seen in Roe v. Wade) as well as enacting restrictions for the LGBTQ+ community.
NPR reported on a recent court decision in 2021 in which the Supreme Court sided with Catholic Social Services allowing them to discriminate against same-sex married couples. The city of Philadelphia attempted to end their contract with CSS due to this discrimination.
The case was brought before the Supreme Court, as CSS felt their First Amendment right to "freedom of religion" was being violated. It was their religious belief that same-sex marriage is wrong. The ultimate decision made by the court allowed for CSS to continue to operate under their religious beliefs surrounding the sin of homosexuality.
Cases like this cause concern for the current legislation that protects the queer community. Though the government claims there is a separation between church and state, religion seems to always be a key factor in policy and personal action. Essentially, what it will come down to is the religious right to hate the queer community versus the legal right to freedom from discrimination based on sexual orientation or gender identity.
Based on the direction that the current Supreme Court as well as state governments have been leaning, there is reason to be skeptical of what rights the queer community will be able to hang on to. Bodily autonomy was attacked in the removal of Roe v. Wade, and this attack is spreading to trans rights as well.  The right to marry may not be the most pressing issue the queer community will have to face as religious resentment for the queer community continues to grow and poison the legal system. 
---
Credits:
Author: Taylor Kunin-Ir (She/Her)
Artist: Myka Fromm (She/Her)
Copy Editors: JQ Shearin (She/Her), Bella (She/They)