Illustrated by Chantal Wang
---
The tech industry doesn't have to be gatekept by straight white men who want to work in big corporations — anyone can join a hackathon. Whether it's to meet new people united through a common cause, learn how to use design tools, or score some free food and goodies, consider checking out QWER Hacks!
QWER Hacks is a space at UCLA for LGBTQIA+ individuals and allies to come together for 24 hours and create impactful tech projects with the theme of serving the underserved. This year's tracks are food security, housing access, and healthcare equity.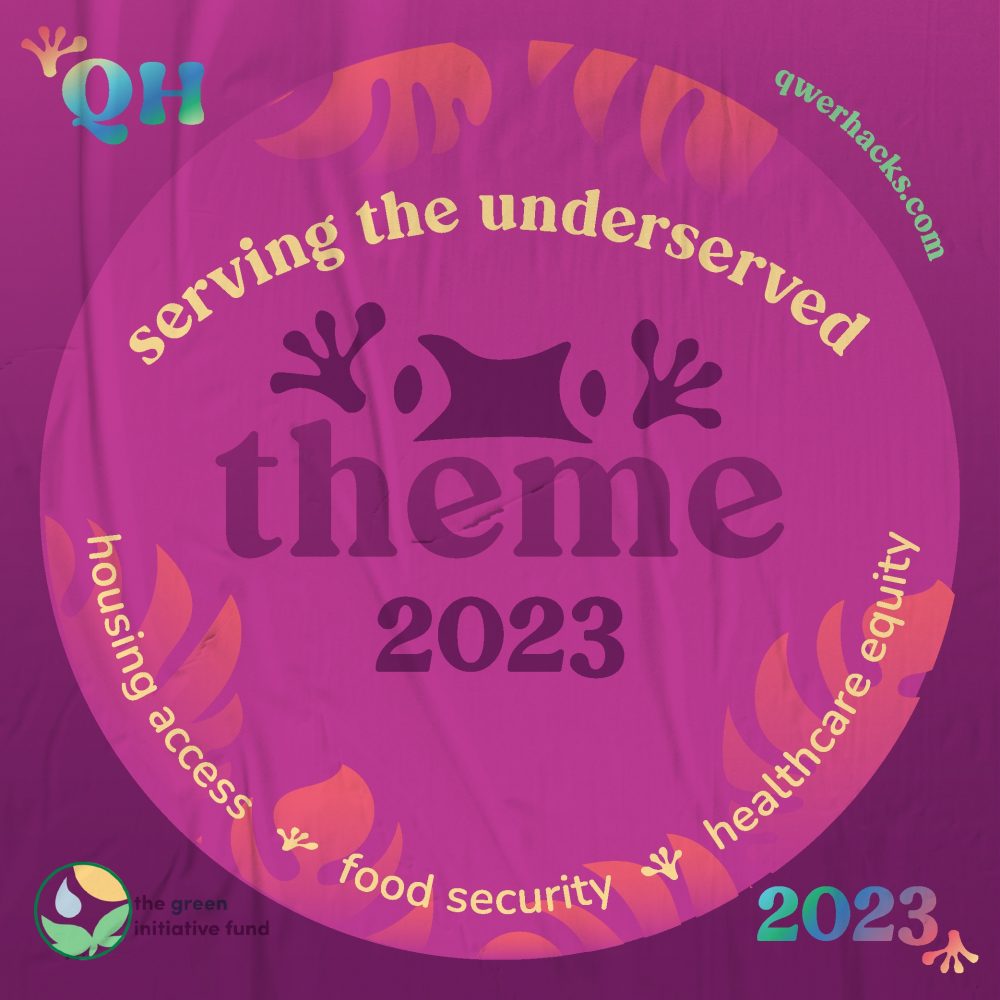 A hackathon is one of the best beginner-friendly events to rapidly learn and develop tech-adjacent skills. Attendees, also known as hackers, work alongside a group of friends, supportive mentors, and community members to complete their projects. A hacker can be anyone, regardless of major, who wants to use the tools around them to make a change for the better. For example, one of the previous year's winners connected students with similar gender identities through a web application.
QWER Hacks 2023 will happen in-person at Carnesale Commons on the weekend of Jan. 28 and 29. Registration will be open on the day of the event at no cost, so feel free to walk in. More details and FAQs are posted on the QWER Hacks website.
QWER Hacks encourages hackers to come in wanting to make a difference, and their Medium is a valuable resource to learn more about important issues, their stakeholders, and terminology, plus some recommended readings. They also provide guides for first-time hackers! This case study provides a concrete written example of how technology can improve access to food.
Track-specific hacker resources
A breakdown of judging criteria
This year's QWER Hacks organizing team includes director Margaret Capetz (she/her), publicist and designer T.P. (she/her), student experience lead Maya Balakrishnan (she/her), web development lead Julie Cover (she/her), and student experience lead Amanda Wang (she/her), along with many others.
As a sneak peek into what QWER Hacks has in store this year, the organizers offered their insights into everything from tips for first-timers to their personal stories of how they got involved in the intersectionality of queer and tech spaces.
---
2023 is the first time QWER Hacks will be held in person in three years! What do you think hackers can look forward to with this change?
Maya Balakrishnan: As a part of the organizing board last year, I'm super excited to have an in-person hackathon this year. I think what hackers should really look forward to is all the collaboration and socializing! Of course, hackathons are about developing your idea and creating something, but it's so much more about getting to meet amazing new people you can share perspectives with and learn and grow [intersectionally] as well.
Amanda Wang: I was actually a QWER Hacks participant last year. It was really fun, but it was all online. I was lucky enough to have a team that was all UCLA students, so we did end up meeting in the dorms, but it was very strange to not have a room full of people at the same time. But this year, I just wanted to announce that we have tie-dyeing, and I will be the tie-dye master along with Maya.
Julie Cover: I'm super excited for all the speakers and fun activities! We've got some things focused on getting total beginners ready to go with some talks and workshops at the start of the event. That'll be cool, so even if you don't have a lot of experience, it's a good event to come to just to get some starting experience and learn how to make things happen. Oh, and the badges! We're gonna have really cool badges that you can get if you come.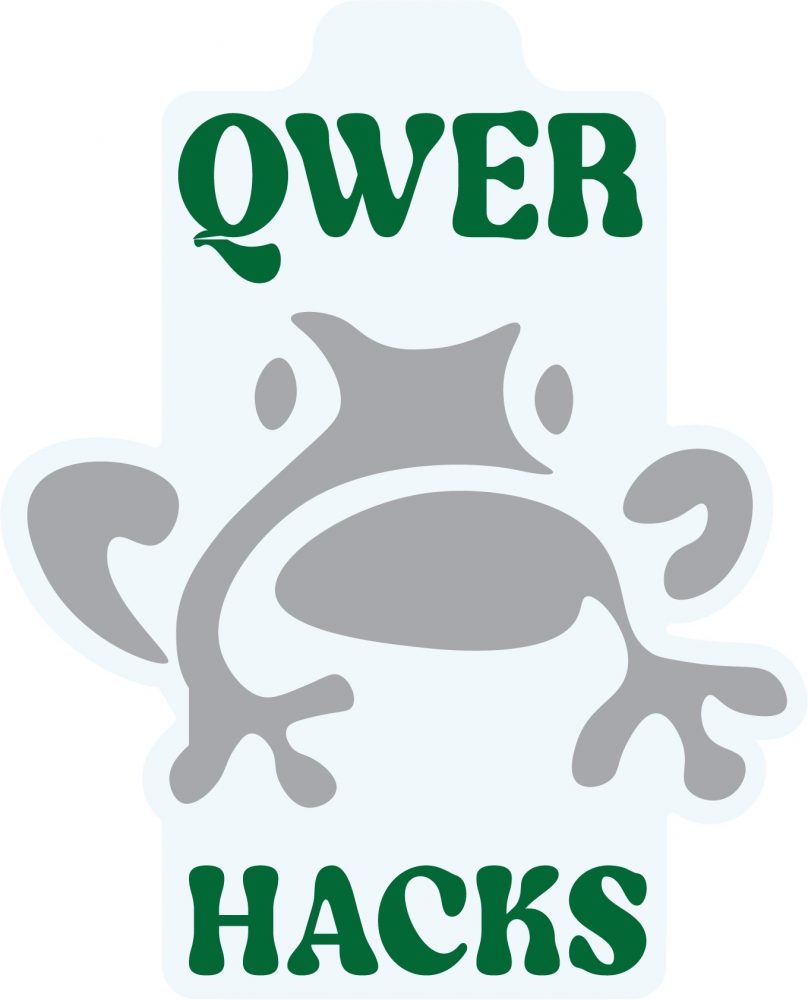 As a previous director of QWER Hacks, I'm so happy we actually have a mascot now! I am in love with Lilo, our tree frog … I know that if people follow our Instagram, they'll know that the name means "generous one," but what does Lilo represent to you?
T.P.: As someone who named the mascot, especially with our theme and tracks this year, it's really important to me that we as queer people — especially because we're part of a marginalized community — understand where the fact that we're marginalized stems from and where that also intersects with other identities. What Lilo represents to me is the generosity and the open-mindedness of not only queer people but also other marginalized people, realizing that and also wanting to make a change for the better and using tech to overcome those barriers we're facing right now.
Margaret Capetz: I'm really glad that it can be a guiding message for our whole organization. Before we even started planning QWER Hacks, we talked about intersectionality and what that means. This year, we're really trying to use UCLA as a platform to uplift other communities.
We love leveraging big education to support the people we want. Focusing more on personal experience, as the ones putting on QWER Hacks, what are your stories as members of the queer and/or tech spaces that led you to where you are today?
Maya Balakrishnan: For a lot of members of the LGBTQIA+ [community], it can be hard to find a place where you feel like you belong when you're surrounded by a lot of people who aren't like you. That's one of the reasons I'm on this committee — it's really nice to be able to find a sense of community and other things you're interested in with people, rather than just being ostracized for one aspect of who you are. I wasn't really encouraged to be involved in tech when I was in high school, so being in college and being exposed to new experiences was really eye-opening. You don't need a lot of experience coming in as long as you have the passion for it.
Amanda Wang: The stereotype of tech is that it's run by this "bro culture": you look at these Internet party videos of tech bros and the way they talk about Patagonia — I just think it's not somewhere I see myself fitting in because the culture just doesn't really suit how I identify. In high school, I was really surrounded by a team of men who liked to talk over me, but then having QWER Hacks and this organizing team, where we all uplift each other and it's not male dominated … it's nice to have a community that is actively trying to support itself.
T.P.: Echoing Maya and Amanda, I think I can speak for everyone when I say that being queer is inherently anxiety-inducing and scary. There's always this outside gaze when you're part of a marginalized community, especially when you're queer — you don't really know what these people think of you and how they'll react to you. It's great that QWER Hacks is one of those safe spaces for the queer community in tech. That's why I gravitated towards QWER Hacks — because as someone who's super interested in and has an inferiority complex in STEM, I find myself saying "sorry" so much or not really believing in myself and my abilities in STEM.
I also want to highlight the [earlier] bit about having first-timer-specific resources for hackers, whether it be workshops on forming groups to work with or on the basics of version control. Taking a step back from the schedule, are there any tracks and themes you're excited for this year in particular?
Julie Cover: I'm definitely interested in having things that personally matter to me, and I'm hoping we can get good projects out of it — particularly the healthcare equity track. One of the sub-focuses is genderqueer healthcare. There's a lot of problems with how that system works in the US, and I'm hoping that we can see some genuinely useful things coming out for that. Fingers crossed that something like that comes up!
Margaret Capetz: I'm super excited about food security because I believe it's the track that most ties to climate justice and environmental justice. In our judging form, we made sure to include a lot of stuff about, "Does this really affect marginalized communities? Does this really attach back to the tracks and the theme? Does this have any sort of long-term impact?"
---
To wrap up our interview, I asked the organizers for their final words of advice for first-time and returning hackers. Julie stressed the importance of asking for help from mentors and volunteers to show that anyone, regardless of skill set, can succeed. On top of making the most of the provided resources, Maya encouraged to "Try to stay educated about whatever issue you choose to follow." T. emphasized that hackathons are more about learning than being the best person there and to respect yourself and everyone else. Margaret suggested considering that no one on your team and in the project's target audience is left behind, and Amanda told hackers to "have fun and take away as much as you can, because we're here for you."
For more updated information on QWER Hacks, make sure to check out their website and their Instagram!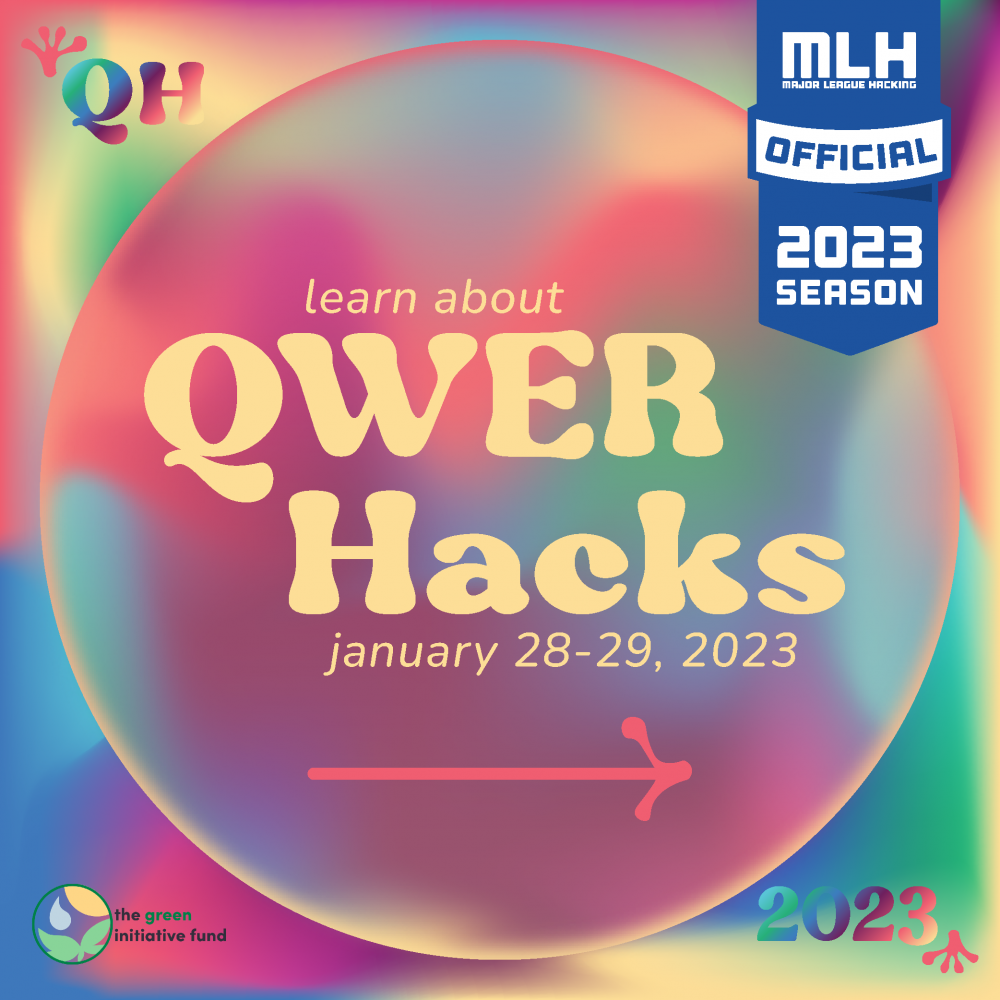 ---
Credits:
Author: Min Kim (They/Them)
Copy Editors: JQ Shearin (She/Her), Bella (She/They)