Photo by Sunflower Station Press
---
In May 1930, sci-fi fans created the first 'zine'- which Wikipedia describes as "a small-circulation self-published work of original or appropriated texts and images"- to connect communities before the Internet. The zine quickly evolved, transforming with counterculture and punk movements, like the 1980s riot grrl, and finding popularity among queer communities. Even with social media, the zine continues to thrive as a way for people to connect and collaborate both underground and online.
Sunflower Station Press is one such zine. The literary press, rooted in Los Angeles, the Bay Area, and the Pacific Northwest, published their first zine in August 2021. They market themselves as "a soft landing place for artists" that "seek[s] to center artists whose work grapples with their surroundings." With their third issue, "Rituals and Ceremonies," on the way, I sat down with publisher PJ Zettle (he/him) and performing poet Leah Clancy (she/her) ahead of their April 1 release party at Junior High LA to see how they've done just that.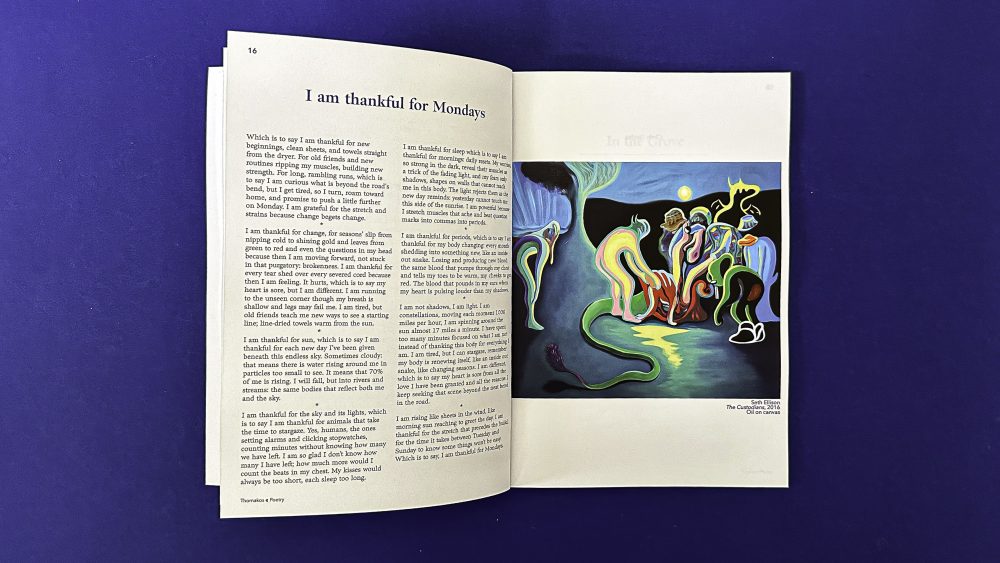 Content Warning: This interview includes a mention of suicide.
OutWrite: Sunflower Station Press published its first issue in August 2021. In addition to your digi-zine "Loose Leaves," you've been publishing one physical zine each year. What's the publishing and editing process like?
PJ Zettle: It's changed over time … and it's become a little bit more refined as we've gone. Michael Rodriguez [is] our Editor-in-Chief, but … it's a small press, we all end up wearing multiple hats. For this last project, I actually took on editing a decent amount of it, so with editing any kind of literary work, you have stuff that happens on the more developmental side, and then you have stuff that's more, you know, copy based … Just a little tiny difference can mess with the integrity of the whole entire work, and so we try to be as … deliberate as possible with that. 
Zettle shows me a copy of the newest issue of Sunflower Station's Zine, "Rituals and Ceremonies."
Zettle: We just got these in, so, very, very happy about that. 
OutWrite: Nice, nice, I saw those, they look great.
Leah Clancy: It looks awesome.
Zettle: It's actually gorgeous, it feels gorgeous. We use a different paper stock than we typically do, and right here—
Zettle flips to Clancy's "Masturbation Poem."
Clancy: (Laughs) Yay!
OutWrite: Those are things that you don't really think about — even down to the kind of paper you use — how much goes into the process of creating a zine. 
"Rituals and Ceremonies" is on the way, and your website describes this issue as "an invitation to escape and tend to something primal, something spiritual that is within us all." Who is Sunflower Station Press inviting, and how can they escape through this zine?
Zettle: I think one of the major things that we have been able to accomplish as a press is cultivate a community of artists through our event series … to be able to kind of give voice to those who otherwise might not. We've had people who have been writers but have been looking for a place to perform, we have people who feel like they didn't have the safe space to be able to perform that we've been trying to provide — I mean, we had Morgan Parker perform [two events ago] at Tabula … But then also with the magazines too, we have a lot of visual art … and at this next event we're going to be having multiple different performance art pieces including a dancer, so … we're trying to kind of open the door for … anybody and everybody, really.
Clancy: I became aware of Sunflower from the reading series. A friend of mine Paasha Motamedi — who's been in the series … a few times now and has just really embraced it wholeheartedly — suggested that I get in touch with PJ for the first event, and it was such a blast … I've done readings all over the place and especially in LA, sometimes it can feel … a little overwhelming or intimidating if there's a lot of folks that you don't know, but it definitely wasn't the vibe there.
I think one thing that's been really special with my experience with Sunflower is that PJ and [other members of Sunflower] [have] asked me to return multiple times, which is not my experience with a lot of different reading series … It's so special because that's helped me get to know other people and expand my network of friends that I've just been meeting through the reading series…because of the frequency of the events.
It's been so much fun … just to even see how the audience has grown as people continue to join in and recommend other friends like, "Hey, PJ, here's my friend Keisha (@reishakanes), who's an awesome writer," and now Keisha's read at a couple different events. It has just a really nice sort of organic feeling to it, it's very intentional, but at the same rate, it's also very … intuitive.
OutWrite: I think 'organic' is a great word for it because when you're a freelance writer, you look at all these magazines that have an image of inclusivity, but they really are exclusive. It's cool that you're able to have, like you said, these organic collaborations.
On your Instagram, I got to listen to your poem, "Hosanna," and I found it very compelling and confessional. You talk about how after the pandemic, it took you a while to get back out of your shell. I'm wondering how being so collaborative has influenced your artwork.
Clancy: It's kind of always been my default style … After the pandemic it was a little … strange to emerge from that little cocoon a bit to read that work aloud again because it is so personal. [Sunflower's event] felt like a group of friends and not so much like, "I need to stand up and perform right now." I could look and see people I knew in the audience, people that I've just met, people I've already had lovely conversations with.
I'm really grateful for that, and it did, like, jumpstart me not just [into] sharing more of my work but even just writing more and submitting more.
OutWrite: There was so much change in the pandemic. Of course, there's so much tragedy involved, but there's also been this ability for us to focus on what's important to us and build these interesting new online communities.
There's also the opportunity for charity. I saw in your bio there's a link to an event called "The Concert for Jenn" and a corresponding GoFundMe. Can you tell me about that?
Clancy: That's actually for a really dear friend of mine who passed away by suicide back in November of last year. That actually really impacted the poem "Hosanna" that you had mentioned. I worked on [it] in collaboration with Tempe Hale, who's a really amazing animator, and we spoke a lot about the different women in our lives and the struggles we face. [Jenn] and I both grew up in South Buffalo, which is a very relatively conservative, working-class Catholic community, and she was always a kindred spirit … like a rebel with a cause, and really led the way in just supporting my writing, and being a writer herself. [She] was extremely passionate, a humongous advocate for the arts.
The art and literary scene in Buffalo has suffered an immeasurable loss with the passing of Jenn. The benefit that is happening on April 21 in Buffalo is just a group of her friends, honestly, in all different areas of her life getting together to really celebrate her but also to really speak towards mental health awareness. Her brother especially is really championing that cause, as well as her former partner, who's a comedian. So it's awesome to see that even in the wake of Jenn's passing, she's still creating this beautiful gathering space for the Buffalo cultural community.
OutWrite: Absolutely, thank you for sharing that. As an artist, you want that art to prevail, right? I think it's really great that you guys are working to make sure art prevails and really keep her a part of that.
I also saw that Sunflower donated to Critical Resistance and Bay Area Girls Rock Camp. Can you tell us about those organizations and why you chose them?
Zettle: It's definitely been a goal of this organization that whenever we [profit], we choose different nonprofits to donate to. That's gonna change a little bit coming up here soon because we want to be able to do more as a business, but in terms of … putting money into our wallets, it hasn't happened at all because we have chosen these organizations.
For this [event], we're still figuring out what we're going to donate towards, but it's just one of those things where we don't want to make it about money … The last two went to the East LA Women's Center, and sales went up dramatically during the poetry events. I think it went from like $2,000 per day to $4500 per day.
OutWrite: It's cool to see you're diversifying, finding different organizations. It's not just the one-time donating money but also being able to bring more awareness to these organizations, too, which is a really great way to use your influence and help different communities.
We've seen the conservative diversion of politics across the U.S. targeting LGBTQ people and preventing gatherings. Given that the upcoming launch party is at Junior High LA, a nonprofit community arts space for the queer community, do you think the theme of "Rituals and Ceremonies" is timely?
Zettle: There is [a] fantastical element of it all, which we definitely explore in the magazine, which I think in a lot of ways definitely relates to [a queer space], for sure. But I think that the bigger inspiration for me, in particular, is just the everyday rituals, the everyday things that we do, the everyday things we need to accomplish just to be okay with ourselves, to be able to understand [the] unique elements that make us who we are and how we get through the day … It's unifying, I would say. I think we all experience different ways of being.
OutWrite: The idea of a queer space, it's not just about sexuality and gender; it's about allowing for a unifying space for people of all walks of life. That's a great way to sum it up. Finally, I want to know what's next for both of you. What's coming up? What's the future look like?
Clancy: I'm not a huge future thinker. I live my life, like, two weeks at a time. I'm flying back to LA tomorrow, and I just booked the flight yesterday. I'm not a big planner … For April, I'm gonna try to post a poem every day. 
OutWrite: That's cool because a poem a day that's a ritual, isn't it? The influence is already there. That's great.
Clancy: Exactly. I might be reaching into the archive for a couple of things. I'm gonna try and get into that ritual for sure.
Zettle: That's so fun, reaching back in the archives; that's such [an] illuminating experience whenever you do that. We are going to be putting out a couple new works at Sunflower that I'm going to keep a little under wraps because I don't want to say the wrong thing. That's going to take up some time after this magazine release, [and] there are going to be more works by individual authors that we're really stoked to be able to put out. 
---
In today's world, everything feels like a money thing. But this hasn't stopped Sunflower Station from putting its money where its mouth is, from nurturing its own community to nourishing existing ones. Publications like Sunflower Station, and their featured artists like Clancy, continue that ritual with their upcoming ceremony at Junior High LA. From the success of their zine to their charitable donations, Sunflower Station Press and their artists show us the power of pressing on. 
Find Sunflower Station Press at their website and Instagram. Get your hands on Issue 03 here, and grab tickets to their April 1 release party here.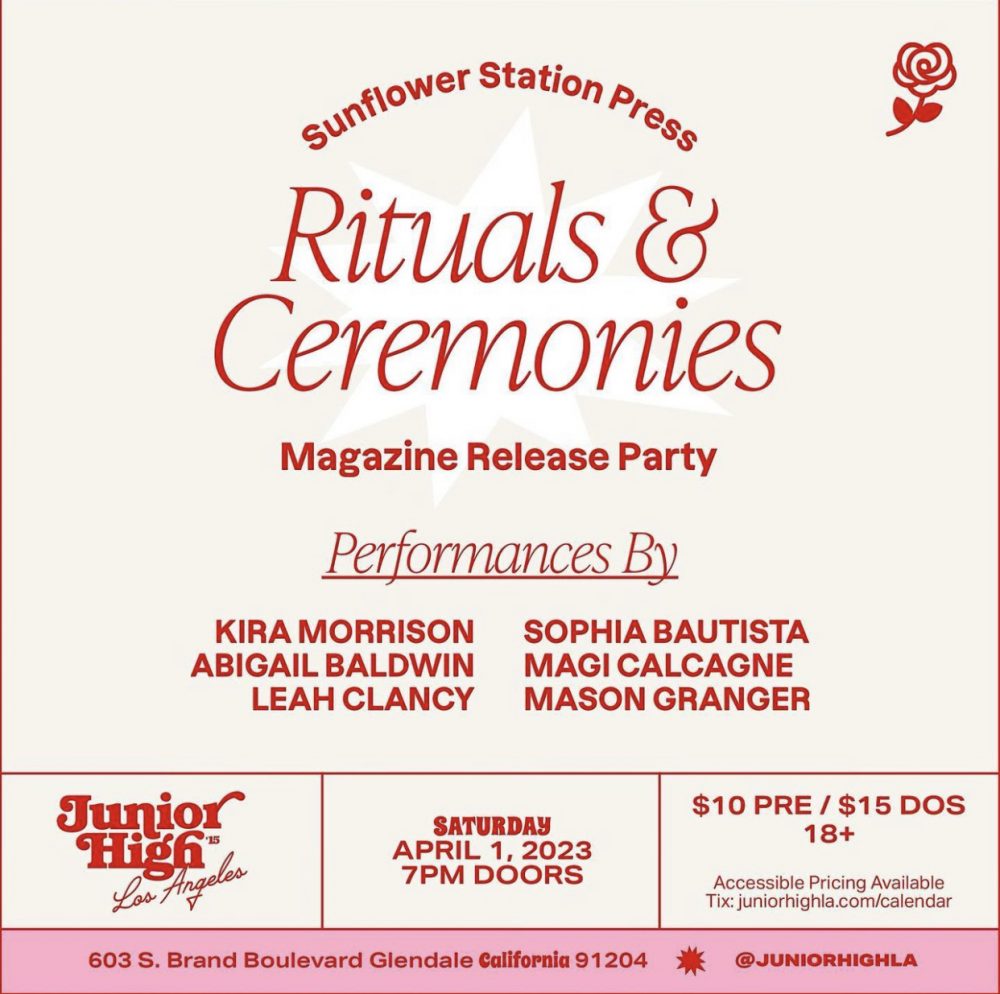 ---
Credits:
Author: Layla Knowles (She/They)
Copy Editors: Michel (He/They), Bella (She/They)