Photo by Ava Rosenberg/OutWrite
---
On April 8, 2023, UCLA softball had its annual Pride Game against the Oregon State Beavers. I attended the game to see how Pride was celebrated and also sat down with Head Coach Kirk Walker, the first out D1 coach in the country. He also co-founded the Equality Coaching Alliance and the LGBT Sports Coalition to promote inclusion in sports. Walker received a kinesiology degree from UCLA in 1988, then began his softball coaching career immediately after. He is also a skilled athlete in men's fastpitch softball and has won two national titles playing as a pitcher. With Walker, the Bruins have made it to seven NCAA Championships and 17 Women's College World Series.
As soon as I arrived at the game, I saw a table with boxes of free Pride flags. Many fans had taken some to wave during the game.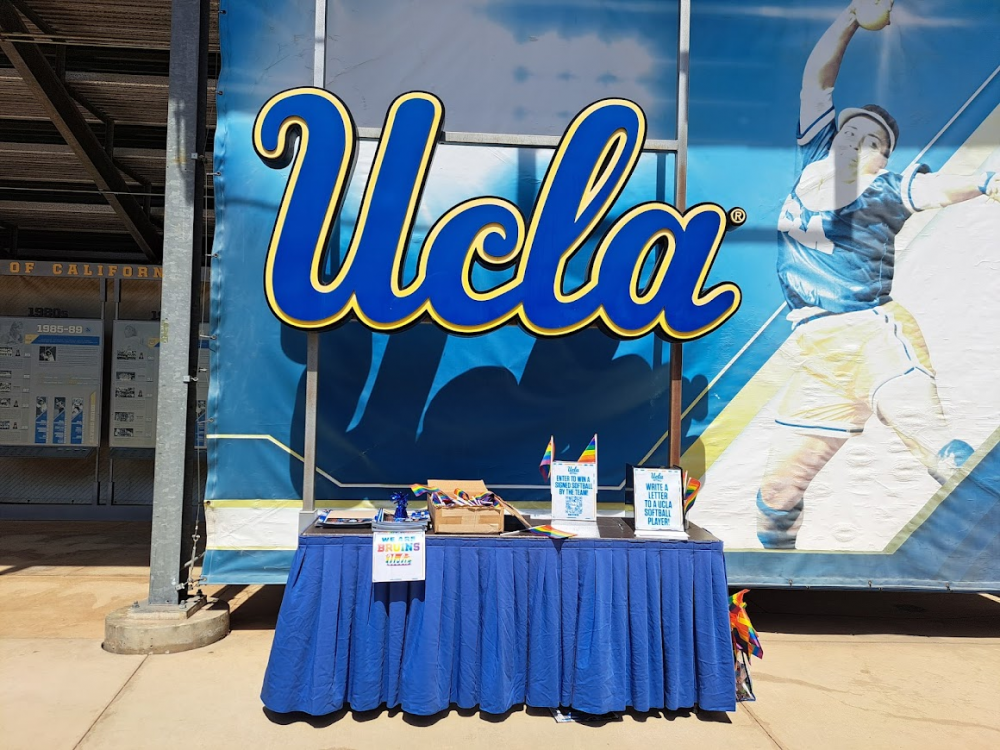 The LGBTQ Campus Resource Center also had a table where they handed out pins, OutWrite prints and stickers. There were Pride flags lining the fence on the barrier between the stands and the fields, as well as Pride facts and information about the LGBTQ Campus Resource Center on the video board throughout the game. All of the players wore rainbow ribbons in their hair, and some also had rainbow belts and flags. Overall, the atmosphere felt safe and welcoming.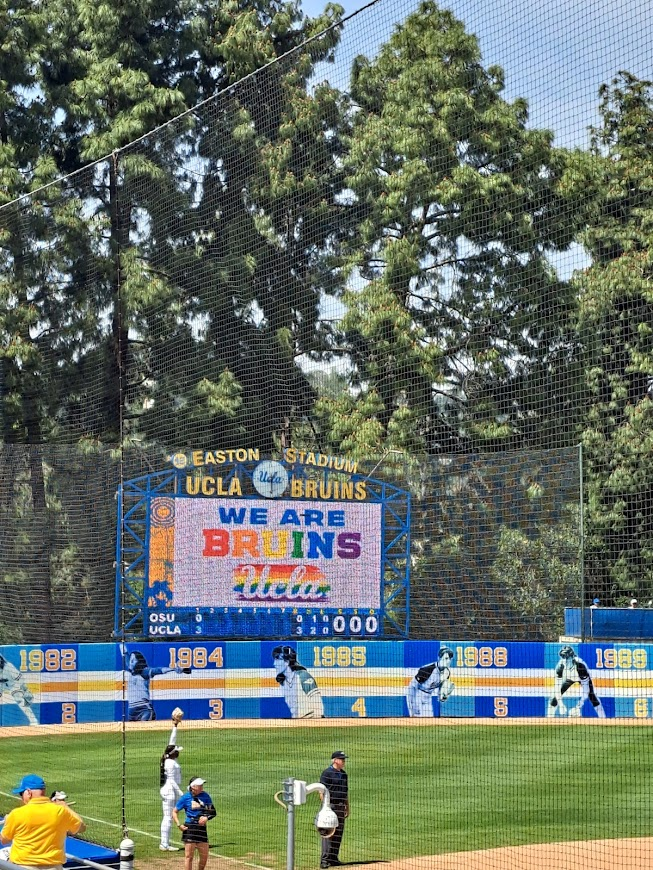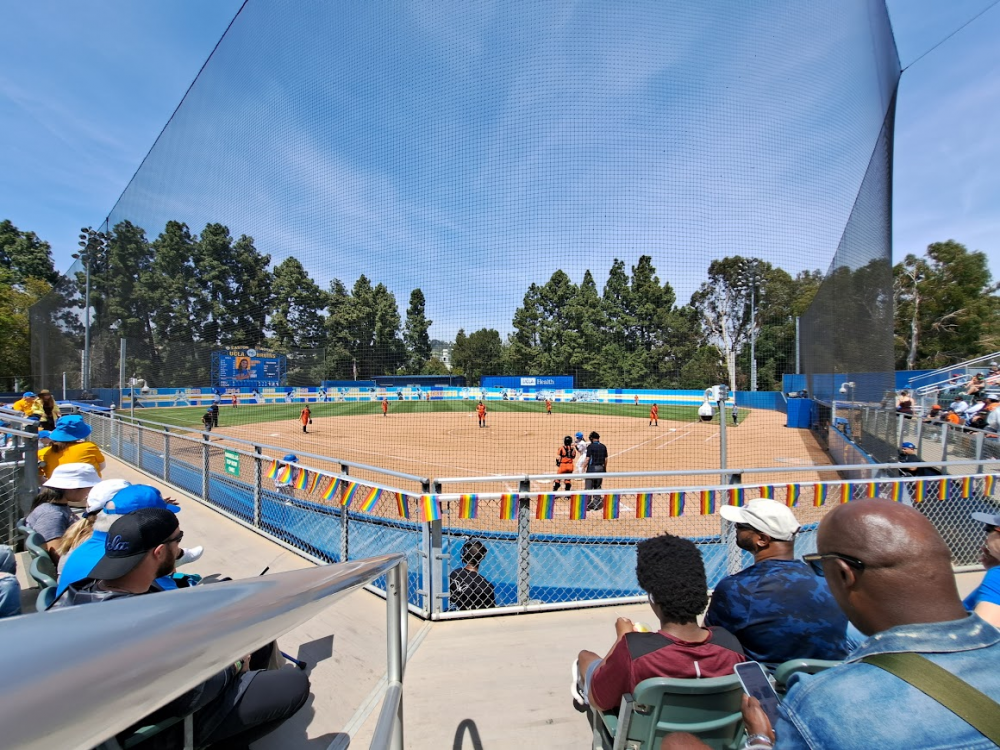 Before the game, as players lined up for the national anthem, I was struck by the beautiful image of solidarity they represented. Some chose to kneel and some did not, but it created a sense of cohesion as a team that they still stood side by side. All of the players were very supportive of each other as their names were called on the lineup, and the atmosphere on the field was light and energetic.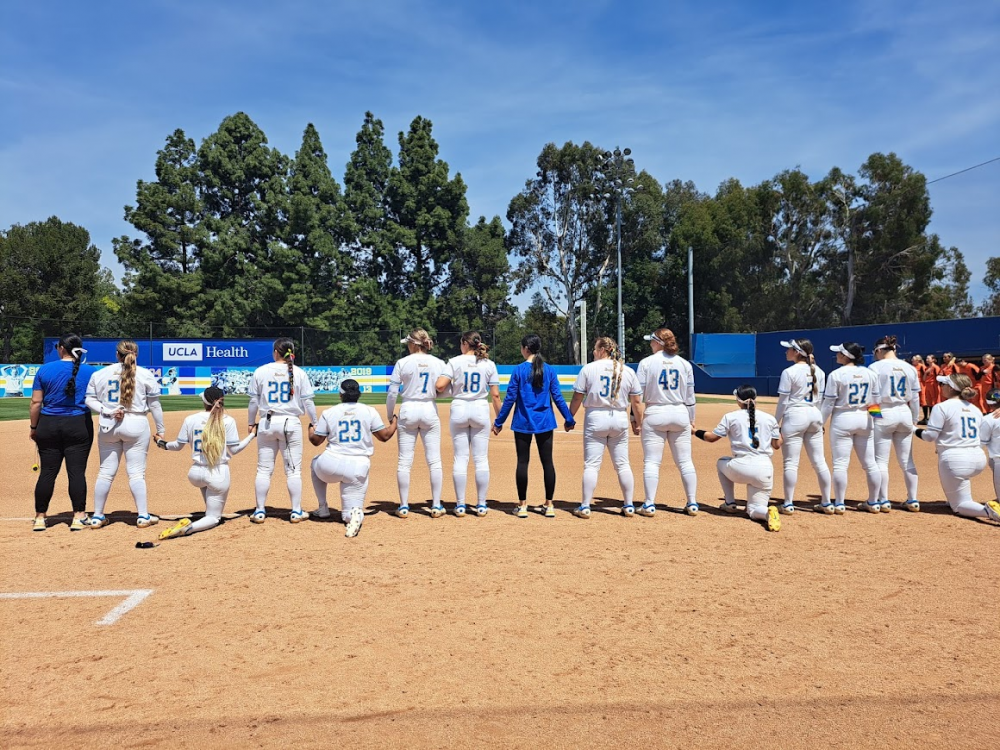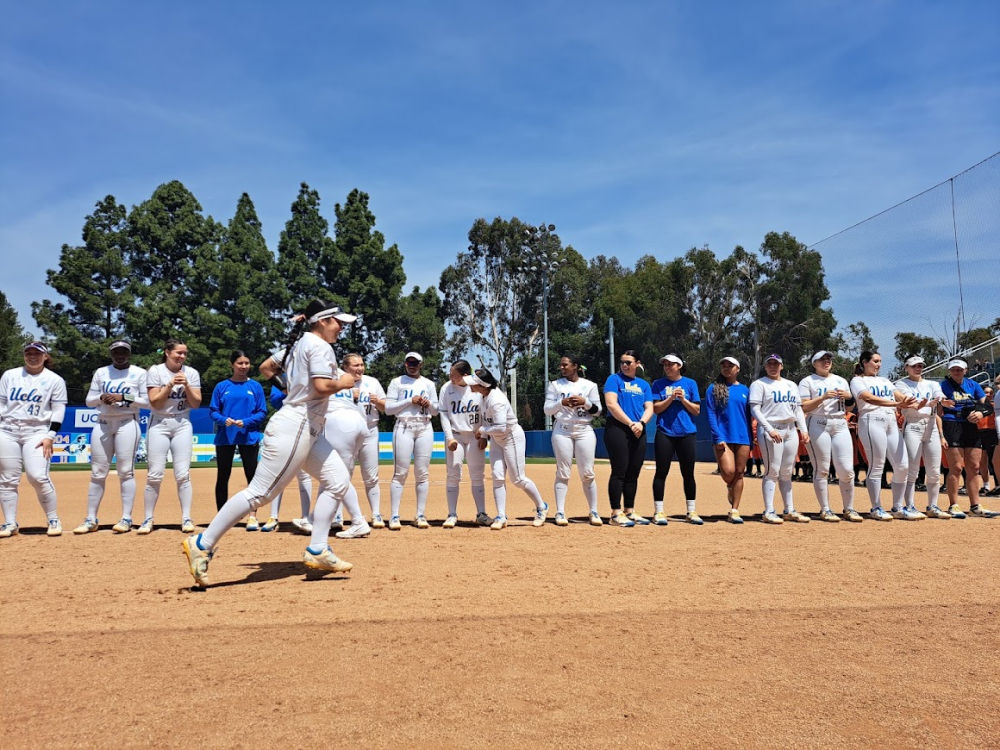 The UCLA Bruins won 6-0, their third consecutive win against Oregon State. The two teams faced off on both April 6 and 7, where the scores were 6-2 and an 11-0 mercy game respectively, with the Bruins winning the whole weekend. (A mercy game happens when the game ends in five innings instead of seven because one team has a lead of ten runs or more over the other.) The Bruins secured their spot as No. 2 in the country, up from No. 3 the previous week as 1,057 fans watched from the stands at Easton Stadium. They were only surpassed by Oklahoma University. 
A few days before the game, I sat down in the dugout with Head Coach Kirk Walker to talk about his experience coming out in sports, his thoughts on Pride games, visibility, and more. The following responses have been edited for clarity. 
OutWrite: How long have you been coaching? 
Coach Kirk Walker: I started coaching here fall of '83, so I was here for 11 years. We won six national titles, and then I was the head coach of Oregon State for 18 years, and that was where, in 2005, I came out publicly and was the first Division One coach to be publicly out in the country. I've been back here now since 2012.
OutWrite: How do you think coaching softball in a queer-friendly environment has affected your experience and your growth as a coach?
Walker: I was very fortunate to coach here at UCLA in a period of time where there weren't any out coaches. It was certainly a socially diverse environment here at UCLA, but, even as a closeted coach, it didn't matter how safe it felt. It was still the process that I had to go through. When I went to Oregon State and coached there again, it was a much more conservative, smaller town environment. One of my goals when I came back to UCLA was to make the athletic department more visibly inclusive and actively create a culture and climate around the campus that was more welcoming because it's not about how many out athletes there are, it's about how comfortable an athlete is, regardless of whether they're out or not.
OutWrite: In your opinion, what is the significance of Pride softball games and Pride sports events for the LGBTQ+ community? 
Walker: I think it serves several purposes, and I think visibility is really important. I think certainly for the general public, — the external — it sends a message to our fans and the overriding community that we are in, that our team and our sport are a welcoming of diversity and welcoming of the LGBT community. I think internally, it's really important for our athletes to feel represented if they do identify. But more times than not, most college athletes are not really self-identifying at college age. They may be personally processing their sexuality, but they oftentimes are not visibly displaying that or sharing it. So I think it definitely creates a culture and a climate around a team that allows an athlete to be authentically themselves and not waste energy on trying to hide or trying to downplay that they could be LGBTQ. 
OutWrite: Why do you think most athletes don't come out until they've left playing or have left working in sports altogether? 
Walker: This is an interesting thing, and I lecture on it across the country. This is why sports is often perceived as being a not welcoming place, it's perceived that way by the general population, but it's really not accurate. What is accurate is that when you're an athlete, you're focused on your skill sets and your contribution to the team. And part of being a part of the team is to let go of yourself and not be about yourself. And so it's very easy for your sexuality to kind of get lumped into that. What we know today now, it's less about fear as much as it is about "I don't want to draw attention away from what we're doing as a team." So athletes are more likely to come out in sports today, but it's still more about them just being in a safe place rather than that they actually have to be publicly out.
OutWrite: What do you think could be improved about Pride games in sports to be more inclusive of the LGBTQ+ community?
Walker: What's really important about a Pride event is not necessarily handing out rainbow flags or just making something rainbow and calling it a Pride event, it's about education. So it's PSAs. It's sharing information about either the trans community or laws that are being passed currently, why things are in place. It's also about talking about pronouns and about anything that can expand the general community, which is primarily straight, to understanding a little bit more about the LGBT experience and what an athlete or coach or fan may be going through.
The Pride event should be a visible celebration, but it should always be more than that, and I think when you have the opportunity to partner with the LGBT center on a campus or partner with LGBT groups in the community, whether it be PFLAG or whether it be the LA LGBT Center or it be any type of community outreach and you bring them into your festivities, your game, your environment that I think you truly are educating and not just being performative.
OutWrite:  Have you ever faced discrimination because of your LGBTQ+ identity while coaching, and how did you handle it?
Walker: To be honest with you, I have never. And certainly when I came out publicly in 2005, I was prepared for that. I never really experienced anything prior in a significant way. I would say that there were probably subtle microaggression things that kind of were just there, but I never personally dealt with anything discriminatory towards me directly. After I came out, the only negative that I ever got was not from the straight coaches. It was from the gay coaches that weren't out, that were not happy that I was bringing attention to this. They wanted things to just remain as they were. And that has certainly changed in the last 16 years. But I will say that I had more positive experiences from football and basketball coaches, which was surprising to me. They were incredibly supportive and appreciative of the courage I had to take that step. 
OutWrite: Have you observed differences in the coming out experience in sports between men and people of other gender identities, such as women and nonbinary people?
Walker: I think that the nonbinary and trans coming out process is far more raw and new these days, I think, in the athletic world. The interesting thing is that there's a lot of internalized homophobia in women's sports. As a female in sports, you're assumed lesbian. So many of the athletes that have grown up in a generation of projecting their femininity, whether it be with bows or make-up, not necessarily in an anti-homosexual way but just in a way of trying to project who they are. But what that also did then to female athletes was it started to kind of create this self-hatred within women's sports that somebody was out, and they were working really hard to deny it. 
On the men's side, it's just the opposite. You're assumed straight if you're in athletics, and the reality is, we know there's just as many male athletes as there are female athletes that are LGBT. There's no correlation between women's athletics and men's athletics with one being more gay than the other. So the interesting thing is that most of the homophobia on the female side is internalized. On the men's side, it was always a fear of the external homophobia that would exist. And what we know today is that neither one of them are truly reflective of sport. We know that sports is far more welcoming on both the men's side and the women's side than has ever been perceived.
OutWrite: Would you say that at a college level or college and professional level?
Walker: I would say at all levels but especially at the collegiate level. I would say that college athletics have been a forerunner with this conversation, and I think part of that has to do with being on an academic campus and that I think there's been greater discussion on the LGBT identity not being a choice but how you were born …  And I think, more times than not, most academic campuses have a more liberal approach to social justice and inclusion work in general. So I think that's allowed colleges and college athletics to be more progressive than you probably would see in pro sports.
OutWrite: How do you support your team as an LGBTQ coach, when playing schools that aren't as inclusive or have anti-LGBTQ policies?
Walker: It's an interesting question because we travel to states that are a part of the banned states from the UC System, but we are allowed to travel to those, and I've taken a stance on those that it's an opportunity. It's an opportunity for us to have a conversation with our entire team…about those laws that have either been proposed or have been passed in different states where we're going. … There can be no change without conversation. There could be no conversation without two different sides. Being authentic and being intentional with the conversation is really how we move the needle.
OutWrite: Last question, who is the queer role model in sports who inspires you the most?
Kirk Walker: There are several. Obviously, Dave Kopay was one of the original icons in sports who came out. Obviously, Billie Jean King has been an amazing role model on the women's side. One of my best friends is Billy Beane from Major League Baseball. His story was really impactful for me when it came out because, obviously, he was in a sport that I was closely related to. So those are certainly a few, but every one of those athletes that comes out is inspiring to me. They are sharing their authenticity in their own particular way. Every time there's a college athlete or college coach or professional athlete or professional coach who comes out, I just think it empowers us all to trust that authenticity matters and that those barriers that existed many, many years ago are being proven to be easily taken down.  
The narrative was that sports wasn't welcoming for so many years, and the narrative now is that sports is more welcoming. It's about individual conversations. So whether it's the NHL issues right now where some players are choosing to not participate in the Pride event, it's opening up conversation. I think that's a positive that now creates an opportunity to have a conversation, whether it be a Russian athlete who says, "I can't participate, because if I go back home to Russia, I could be persecuted because there's laws in Russia that preclude me from participating in LGBT activities." Or if it's a religious issue then that player should have to defend their beliefs, and they should be questioned, and teammates should question them, and I think that that's healthy. I don't think you're ever going to have social change or social movement without those controversies or those conversations.
---
As of April 30, UCLA Softball is still No. 2 in the country, having won 20 straight games. The Bruins will play Loyola Marymount University and San Diego State at Easton Stadium on Friday, May 5, and will compete in the Pac-12 tournament starting May 10. For more information about UCLA Softball rosters, tickets, upcoming games and promotional activities such as Pride Games, visit their website.
---
Credits:
Author: Ava Rosenberg (She/They)
Artist: Ava Rosenberg (She/They)
Copy Editors: Maya Parra (She/Her), Bella (She/They)