Photo by Byron Gamble
---
Myylo is the sonic equivalent of someone wrapping you in their arms. An independent artist and songwriter who blends pop, country, and folk, he provides a refreshing, lighthearted take on the ins and outs of falling in love as a queer person. Following a string of EPs and singles, including the playful "Kissing On Your Dad" and notable cuts with Zolita, Dorian Electra, JORDY, and That Kid, Myylo released his debut album, "Ahh," in December of 2022.
Coming in at just under 25 minutes, the record's nine tracks explore the intersection of queer and religious identity, the endearing quality of clinginess, the importance of the throw-it-back-express, and a general unease about being alive. In a climate of hyper-serious sad boy music, his lyrical wit stands out, making listeners laugh in his assurance that they'll be greeted by a big daddy chilling in the sky when they die.
We had the chance to talk to Myylo between his first leg of touring for "Ahh" and his slot as an opener for JORDY's UK tour in May. We dove headfirst into the album's lyrics and aesthetic, love and desire as a queer person, and the experience of being an independent artist in an era where technology has begun to undermine artistic identity.
Hi Myylo! Thank you so much for taking the time to talk with us. How are you today? How's the comedown been from the tour?
I'm excellent today! I woke up, ate, and now I'm here. The comedown from the tour has been good. It was a blast. It's always fun to meet people and travel the country. I've just been in my room and sleeping for the past week.
I noticed that the tour was labeled as a "part one." Is there any hope for an LA show in the future?
There is hope! I mostly labeled it as a part one to keep myself honest about planning a part two. Right now, I'm planning an East Coast and Midwest run in July with some dates in the South, and I'm hoping to do something with a friend up the West Coast in places like San Diego, Seattle, and LA in the fall.
Let's talk about the album, "Ahh." Is it pronounced "Ahh," like you're responding to someone who has just attempted to impart a piece of philosophical wisdom on you, or "Ahh!" like a scream you'd let out while running away from Ghostface?
The answer is YES. To me, I experience it like the stress of having to name an album, finish a project, and the way I was feeling during the pandemic. It's very much an internal scream of "Oh my Goddddd, ahhhhh!" What I've discovered about language over the course of using it for work is how limited words are and how non-precise they can be. Sometimes the most precise expression of a feeling is just a sound, and I like the imprecision of this particular sound and how it lets people interpret it to be whatever they want it to be. I love the idea of somebody listening to it and being like "Ahhh, yes, yes," like "Ah, yeah, yeah, I get that."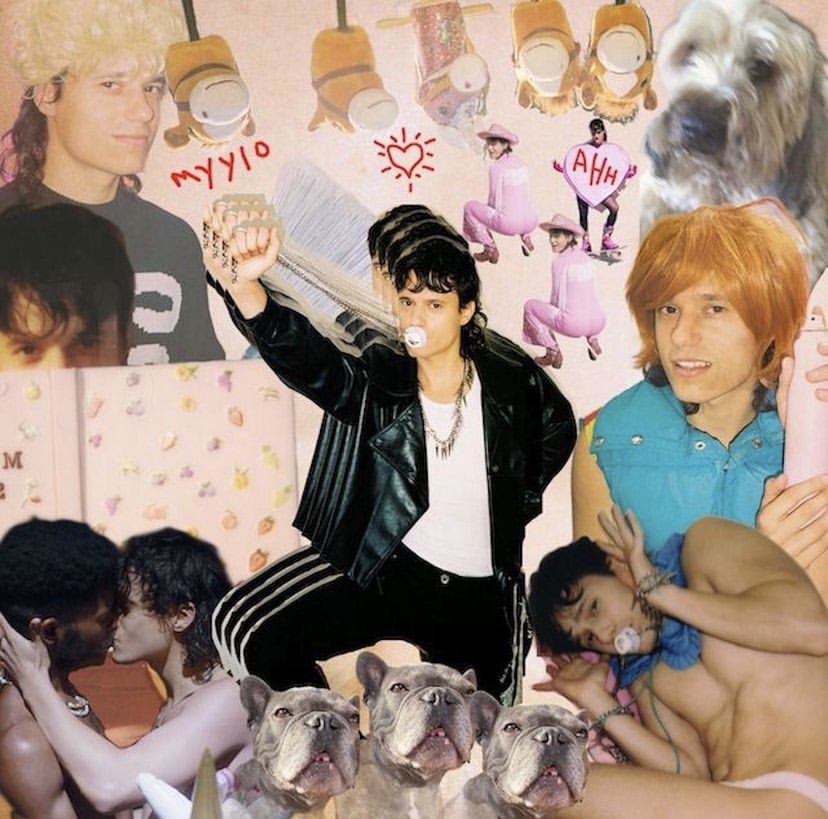 Something that stood out to me right away were your light-hearted, detailed lyrics, painting vivid pictures of gazing at boxes of hair dye in the CVS aisle and having a threesome in a "beat-up Toyota Nissan." Your music always feels like a constant source of joy. Is there a particular set of lyrics, be it a verse, chorus, or just a line or two, that stands out as your favorite from the album?
The second verse of "All Gays Go To Heaven" is like epic, iconic, special writing to me. "When I reach the pearly gates / Sappho's eating figs and dates and grapes / The convalescents from the plague are dancing / Galavanting with the saints."
I'm not Christian, — I'm Jewish — but I love refuting Christian ideology, and I like the idea that Sappho can be in conversation with Catholic saints and people who died from AIDS. I was referring to Bosch's "The Garden of Earthly Delights" and Cézanne's "Bathers" trying to paint a picture of people having a good time. 
"All Gays Go To Heaven" is the album's ending note, an endearing sentiment and the perfect way to close. What does Gay Heaven look like to you, besides sapphics eating figs and dancing convalescents? 
I really feel like I experienced heaven for the first time [when I got] high out of my mind right after I got the second dose of the vaccine at A Club Called Rhonda. It was just me and my friends dancing. Everything was kind of hazy, but there was just a euphoria to dancing in a club surrounded by people that I love and people I didn't know who loved being present. Heaven, to me, is certain moments where everything around me looks beautiful and feels infinite, like I could live forever or die right there in that moment and be okay with it.
What pop stars would have a permanent Vegas Residency in Myylo's Heaven?
Freddie Mercury, Mariah, Beyoncé, Sara Bareilles, Jazmine Sullivan, and Yebba. My friends JORDY, Chaz Cardigan, [and] Dorian Electra. Charli XCX! Caroline Polachek is in Heaven, and she's queen of the choir.
When you're taking Jesus to buy a Wetzel's Pretzels at the Glendale Galleria in your Prius, what are you ordering? Have you had their frozen strawberry lemonade?
I haven't, no, but we're all winning today. I got important information about Wetzel's. I like the pretzel bites, but for Jesus I'm definitely getting a gigantic soft pretzel. I feel like that's a new experience for that religious icon.
"Abercrombie & Fitch Boy" has one lyric in particular that I thought was quite profound: "I wanna be inside you, I wanna be just like you." A large part of getting older is learning to differentiate between the two, between sexual desire and being drawn to someone simply because they're cool. Have you found this differentiation process getting easier with more life experience or is it a constant struggle?
I don't think it's a struggle. I just think it's a weird part of being attracted to someone who has a similar body and is the same gender as you; they usually go hand in hand. Usually, when you're attracted to someone as a gay person, you're attracted to someone that you want to look like. It's a weird duality of attraction where you're like, "Oh god, you're really hot and I do want to have sex with you, but I also want to be you so people are attracted to me in the way that I'm attracted to you." With that song, the headless torso on the [Abercrombie & Fitch] bag is so foreboding and anticipatory of the gay world now where everyone's headless torso is available to us.
When you're growing up you can look at the bags, and now you can just look at your Grindr grid.
And it's kind of the same thing, except you might actually talk to that person. Or not. A lot of times those people might not talk back to you. The bag doesn't talk back, and neither do the torsos. A lot of times they're just empty vessels.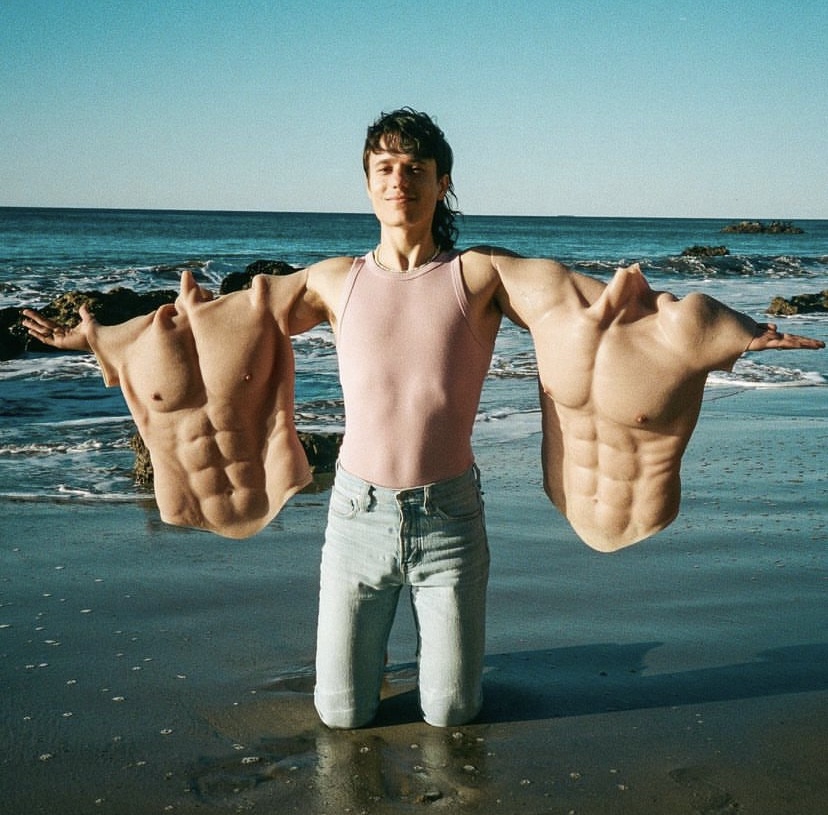 "Cling On" is the most relatable song I've heard in a while. Thank you for making it! Here's for representation for being needy in relationships! Do you have any advice for fellow gays who can't help acting like "bug sucking love parasites" when they really like someone?
Go where the love is! If that's who you are, don't chase after people who can't reciprocate or are not into that. There are a million people out there who will be into being needed. I think it's beautiful to be eager and earnest about loving somebody. While there's a thrilling rush to try and make someone who doesn't care about you love you, in my experience, the best love was when that person was really affirming of me.
Do you think that love, if it's good, should be easy?
Yeah, absolutely. Love should be easy, love is easy. So much media is like, "Love is hard, love is work," but it's not! Love, to me, feels stable at its core and something you can always come back to. "Cling On" is about a relationship that was very stable, actually.
Every single cover for "Ahh" is its own visual world, connected by a vintage filter before elements from each came together to create the album cover. What was your thought process while putting together the visuals? Were you focused on conveying a particular message, reference, or aesthetic?
The visuals were a lot about me trying to be comfortable with this other part of being an artist. I've worked with people who have a really coherent visual identity, and I was like, if I can keep the budget small and use VHS cameras, I can experiment with telling a story and conveying a message through the videos. It was a lot of artistic trial and error. I also just love the grainy quality of a VHS quality camera, and a lot of the music was inspired by late 90s, early 2000s so the visuals being grainier made a lot of sense.
Which look would you reprise for a future Myylo Eras tour?
I really like the Pink Boy Heart look, I liked riding a skateboard in a big "Be Mine" heart. I also love the Tally Ho costume, but it was one size too small. I was wearing five pairs of underpants in the video!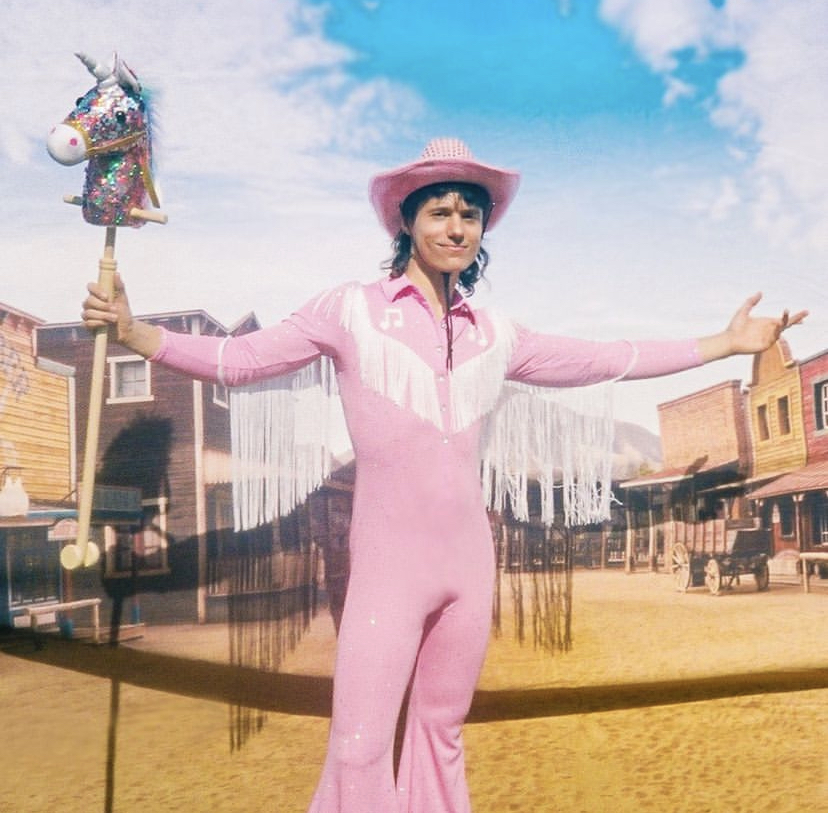 Another through-line of the album rollout was your mullet that has since been traded for a buzzcut, a narrative loosely present in your song "Haircut." How does Mullet Myylo differ from Buzzcut Myylo? What inspired you to make the change?
I've wanted the buzzcut for awhile, and with the mullet, I'd wake up some days and think it looked fucking amazing, and other days, I'd think it looked terrible. There's a lot of emotion wrapped up in hair and a feeling of history and place, so it felt really nice to chop it off. I wanted to do something dramatic in this transitory period. I went through a breakup, and I was also emotionally done with the record and the person who was in that space, so it feels like ceremoniously welcoming someone new.
I wanted to end with a bit of discussion about the music industry in general. I saw that you recently posted about looking for a TikTok consultant. Do you think TikTok has warped the line between artists being expected to be both artists and content creators rather than just being responsible for the music? How would you describe your experience with the app?
I have a love-hate relationship with the app. Some of my biggest successes have been with TikTok. I wrote "Somebody I Fucked Once" with Zolita and that popped off because of TikTok and led to business success for both of us. It was a mixed bag emotionally, but really great, at least financially, for both of us.
As an artist, I think you're making a lot of content for free all the time, and one of the reasons why I'm hiring someone to help me with TikTok is because I'm fully independent. I'm self-managed, so I'm the artist, I plan my tours, and I'm scheduling everything. Social media takes your brain away from being a writer, and being a content creator is like marketing into the abyss or shouting into the void.
It's introduced me to a lot of fans and helped me be creative in new ways, but [with music labels, using it is] a bizarre business structure that de-prioritizes the hard work of artistic development and prioritizes these blips and blops of Internet ubiquity. I'm doing whatever I can to de-prioritize it in my brain while doing everything I can to engage with it for the positive benefits. At the end of the day, people want good fucking music, and the degree to which TikTok can help you do that just depends.
To be a pop star, you need to be an artist and have you, the person, be separate, but for TikTok you need to strip it back and be a relatable "bestie."
Part of the fun of being a fan is the mystique of not knowing the artist as a person and then imagining and imprinting on them who you want them to be. You don't want them to reveal everything!
Another independent, queer artist, Bronze Avery, broke down all the finances of funding a tour, and I was shocked at how much it cost when you start adding all the pieces together. Are there any similar notions people have about independent artists that you think need to be dismantled? Is there anything that has shocked you?
I don't think anything needs to be dismantled, but it is hard and it is costly. What I've learned is to pursue your fans as much as possible. They're the ones paying your bills at the end of the day, so give them what they want: tours, songs, merch, and attention. I have fans who fund my art sometimes: kind of a classic, Renaissance, patron of the arts kind of thing. Your listeners and viewers are sometimes some of the most generous people and really want to be involved in the art world, helping you make more of what you want to make. The best business strategy is to be kind to everybody.
Financially, I've only been able to make it work for the past couple of years by having lowkey, non-time intensive side hustles and making sure that when I tour I don't do it lavishly. I use Spirit Airlines, crash on friends' couches and leave on the 6 a.m. train over the 9 a.m. train. Just cutting corners where you can.
There are great people who work in the music industry, but they take 20%. If they aren't adding 20% of value to your business, fire them. You can do it alone, and my most successful years have been when I've had the most control over my business.
What is a dream or goal of yours that you would like to live in print?
I'd love to work with Charli XCX! Charli is my biggest dream at the moment. I'd also love to write something with Sara Bareilles or collaborate with Ice Spice, maybe get into ghostwriting for female rappers.
Thank you again for talking with us. We hope to see you live in LA soon! What song of yours do you think readers should celebrate finishing this interview with?
I think they should listen to "Kissing On Your Dad," a classic.
---
Myylo is a shining example of why queer visibility is so important in music today. "Ahh" arranges bits and pieces of the queer experience into an empowering body of work that helps listeners feel seen in their passing thoughts on who they love and all of the accompanying intersections. By talking to Myylo and listening to his music, I felt a sense of understanding that has always been lacking in the industry's straight counterparts. It feels freeing to not have to adapt a narrative to fit within your own, to hear a song and know that the person singing it gets it because you have stood in the same shoes. Though there is still a long way to go in the industry as a whole, it warms my heart knowing that the future of queer music is in good hands.
---
Credits:
Author: Jackson Harris (He/Him)
Copy Editors: Min Kim (They/Them), Bella (She/They)