Photography by Charis Shargel (She/Her)
Edited by Christopher Ikonomou (Xe/He
Co-Written by Emma Blakely (They/She/He), Charis Shargel (She/Her), Kristin Haegelin (She/Her), and Chrys Marr (She/They)
---
In my opinion, there are criminally few artists that make unapologetically, candidly lesbian songs. To name a couple: Hayley Kiyoko, girl in red, Peach PRC, Seasalt. Among them is Rio Romeo, with a last name that was made legal two Fridays ago and just screams "love." Their jaunty piano tunes about gay love and honest, vulnerable depictions of their struggles have resonated with many members of the LGBTQ+ community.
Their first album, "Obnoxious Liberal: The Musical" released in 2018 was, for the most part, unknown. Its sardonic and witty yet deeply personal nature begins to develop their unique style, with songs spanning all the way from their relationship with their parents to gold diggers. After that came the singles "Small Towns" and "Twice." In 2020, they released "Dyltgir?" which stands for "Do you listen to girl in red?", a song in narrative form about them approaching a girl and asking if she's "you know," only to find out that they had already been on a date that they had since forgotten about. The overlapping voices in the background make it sound like a fun anecdote told at a party; it feels intimate, a theme in many of Romeo's songs.
"Butch 4 Butch" first premiered in a video on TikTok in 2020 where Romeo is shown playing a charmingly out-of-tune piano in the garage where they make most of their songs. With 1.7 million views and over 250 thousand likes, it is clear that the song resonated with a lot of people. "Butch 4 Butch" was released on Spotify on Valentine's Day in 2021 and has since racked up over 12 million plays.
Since then, they have released two more singles on Spotify, "Missus Piano" and "Fuck It."
Now, Romeo has plans to release a new song this Valentine's Day entitled "Bet." In a recent interview with some members of OutWrite, Romeo talked in-depth about "Bet" and their music career as a whole.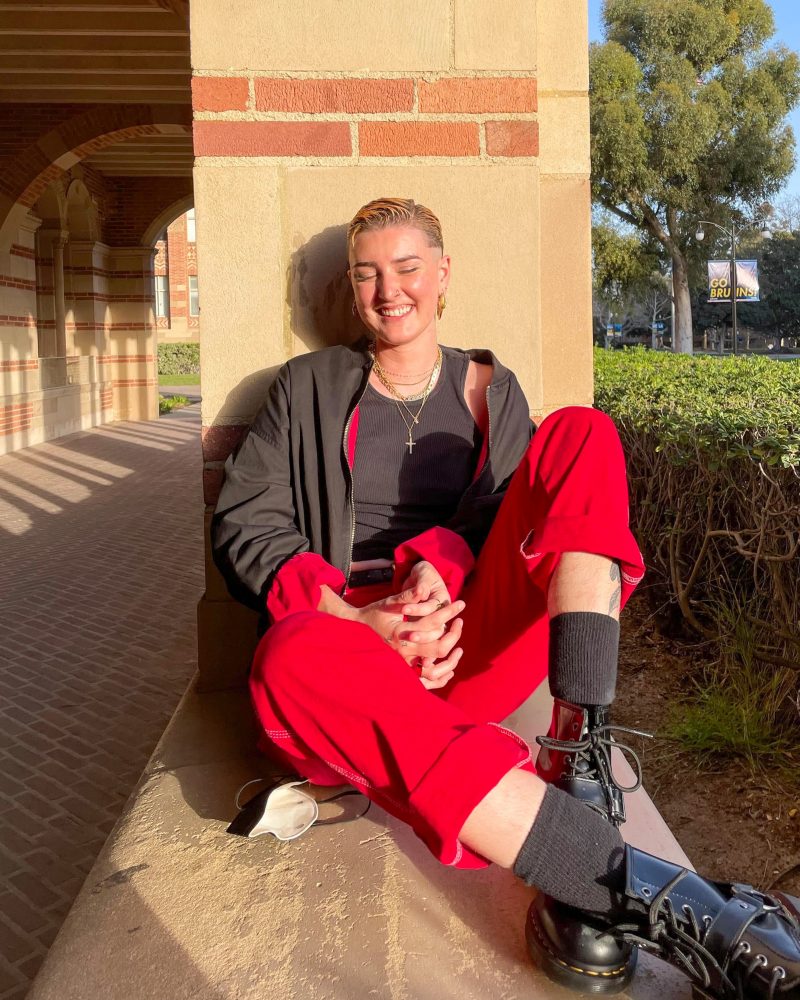 *This interview has been edited to increase fluidity and clarity for the reader. This includes removing filler words (e.g. "like," "so and," "um," etc.) when deemed necessary. This interview maintains the integrity of the original recorded interview.*
Charis: We would love to talk about your song "Bet" and how it's maybe a continuation of previous songs like "Butch 4 Butch."
Rio: "Butch 4 Butch" spurred a bunch of lore around it, of the rat-filled piano and the bug-infested piano, people were really into that. I've seen a lot of people make up their own stories and reasoning behind it; it has been really fun to read people's "POV: this is in an enchanted ballroom setting, or whatever, I'm a frog singing this to my dog partner."
Charis: How people interpret it.
Rio: Yeah, it's been super cool to see the continuation of it in the sense that "Butch 4 Butch" is very much like, "I just met this person, she's really hot and gay, I'm completely scared of her, I really hope that we end up being together." Fast forward to an entire year later on the next Valentine's Day, and "Bet" is literally an entire marriage commitment proposal song, which is so fun. The beginning lines are "I'll bet on you baby / 'til the day I die / I say let's get married / but that made you cry," and then the song details all of the different ways that my girlfriend, the individual that "Butch 4 Butch" was written about, that I love her and all of the different reasons that I'm now so committed.
Charis: Would you say it's the more intimate side of your relationship?
Rio: It definitely is, yeah. Like there's a part of the song that's talking about, "if this marriage ballad overwhelms you and you fade away / please be kind I see my scar every fucking day." It's just talking about the inside jokes and the complexities within our relationship itself.
Charis: I also noticed that you published on YouTube a demo version and now it's been a year or maybe more. What's the process like going from this unreleased version to now?
Rio: I went into recording music basically knowing nothing. It's taken me a really long time to figure out what makes a good recording and how to publish music and have it last long and how to make it the most up-to-music-industry standard. It's taken me a long time to figure out my recording situation. I got the mics I had for "Butch 4 Butch" through a bunch of people crowdfunding to help get equipment so I could record it, which was so cool. I recorded that demo of "Bet" before I had those mics and it was just like, one of my friend's mics, he just had a couple kind of crappy mics and he just set them up for me, and so that was raw, unrefined. Like not really mixed or mastered.
Emma: Especially with the whole mics-being-crowdfunded situation, would you say that the community is a big part of the way that you make music? How does it factor into your process?
Rio: I think that's the most important part of why I make music, especially why I release music, because I have been writing songs for myself for a really long time, and it wasn't until I started putting them on TikTok and people started being like, "I really resonate with this!" and "This is really cool, you should release this!" that I actually started releasing music. If people really like a song online I'm going to do my very fucking best to get it out as quickly as I can. I have limited resources, so it takes me a while.
Charis: I feel like you're churning them out really quick.
Rio: I'm trying! I'm really trying, yeah, some people will have a song go viral on TikTok and then they release it two days later, it's insane. Everything I'm doing is super organic, like I don't have any music marketing budget, I don't have any editorial playlists. Everything is 100% word of mouth, like I've gotten almost 12 million streams on "Butch 4 Butch" just by word of mouth.
Charis: I feel like you've built quite a queer community through your TikTok, like just being a personality, it's not just a marketing thing — it's great marketing, but I feel like it's a little more than that. I guess you kind of answered this a bit, but how is that reflecting into your work? And how does building that community relate to your art?
Rio: My TikTok is definitely more than just "I put out a new song, you should go listen to it!" I have people that literally have seen me through my worst and my best moments of the past three, four years since I've been on the internet doing things.
Charis: It's like a diary.
Rio: Yeah, no, it seriously is like a diary. It's like, why make TikTok videos? It's partially for myself, just to document what's going on in my life because I'm super big about documentation. I've kept journals my entire life super religiously. And people really resonate with that kind of raw, open honesty. I talk a lot about my health on there because that's a super huge deal in my life, since I deal with some shitty stuff with that. And I feel like that kind of open honesty is what draws people towards my art more because they get that what I'm saying is coming from the heart.
Charis: I know you're an artist in aspects other than music. What inspired you to pick music and focus on that?
Rio: I've done so many different kinds of art, like I do painting, scenic design, visual art, I've done tattoos, I've done all kinds of crazy visual artistry. I threw a lot of shit at the wall, and this one stuck, and who am I to argue with the shit wall, right? Like, it stuck and so I'm gonna do it because that's the piece of art — that's the part of art that people like the best from me, and I think it's fun, and I genuinely do it because I enjoy it.
Emma: Was it scary, going from that sort of "secret" album to then 12 million streams on "Butch 4 Butch"?
Rio: Yeah, like holy shit! Definitely a change, I don't know if I knew that 12 million — I'm not going to say people, it's not 12 million people but like, a million — people would listen to my music. If they had access to my first album, I don't know if I would have been as open about everything that I talked about in my first album if I knew that many people were going to listen to it. Because I literally have a song that's like, "I'm despised by my mother / baby butch I won't recover." I talked about my parents fucking hating me, and millions of people listen to it now. Definitely pretty crazy. And I'm glad it happened and I don't regret it, but I think that if you told me four years ago that that was going to be the situation I probably would have done something differently. But that's because I was a lot more scared for people to know things about me back then. I don't really care anymore. Like, I'll tell anyone anything, it doesn't matter.
Charis: Do you have any musical inspirations that you like to draw from?
Rio: Freddy Mercury is so fun, because he did rock and roll but he's also an opera, theater nerd.
Charis: And queer icon.
Rio: And queer icon. Which I really resonate with, because he does his mainstream project and then he writes opera when he goes to bed at night. That's so funny to me, that's so funny and good. Other things I really draw inspirations from are Will Wood, he does super theatrical, crazy shit. And Sir Chloe, also queer icon, is super inspirational because she writes, like, the angriest woman songs. And I love angry woman songs, they're so good. I just really like creativity, and I really like passion, and it really shows when you're passionate about what kind of work you're making.
Kristin: Were there any other big outside influences, like media, specific visual artists you were inspired by? Or movies that had a huge impact on you, or even books, because I heard that your songs have almost a literary influence.
Rio: I'm very into the kind of grimy, red-themed musicals like "Chicago," or "The Drowsy Chaperone," or "Cabaret." When it comes to visual artists, there's this one lesbian, her name is Ellie Smallwood, and I've been obsessed with her for-fucking-ever. She's an amazing painter, she just paints, like, super gay stuff. And I followed her years before I came out as gay. I was like, "Wow, I just really resonate and love this artwork" and then I came out and was like, "Oh, yeah, I really resonate and love this artwork, I wonder why." And my family was super into classic rock, and those bitches are dramatic, like they are so, so dramatic. Stylistically, Led Zeppelin is one of my influences, just in vocal power. Robert Plant can fucking sing, and that's something that I've always admired and wanted to do myself.
Charis: I feel like you do, you have a power in your voice.
Rio: I didn't really find that power until I moved out of my parent's house and was homeless, because I spent a lot of time in my car and I didn't really have anything to do except sing. I would just sing super fucking loud in my car because I could. That's the way that I learned how to sing loud and powerfully. You can't really do that in an apartment or anywhere, because people will think you're being murdered.
Charis: In terms of your plans for the next two months, are they a part of the "Butch 4 Butch" storyline or is it different?
Rio: This project is an EP, and it's going to be four, maybe five songs. It's going to be called "Good God!" because I have knuckle tattoos, "Good God!" and "Good Grief!" The first one's going to be "Good God!" and then the project after it, which is going to be a full album, is going to be "Good Grief!" For "Good God!" it's love songs. It's definitely around relationships and around love and togetherness. "Good Grief!" is a little bit more intense. It's not really about love, it's more talking about family issues and health issues. It's the issue album. I'm just talking about a bunch of different issues and speaking about how they make me feel. I think I'm ready to release more serious work like that, because everything that I've put out so far is funny, sarcastic, or love songs, and I don't talk about anything super serious. I'm ready to make that step in my work.
Kristin: Since we're nearing Valentine's Day, do you have any advice for the lonely queers out there?
Rio: Oh my god, I don't know. See, I'm a bad person to ask because I've only ever dated like three people in my life. But I would say just to not be scared. Because everybody is just as freaked out as you are, and if you want to ask someone to get coffee, they're probably just as nervous as you, and you not being nervous is the only thing that will make them not feel nervous. So just, like, don't worry about it too much.
Emma: Do you have any good Valentine's Day stories?
Rio: Ah, I've been single for most of my life. I have a horrible memory, too. Last Valentine's Day we put "Butch 4 Butch" out, the Valentine's Day before that I'm pretty sure I was unhappily in a lesbian throuple — that was crazy. And the Valentine's Day before that I was with a partner, and the one before that I was straight.
Charis: What are your plans this one?
Rio: Honestly, I'm going to be on my phone all day to talk about the song. Me and T will probably do something. I recently started going to a physical therapist for all of my pain problems, and it has literally changed my life and made everything better for me. But T just broke her toe, so like, I'm all good and she has a broken foot now, so we can't do anything! So hopefully, we'll be good to go by then so we can go to a park or something. No big plans.
Rio: Something else that I feel like might be interesting to touch on is that I don't have a label. Everything that I have done has been without management, without labels, totally self-produced, totally fucking on my own. It's been fun being an independent musician because I don't have anyone telling me what to do. But I also realize that I'm at the place where I've reached my cap on what I can do because I have bigger dreams for what my budget allows and what my connections allow. I actually am looking to sign with a label for my album project because I really want to go all out on that, like have music videos and all the shit that requires money that I don't have.
You can pre-save their new song, "Bet," here.
And make sure to follow them on TikTok, Instagram, and Twitter, and subscribe to them on YouTube and Spotify. Their Patreon is linked here if you want exclusive access to unreleased music, visual prints, and even personal journal entries.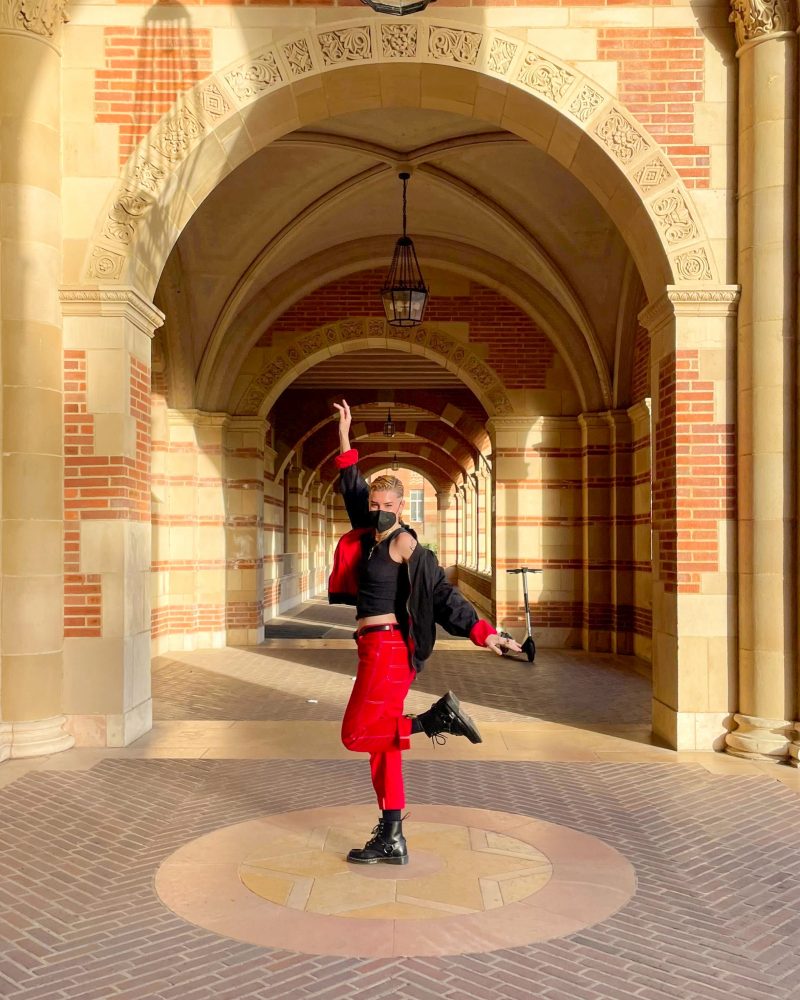 ---
Credits:
Authors: Emma Blakely (They/She/He), Charis Shargel (She/Her), Kristin Haegelin (She/Her), Chrys Marr (She/They)
Artist: Charis Shargel (She/Her), Christopher Ikonomou (Xe/He)
Copy Editors: Christopher Ikonomou (Xe/He), Bella (She/They)