Photo by Sophia Eiss
---
Why would one demonize love? It's a question all queer people have asked ourselves and the people around us at some point in our lives. In the face of every discriminatory law, every crime committed against us, every right that is so quickly stripped away, it is safe to say that no one in the queer community has truly found the answer, — but that hasn't stopped us from trying. Queer artist Sophia Eiss explores this question and the emotions tied to our inability to answer it in her latest single, "INNOCENT LOVE."
Sophia Eiss has been writing songs since she was eight years old, but has only recently began exploring the world of production, piecing her various skills together to create the music that she has today. She started posting a mix of covers and original songs on YouTube roughly four years ago, and since 2020 has self-released five singles. Her sound can best be described as a soulful singer-songwriter building a calming soundscape with her voice and her guitar. Eiss has a talent for crafting beautiful instrumentals that showcase her rich and soulful vocals alongside her lyricism. 
In particular, her single "INNOCENT LOVE" seems to veer from Eiss' previously soothing and intimate ballads and move towards a raw and emotionally piercing sound. While in previous songs she focuses on contemplative emotions or soft recollections of young love, this song focused on Eiss' angry and desperate attempts to comprehend the demonization of queer love in our society, in a voice that captures both anger and a deep, vulnerable type of pain. 
Sophia agreed to be interviewed over Zoom, and she called me from her friend's apartment in San Francisco, wrapped up in a cozy gray hoodie looking very peaceful. Soft-spoken and thoughtful, Sophia's presence relaxes and calms anyone around her; we had a deeply enlightening conversation.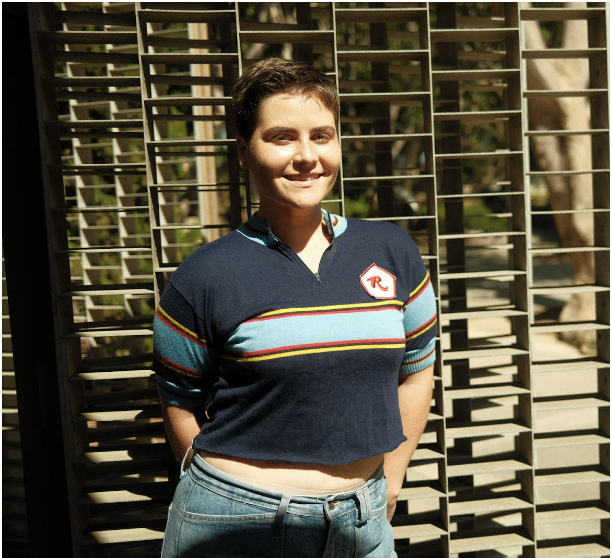 Photo by Sophia Eiss
Jennifer Collier: First of all, as I said before, I absolutely love the new single, "INNOCENT LOVE." I wanted to ask more about your writing process, like songwriting, production, recording, just how that came together and how that might have been different from stuff you've recorded before.
Sophia Eiss: I don't know if this timeline of events is actually real, but I feel like I wrote the song because of the "Don't Say Gay" bill and I was like, "Oh, I want to talk about this," in a way, and my writing process is just usually me and my acoustic guitar. I'll kind of feel the chords and come up with something that I want to talk about, and [the "Don't Say Gay" bill] really just inspired me to question: "Why? Why is love so weaponized?" and it's just love. I brought that song to a producer that I actually had recently met, and he was like, "Let's put that down right away." We went in the studio and I laid down some electric guitar. He just really believed in the song, and I love the way that it came out. My writing process differs a lot, but it has always gone back to just me and my acoustic guitar, just singing and feeling the feels, talking about something that I want to talk about. 
JC: Yeah, you're at the center of your projects, — with help from others sometimes — but it largely comes back to your original vision and what you want for the piece.
SE: Yeah, like, I wrote that song, but production is a whole other thing. It is a form of songwriting, but it's the after process of "How are you gonna put these parts together? What is the song trying to say?" and it really is a laid back song in some sense, but the chorus is just really angry, like, "How could you do that?" I really love that for the song because it really is something I will never understand, why people weaponize and demonize love in the way that they do.
JC: The song itself is a very powerful statement, especially in the way that you write it.
SE: Yeah, honestly, when I listen to the song, I'm kind of in disbelief that a song of mine sounds like that. I've been songwriting for 10 years, since I was eight. It sounds so pretentious to say eight years old *laughs*, but songwriting is something that I've just always really turned to; it's always been my form of expression. I'm not the best with emotions, but I show my emotions and I talk about things in my songs and music and that's what music has always been for me. But when I listen to that song while knowing that I just started recording two years ago, I'm in disbelief that my music sounds like that. I'm very proud of it, to be honest. I'm so glad to hear that you connect with it. It really means a lot. 
JC: Would you say you draw on a lot of other sources for inspiration when it comes to songwriting, producing, or even just your general image as an artist? Or is it just all your ideas or your own image? 
SE: I don't think that there's a way to not be influenced by people and music that I've listened to, and music that I've grown up on, but when I'm making music, I just make music. I don't try to emulate other people — to be honest, I probably do emulate people unconsciously … I make beats and stuff, it's just part of my expression. I don't think that I ever intentionally try to emulate people. Other than Amy Winehouse — that's my biggest influence … She's just such a big inspiration for me, and lyricism of certain people inspires me to want to become a better writer. You know, Frank Ocean says, "Oh, rewrite, rewrite, rewrite," and I kind of live by that — you got to go back. It's like an essay; you have to be intentional. But I think that I always just come from a place of expression, and I'm trying to talk about something. 
JC: Would you list Frank Ocean also as an influence? I know you just cited him. 
SE: Yeah, definitely. I think that his lyricism has really inspired me as well as Amy Winehouse, with her vocals. I don't think I would be able to sing like that, but the emotion in her voice and her lyricism, it's friggin' incredible, I'm like, "What the hell." *laughs* I'm not trying to be anybody but I hope to have an ounce of what she has with beautiful lyricism, imagery, and definitely Frank Ocean just with his lyricism. I love Stevie Wonder, also his lyricism and musical genius. There are so many inspirations but those are a few I can cite. 
JC: They all just seem like incredible people, like I'd want to get coffee with all of them. 
SE: Yeah, yeah. I just love Stevie Wonder whenever he's in interviews. He just rambles on about peace and love, and they always have to cut him off, and I just love that because it's like, "Yeah, don't shut up frickin' Stevie Wonder for talking about peace and love." *laughs*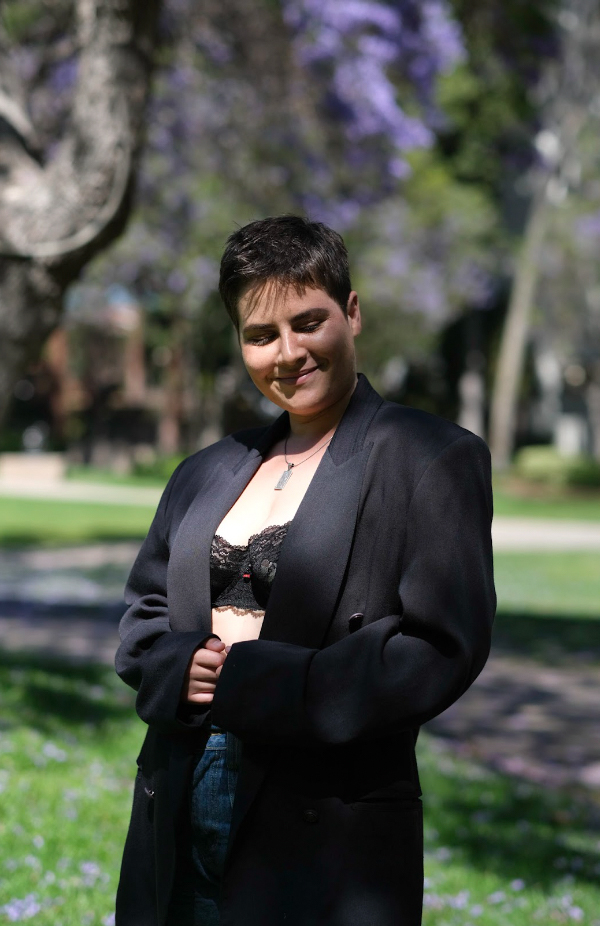 Photo by Sophia Eiss
JC: More of a technical question, just because I was casually stalking your YouTube channel and saw some of your covers and songs, but I did not see any music videos, and I was wondering if there was a plan to maybe make one [for "INNOCENT LOVE"]? 
SE: I'm trying to put together something for "INNOCENT LOVE." I filmed myself making the cover for it in a park and I was just going to make a compilation video of that. I always say that my dream is to just make music as opposed to being famous. I love anonymity. I kind of just want to make music. So I see [my music] as somewhat of a leeway into songwriting and production for others because I think it's so scary to not have anonymity, but I could see myself doing a small time thing. So I don't know how to go about that, but I do want to make visuals for my art for sure.
JC: How do you think your identity as a queer person intersects with your identity as a musician? 
SE: Well, I think that it's just a part of me. I think that it's like your identity. It's just a part of my identity. It's not everything that I am but something that I am proud to stand up for. A little bit after I came out, someone in my family said, "Oh, I'm not thrilled about your choice to be a proud lesbian." And I was like, "One, it's not a choice. Two, I don't think there's any other way to be a queer person." And I'm fortunate enough to be very proud of who I am and the community that I'm a part of, and I think that as an artist and someone that has always turned to music, it's my lens that I look through. My reality is that I need to talk about my experience and the experiences of queer people, and unfortunately, the experience of queer people is sometimes a very oppressed history, and it's also an oppressive present for many people. So I think that it's inspired me to write songs like "INNOCENT LOVE" and talk about my experience and the experiences of our community. People need to know that it's a beautiful thing to be queer and there's a community that is so accepting and loving. I think it's important to know that there's artists speaking out about that, and there's people that are thriving being out, you know? So I think it's just a part of me and I need to speak about it. 
JC: I do applaud you as an artist for speaking out about … like the fact that you wrote a song about queer love and the respect that it deserves. 
SE: I'm already going to hell. I'm Jewish and gay, it doesn't get worse than that. *laughs* 
JC: So what are your next career steps? Do you have any big projects in the works?
SE: Yeah, I'm releasing an EP on Valentine's Day! Hopefully. I need to start really putting together the mixes and masters and everything … I'm taking a compilation of different love songs. Love is, again, subjective. Like there's so many ways to record it … I'm gonna drop an EP and hopefully an album … but I'm pretty much focusing on writing with people and producing for some artists. I'm excited … hopefully eventually some of that music will come out. 
JC: Okay, one more question. If you're stranded on a desert island, and you can only listen to one album, what album would you pick and why? 
SE: I was thinking of Amy Winehouse, but I don't know if I want to be in my feels for that long … I think I would choose "Songs in the Key of Life" by Stevie Wonder, just because it's something I grew up on when I was a kid. It's just such a beautiful album, and I think I could listen to that for the rest of my life, but I would also try to smuggle Beyonce's "RENAISSANCE" album because I did listen to that album multiple times in one day. It's just such a beautifully done album.
JC: Do you have anything else that you'd want to share? 
SE: Like and subscribe — I'm just kidding. *laughs* I just hope people connect with my music and I'm always appreciative of people listening. I'd just say, "Listen to music." That's what I want to tell people. Yeah, have a beautiful day. 
Keep up with the latest from Sophia Eiss on Instagram, Twitter, and TikTok.
---
Credits:
Author: Jennifer Collier (She/They)
Copy Editors: Emma Blakely (They/She/He), Bella (She/They)