Photos by Andrew Max Levy
---
"Basically, long story-short, [my ex-husband] wanted me to be like a housewife-type of person, you know, very traditional and, like, with the kids. And … I just really wanted him to be a woman. TURNS out guys don't like that … 'I don't want my wife to be gay'… GROW UP! EVERYBODY'S WIFE IS GAY!" – Cara Connors, 2022
I went to Cara Connors' "Straight For Pay" comedy show at the Dynasty Typewriter at the Hayworth on Saturday, April 23rd.
Review (**contains minor spoilers**)
Entering into the Dynasty Typewriter, my eyes first noticed the large red curtains at the front and the colorful characters that make up the crowd. Though most looked around their 30s, I quickly noticed people in their earlier 20s as well as those who were past their 60s, to foreshadow the fluidity Connors' comedy had for their audience.
Ellington Wells, millennial comedian, opened up the show documenting her experiences with dating as a Black bisexual woman, Rick the stepdad, — who is the WORST — and her overall life as a millennial.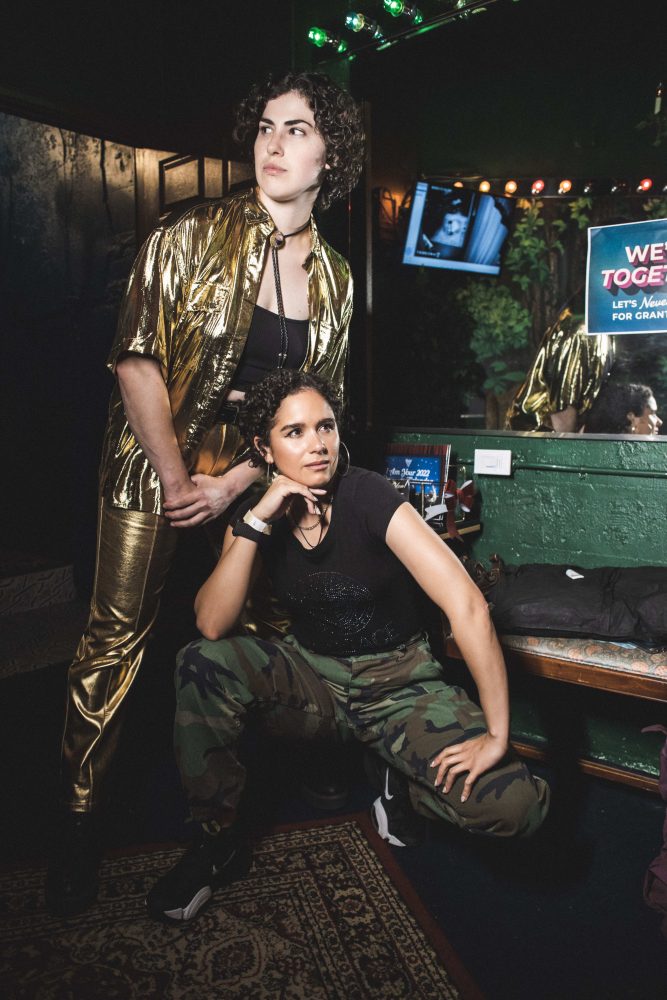 Cara Connors (left) posing with Ellington Wells (right) before "Straight For Pay" at The Dynasty Typewriter. Photo by Andrew Max Levy (@justoffthesix).
Suddenly, the song "Man! I Feel Like a Woman!" blasted from the speakers and excitedly entered Cara Connors.
Cara Connors' — queer, lesbian, and otherwise gay-angel comedian — tasteful and hilarious comedy bits were fruitful in content and queerness. Though they use she/they pronouns, she identifies more so by prince/cowboy and has made a point to dress as such throughout the comedy tour.
From my place in the audience, I saw Connors rocking their gold, faux leather look that included gold pants with green dollar signs on the back pockets, a gold short sleeve polo, and a bolo tie (which tied their prince/cowboy style together), which, during our interview, Connors let me know brings them gender euphoria (so they are a closet staple).
From the moment their show started, Connors established that the night would be filled with parody of gender construction. Connors' initial monologue started with the statement, "Who's horny?! …that's the whole set," and followed with her first request to "get personal" during the night. Oh and did she! Throughout the set, she hit a spectrum of topics, ranging from her experiences with Catholicism to her queer dating life. She sported many wacky accents that went beyond the classic British accent, extending from mumbling screeches, to Adam Sandler-esque voices, and their renowned "creepy old guy" voice. Connors' accents and voice sounded purposeful just as much as they did improvised and in the moment, which left the audience wanting (and getting) more.
Connors' made it clear from the start that they weren't afraid or ashamed to be nervous or anxious on stage. She did this in many ways, the most notable being the "restarting" of their show when Connors' purposely rambled too much or the audience lacked participation. The use of audience interaction and prop comedy made the entire show interactive and immersive, leaving us touched by Connors' material.
In the middle of the set, Connors talked about her ex-husband. They documented their struggle being straight, how queer adult-childhood felt, and how growing up with Gen-Z has allowed them to reclaim their humor and personality as a queer person. Connors let us know that Gen-Z has a lot to say; whether it's opening up about mental health or going braless.
Connors finished the night by discussing their favorite thing about dating: when a lesbian couple is called sisters. After interacting with the audience, Connors closed off the show, saying they had a surprise for us. They exited the stage from where they entered and, simultaneously, a slideshow started, capturing one of Connors' initial bits where she said that her life could fit onto a slideshow. The slideshow pictured Connors and their ex-husband — their wedding photos and their hockey team photos — and 13 years worth of softball and waterpolo pictures with faces anonymized by rainbow smiley faces.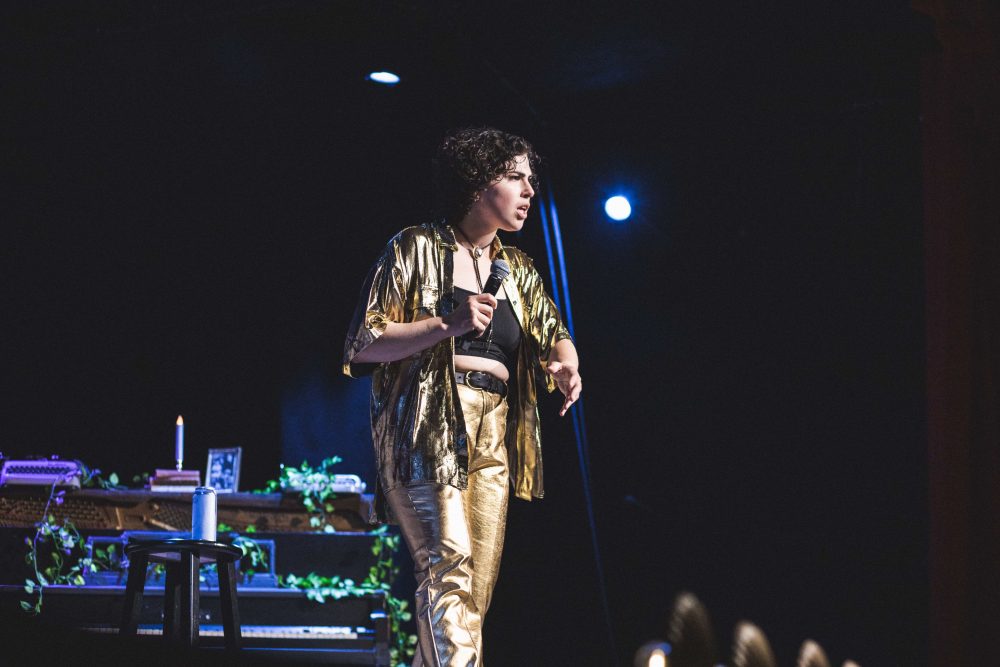 Cara Connors performing her set on stage at The Dynasty Typewriter. Photo by Andrew Max Levy (@justoffthesix).
Interviewing Cara Connors
The following Sunday, I met with Connors themself on Zoom for an interview. We discussed the show, their life, their comedy, our therapists, and overall queerness.
Giulianna Vicente: What's the story behind the title of the tour?
Cara Connors: The "Straight for Pay" title has some sort of a past relationship in terms of, you know, when I didn't really understand or know and had this whole repressed sexuality that I … was living, this sort of different lifestyle and more, maybe traditional path … There were definitely some sort of built in comforts of living as a straight-passing person and … being married to a lawyer and whatever and so it's kind of the trade-offs of that. And then, currently, it's just another … cheeky stab at Hollywood still hiring … straight actors to play queer roles or hiring white people to play, like, Asian roles. It's like "what are you doing?"
I want to take parts from straight actors — that is a goal, to sort of even the scales — it's that I'm absolutely willing to be straight for pay. Also, [the title] is a nod at, like, gay porn and people just … using queer people and … queer people's sexuality to … jerk off to. But then [the same people] also are like, "Oh, you're disgusting." [The title] is all of those kinds of things that would upset somebody who's conservative.
GV: How do you think comedy and queerness creates universal experiences for people?
CC: I think [queer people] are drawn to each other anyway … The larger queer community has … turned this thing of, like, being rejected by so many people and … having people hate them historically for such a long time and have turned to each other in this colorful, beautiful little world. So I think that yeah, I probably have more in common with a 70-year-old lesbian than I might with … a girl I went to high school with, who is going to do the exact same thing that her parents did, and we came from the same neighborhood and went to the same school … There's just human experiences that are going to resonate more.
There was one show in Milwaukee where this mom emailed the venue like, "I have a twelve-year-old, trans teen son and can they come [to the show]," and the venue was like, "It's up to you." I was like, "Yeah, they can come," like, obviously because I can't imagine if I was 12 and my mom was emailing a fucking indie comedy venue being like, "Oh, can my sixth grader—" Are you kidding? That kid's gonna grow up and be phenomenal, amazing, do amazing shit, like, they're being that embraced when they're so young, that's awesome.
GV: So fashion wise, I've seen your promo with the small cowboy hat and some of your other looks. What do you put into your outfits? How do they express you?
CC: Lately, I've definitely been embracing kind of, like, a weird, gay cowboy vibe. I just really feel gender euphoria when I wear a bolo tie and am being called "sir," but I [also] want to look like a little hot boy — I mean, this is not unique to lesbians right, like I want to look like a hot boy band boy, which is basically what King Princess is. But yeah, I have a friend who is a stylist, and she helped me style … the photo shoot for the promo, the posters, and stuff and … introduce[d] me to a couple of places because, embarrassingly enough, like, the joke that Ellington did about … being bisexual just means that you wear baggy clothes and, like, hint at a small waist. I've been at mics where she's done that joke, maintaining eye contact with me the whole time … I mean I definitely love all kinds of the classic places that you would think that I love; obviously I'm, like, a Big Bud Press girl, I love Wild Thing, I love Fashion Brand Company, … I love thrifting weird, like this (she points at cropped Football jersey they are wearing) looks like I'm going to fucking high school game. And there's always some piece that I'm wearing that is, like, from a former lover, either they gifted it to me, or I still have it. That is queer culture.
GV: You touched on anxiety and therapy. How has your story and life experience been affected by anxiety, or other mental illness?
CC: I started just … making room for the anxiety on stage, and naming it. And then I just was like "Well, what would happen if I just leaned fully into it," and just named it, and talked about it and let it in — it's already there … You know if you ever have lost a person and you're grieving and then people don't want to say that person's name around you and upset you? You're like, "Well, you're already thinking about it. It would actually be a relief if someone named it because you're carrying this around," and that's how my anxiety feels a lot of times. Like, it's so present and can weigh on me and be so uncomfortable, and so if I, instead of trying to shove it down, just … name it on stage, then now it's become, "I used to be terrified that I would, like, trip over my words, like stumble over my words, … fuck something up" or like, "I'm gonna do this, and then no one's gonna like it," and now I've … created this world that I can play in where … when I fuck up, or if there's a fuck up at the theater, someone doesn't agree in the audience, it's a gift. It's like, yes, like, anything, 'cause then that's even just funnier … I've already established it, it's already there. So I've just given myself the freedom to … call it out.
GV: Going forward …Where do you wanna go? What do you want to see? What else for you?
CC: What else? The next thing that's gonna come up is I'm going to release this hour-like album. Because I'm not going to be able to go everywhere, and I want to have it as a set thing. So I'm gonna release it as an album tentatively — I wanna release it on July 4th. I'm just trying to make … a lot of gay things happen, in contrast to the hellscape that America has become in many ways. This [Los Angeles] show was gonna be the last show of the tour, and then I just kind of decided in the last month that I was going to expand it because of all the horrifying things that are going on in, like, Florida and Texas, and all this … anti-gay legislation, so that's why I, in reaction to that, planned a June tour in the South. I'm gonna do a pride tour in the South in June, and then I'm going to Europe for a few shows … The goal I have been working towards is [having] a Netflix special — I want to have the hour to reach more people. I also want to be on SNL (Saturday Night Live) and be a sassy, gay cowboy.
Ending Thoughts
Connors' stage presence is loud, but comforting. As Stephanie Bai says in their own review, "[Connor's voice(s)] were the neurotic, coked-up voice in my head that never goes away … the edge of a nervous breakdown I've felt coming on for weeks." As someone with anxiety, I related to much of Connors' material and felt relief in knowing that I wasn't alone in these experiences.
Overall, I loved the show and the performance of it all. Connors has an exuberant energy that makes you want to keep listening while also laughing your ass off. Though we have an age difference, most of her content (sans the divorce) hit home, making the show and her experiences feel timeless. This was my first live comedy show, and I can gladly say that I will definitely attend more. Being in a space where everyone's contagious laughter followed the comedian's punchline certainly helped me relieve some stress from Week Four midterms and work.
I was also pleased with Connors' respect for comedy and performing comedy that pertained to her own identity, unlike much of other popular culture comedy, which tends to be microaggressive, offensive, and talk about others' identities. So, thank you Cara Connors for this introduction to live comedy, specifically queer comedy, and for a really great night.
---
Cara Connors has extended the "Straight for Pay" tour to include more domestic locations in light of anti-queer legislation and will perform in Europe as well. For more about Cara Connors and their future performances, check out their Instagram and Twitter (@caraconnscomedy) and their website at caraconnors.com.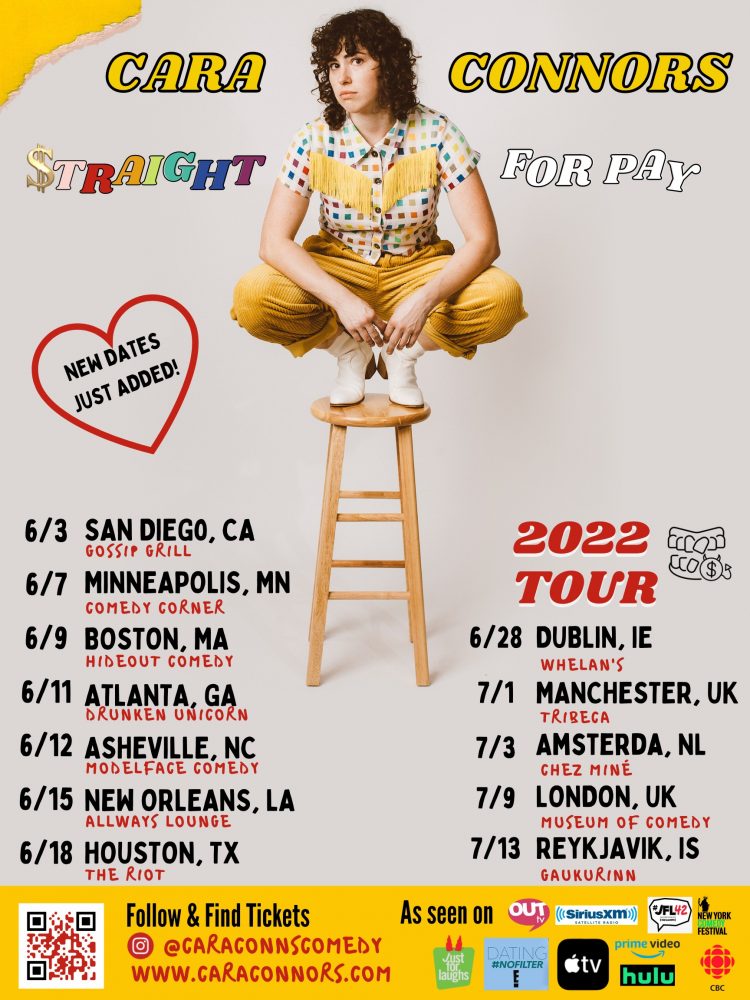 Poster for upcoming "Straight For Pay" extended tour dates. Created by Sela Shiloni (@selashihoni).
---
Credits:
Author: Giulianna Vicente (She/Her)
Copy Editors: Kristin Haegelin (She/Her), Bella (She/They)