Photo by Charis (She/Her)
---
Last year, we interviewed butch lesbian singer-songwriter Rio Romeo about their Valentine's Day release, "Bet." They've released a full EP since then, "Good God!" — a project full of what they called "love songs" in our last conversation (they certainly delivered). Just last week, they released a new single, "Danke Schoen."
Now, a year later, we all meet again, under some of the same conditions as last time. It feels almost like meeting an old friend, and we all catch up for a couple minutes before diving in. This time, Romeo is promoting their new EP, released Valentine's Day of this year, "Valentine." We talked about Romeo's continuation of their artistic journey, including signing with a label, their recent photoshoot, and their thoughts on the accessibility of sheet music.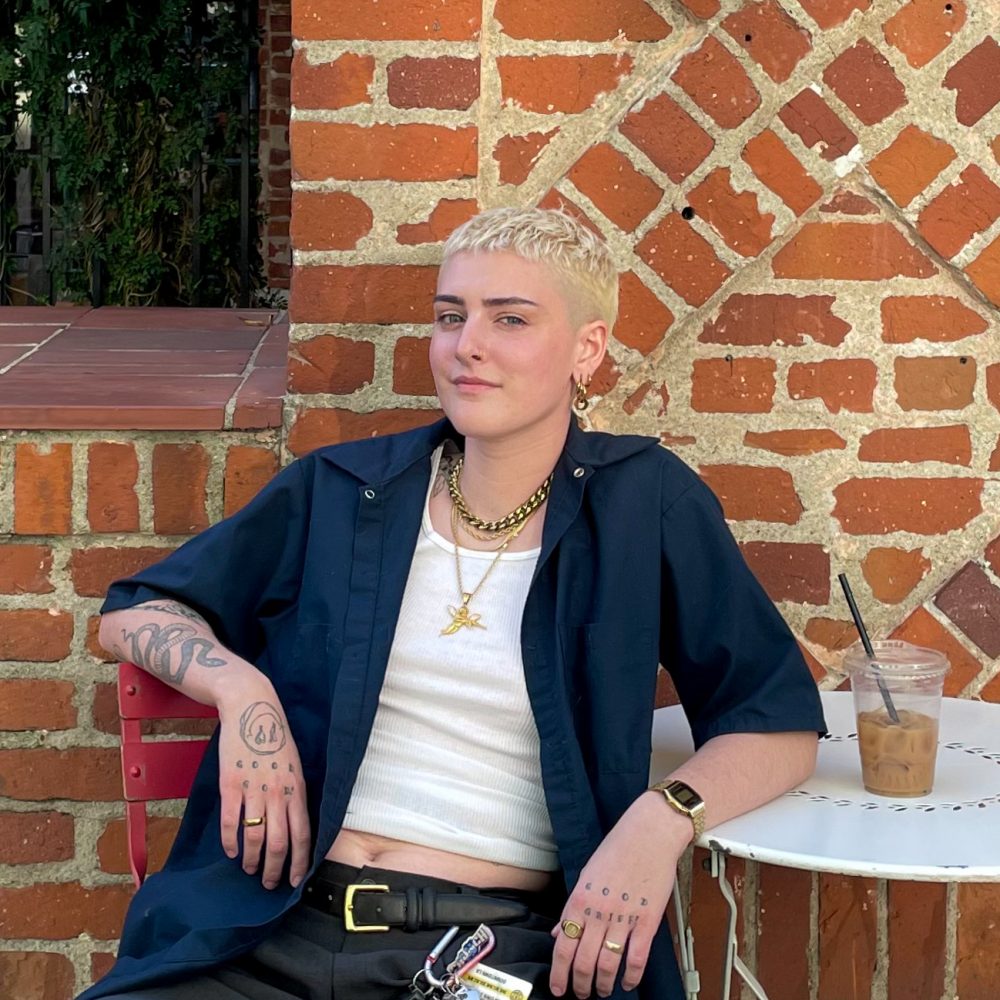 Charis Shargel: Your new sound is so different from past releases. What inspired that? Was there any last minute-ness?
Rio Romeo: No, definitely wasn't last minute-ness. It was very intentional — I really wanted to make this project a lot more professional and a lot more polished than the last stuff that I've done. And these are all songs that I like, I personally listen to all the fucking time and really love the songs. Me and my girlfriend have been talking about it for three years like, "Haha, you should cover this," and I've been like, "No, that's way too hard, I can't do that." And then I did. So that's a huge thing in my personal growth is that we've been like, "You should do this," and I'm like, "There's no way I could pull this off…" and I'm very happy with the way that turned out. So it's pretty huge.
This is a "me doing shit out of time on my out of tune piano." Since I didn't have to worry about writing the songs, I could really focus on finding really cool instrumentalists and how to sing good. This was the first project that I've ever recorded my vocals separately from the piano, which takes out a whole different part of my brain, and it makes it so much easier.
Charis: Oh I bet, because you can focus on the more technical or artistic aspect of the instruments and your style of singing.
Rio: Yeah, you get to be a lot more picky. Since I recorded the vocal separately on this, I could comp it, which is basically like: "I like the first half of this verse and the second half of this verse, and they're from different takes."
Emma Blakely: You don't have to do it in one take. 
Rio: Right, and that's the way that I've been doing all of my music so far, just because I'm an inexperienced musician. I could construct something really intentionally rather than like, "Well, this is the best take I've got, and I've been trying for six months."
Emma: Do you get more editing control?
Rio: Yeah, and you can just get a lot more precision with everything. For example, I could never release an instrumental to "Butch 4 Butch" because my vocals bleed into every single mic that's present. But I have the capability for, like, if a movie wants to use a "Danke Schoen" instrumental and not my voice, then I can sell that to them and let them use it. Or I can swap out; there was this big band, and they were recording everything, and I wasn't really happy with how their drummer was, and so I got to switch it out for my drummer. So you just get to pick and choose what goes into it in the way that everybody else does it. Like, this is just the way that it's done, and [before] I was like, "Wow, why is everything so hard?" And now I'm learning how to do things the easy way, and it's so awesome.
Charis: Do you feel like working with a producer or label has helped you get that more professional technique?
Rio: I've worked with producers on every project because the producers will kind of help you construct the sound, and then also they're in charge of mixing and mastering, which is like the final levels of making sure the drums aren't too loud for the vocals. That's just engineering stuff that I'm not really capable of.
I think that having a label is really awesome because it allows me to focus on the art side of things and the music side of things rather than [having] to email press and be like, "Hey, who wants to do an interview with me?" It just takes a lot of the work out of it for me, so I can focus on making good music.
Charis: The business side.
Emma: And those people have expertise in those fields.
Charis: Have you felt the constraints of a label yet?
Rio: Not at all, no. It took me a really long time to find a label that wasn't gonna absolutely fuck me over. I got approached by a lot of different labels that were like, "Hey, we'll give you five grand. And also, we want all of the rights to your music for all time. And also, you're gonna give us 50% until our great, great, great, great, great grandkids die." And so this is a much more friendly deal; it's way more short term, and then also, I don't really have any restrictions. I don't really have to approve anything. They're kind of like, "Whatever you're doing is working."
It's extremely fair. I feel like everybody's winning right now. Because they have me on their label and I get to do whatever the fuck I want and get paid for it, and so it's super awesome. But that definitely isn't the case for everybody. And I feel very lucky to have stumbled upon that.
Rio: I'm super excited to release ["Valentine"], because it's just a level up from my other stuff. But I also feel like since these are genuinely a group of my favorite songs ever, that they're very true to me and what I like and the music genre-ish that I do, you know?
Charis: How do you anticipate the response, given that it's covers instead of your original music or original lyrics?
Rio: I think that a lot of people won't even know the difference. I think that people will be able to identify like, "Oh, this is different than what you normally do."
Charis: I wanted to talk about your new visuals that you've been releasing — how was that? What inspired that, like, how does that connect? Is it just for fun?
Rio: "Danke Schoen" was made originally as a German song — written in German, and then an American guy wrote it in English and then gave it to Wayne Newton to sing in a hit. [Newton] was a really, really young, very famous young performer, and I love his vibe as a dashing young man in his nice little performers uniform. And in all of his live shows, he's wearing his fancy clothes and is so cute. And we're both really tall and kind of awkward. And I was like, "I could do that."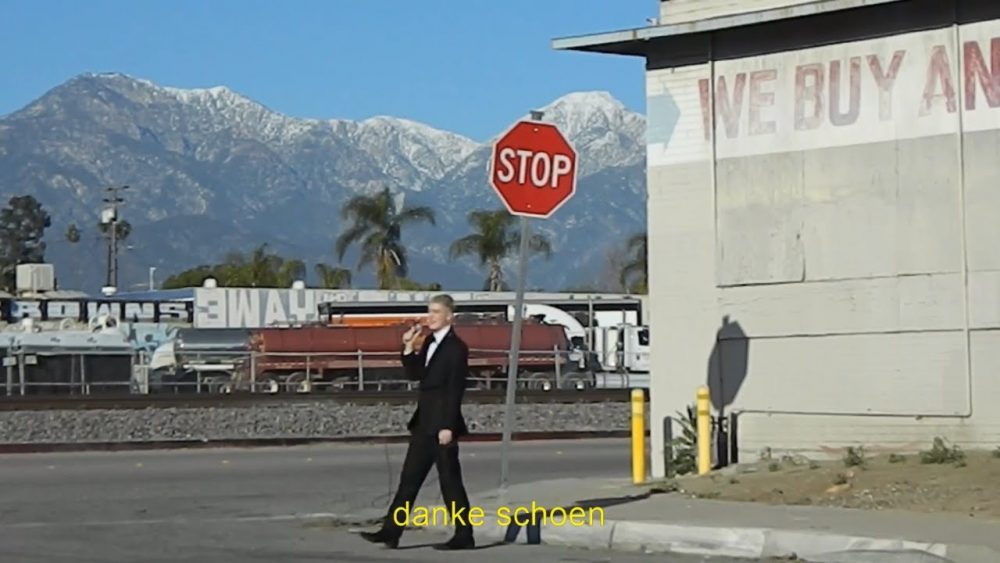 Charis: So you're channeling him.
Rio: Right, channeling the Wayne Newton vibes. We thought it would be funny if I went out into my [hometown, Pomona], and so we're like, "Let's go to all the shitty spots and just go walk around." And it was really — it was just silly, and it was fun. The song has a level of grandioseness and elegance that I think would be fun to emphasize. It's kind of like emphasizing how out of place I am making and covering this song that is so huge and such a big production. When I have, you know, me being who I am with all my little quirks and charms.
Charis: And then you had that risque photoshoot. How was that experience? Have you been photographed nude before?
Rio: I actually have! I have photographed semi-nude before for a Junior High Magazine thing. I had nipple covers and one of those nude thong things that stick in the back. I looked insane, I was just like a Barbie doll — flat — it was crazy.
[For our shoot,] I had my photographer up on a ladder, and the whole photoshoot was kind of insane because I'm very strictly copying a reference picture for that image, and that was something that I've used on "Do you listen to girl in red?" It's the same picture, and instead of some random hot lady from the 70s on Hustler Magazine, it's me. And so we're like, "Oh, let's do this," and so we booked a studio. And then we're like, "Oh, like where can we buy a pillow?" And you can't buy pillows that look like that, the heart pillow, because that was a real pillow. And so we're like, "How are you going to do this?" and my girlfriend was like, "I'm going to sew it," and she'd never sewn anything before. And so we ordered a bunch of fabric, and then I accidentally ordered the wrong size. So it was too small so she had to sew it, so it was two pieces joined together, and she successfully did it in one night before the photo shoot after never sewing before.
Charis: It's impressive.
Emma: You guys are, like, creative geniuses in that apartment.
Rio: Yeah, and so my girlfriend, T, was there, and she was like, directing everything and telling me, "Put your leg a little bit more up."
Charis: "Be sexy."
Rio: It was really fun to have an objective, to meet with copying this photo to a tee. We also copied another photo from a Hustler magazine; that was the "Danke Schoen" cover, so that was also a direct reference picture of a Hustler Magazine being like, "Do you wipe your ass with other publications?"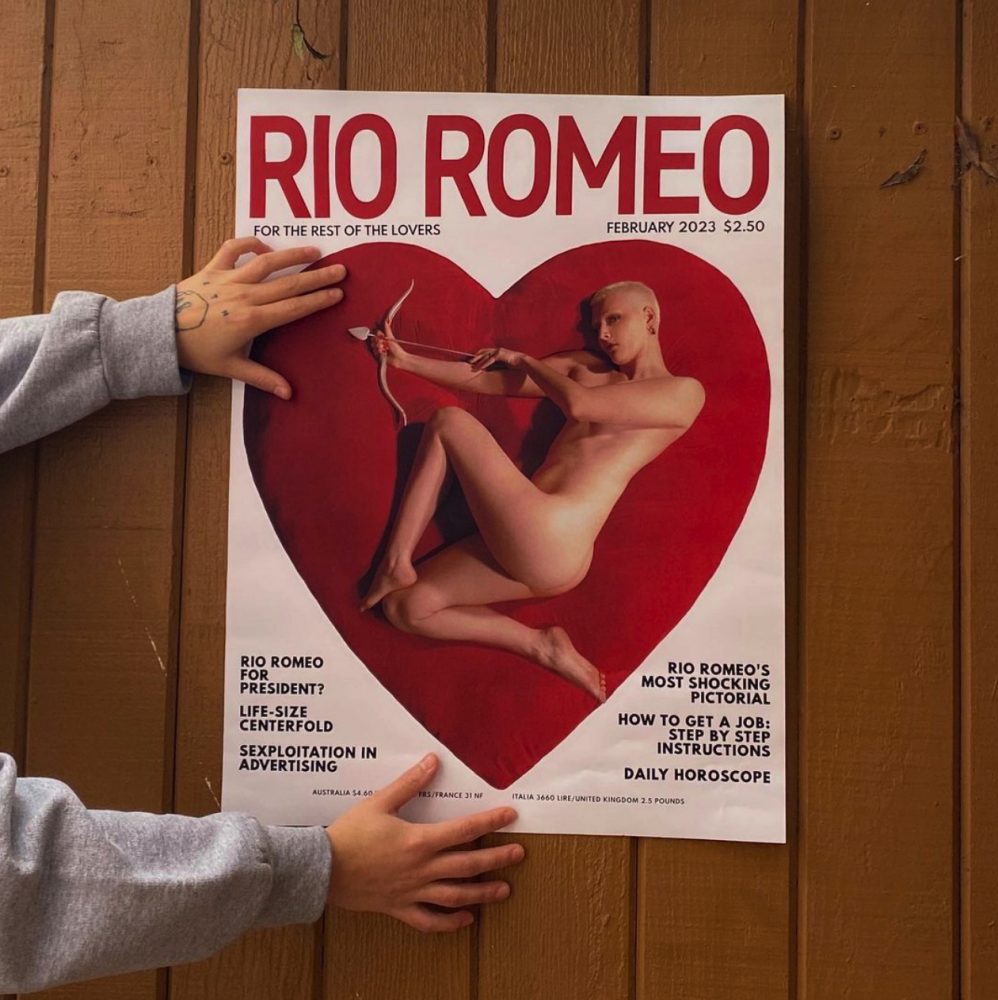 Charis: It seems like your girlfriend is a big supporter.
Rio: All props to her. She really pulled it together. She produced this album after never producing anything before, and creative-directed all the visuals. She really took over and gave me all of these opportunities to shine in what I can do.
Charis: So does she do this with every project, or is it just this project she stepped into?
Rio: She's been very helpful for a lot of projects but not every project. Like, "Good God!" was pretty separate from her although she is the reason I even have proper mics to record with or anything because we're very much form and function. I'm like, "I want to record a song." But I don't know how. And she's like, "Okay, let me research all the mics, buy them, and then you can do it." And, like, for "Butch 4 Butch" she helped me move my piano upstairs. And she's the one that bought all the mics and got everything going and found a producer for me to work with, and she did the percussion on it. So she steps in, but she's kind of on grind mode, like, "Fuck, this isn't going well," and I need help. And she's like, "I got it."
Charis: I love when you have a partner who will support you and be there behind the scenes. Has that caused any tension, mixing work and play?
Rio: Yeah, for sure. But also I grew up watching my parents work together. So watching couples fight over work and then being like, "Okay, I'm not your coworker right now. Like, shut up."
Charis: How do you manage that?
Rio: We were working at such a level of intensity that it was like, she was on Project Manager mode of, "You need to do this, and I don't care if you want to do it. You just have to do this." It definitely is difficult, but she is very, very supportive. And it's not like she's making me do anything — all of this is for my own good. And she supports me in ways like, "Okay, you need to go sit in the closet for six hours, but I'll bring you food and water."
Charis: Tough love.
Rio: Definitely. But it's also like, I know that it always ends up working out when she has a hand in it, and genuinely, all of the projects end up really fantastic when she works on it with me. And so it's kind of one of those things where I "Yes, honey" my way through it.
Emma: We were wondering if there was any sort of narrative or rationale behind releasing a song every year on Valentine's Day? Last year when we interviewed you, you said that "Butch 4 Butch" and "Bet" were kind of connected in a storyline. Is it just Valentine's Day because that's the tradition or is there a meaning behind it?
Rio: I think that this project specifically is not so much about me. Because "Butch 4 Butch" and "Bet" are like, "This is my love story," and I'm talking about the way that I love my girlfriend. And I think that this one was really like, "I want to do something special for my fans and be able to give people fun Valentine's music." I feel like it's really for other people more than it is for myself, and that's pretty different. This was very much like, "I want to do something special for all the people that have supported me and make a cool Valentine's Day for all the little gay people in my phone."
Emma: And so that kind of comes from a different place creatively in terms of your motivations?
Rio: Definitely. My motivation is less like, "I have a story that I need to tell urgently." And more like, "Hey, I made some songs, and I hope you like them. I think they're really cool, and I put a lot of work into them."
Charis: Do you anticipate any new things in the future? Like, new changes in the types of work you're going to be doing?
Rio: This EP is like a precursor to my full length album that I'm gonna be putting out next. So I'm doing the actual full length album. And I think that through this project — because I had to so closely pay attention to the details of all of these songs that I'm a huge fan of and really break down why I like it and why it's fantastic — I think that [this EP] really helped me grow at a very fast and intense level of learning how to do shit that I think is cool and how to level up the quality of my work. So I think that with the full length album that I'm releasing, I think that because of what I learned through copying all of these fucking amazing songs, I think that it'll produce a higher level of quality and my work. Like, I learned how to fucking comp, that's huge!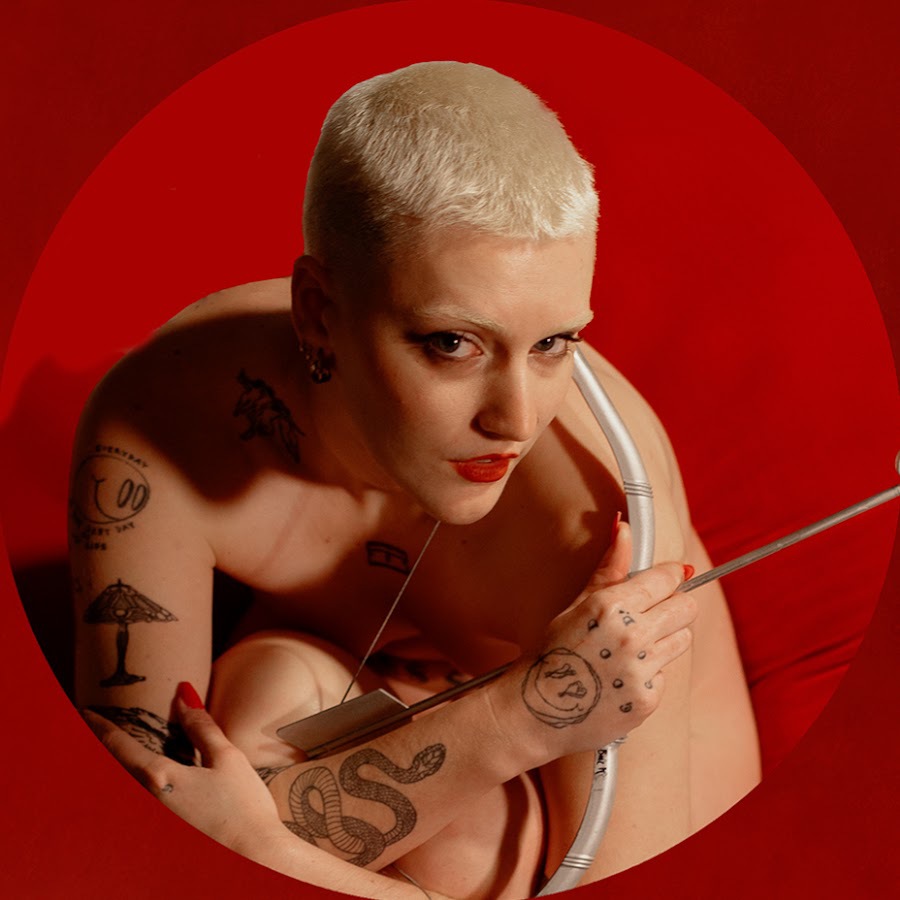 Charis: I feel like even with painting, you're supposed to copy the masters, you know, and then that teaches you the technique and the skills that you can then apply creatively.
Rio: Yeah, definitely. Yeah. And even something as simple as: we have a violin — we have a bunch of strings on two different tracks on "Danke Schoen" and "Something's Gotta Give." And the difference between a virtual string ensemble, and a real one is like night and day. It really adds something so special to it. And even if it's just — like, for one of the songs, it was like, five seconds of real strings that you needed. And it's not very hard and not very expensive. But it makes such a different level of quality. And it's such a different experience as a listener, I think, so I think it's just little subtleties like that, where it's like, "This is why I want to keep listening to this part."
Charis: Yeah, I didn't realize that it makes such a big difference. The virtual versus real.
Rio: I really think it does. I think that because I listen to majority old music. I feel like I don't listen to much that was made after like, the late 70s.
Charis: That's very old music.
Rio: It's very old music, but it's like most of the stuff that I listen to, I would say. And like, I think that this project has really helped me define why I like it. And I think it's that level of human touch on all these instruments. Because you couldn't you couldn't fucking, like, pull up at MIDI track and do it. So I think that's why. And I think that I would have never been able to define that unless I had to literally copy all of the songs.
Charis: You also have talked about music sheets accessibility, and you've been posting your sheets. Why is that such a passion for you? Did you have access to sheet music growing up?
Rio: No. Well, I still don't read sheet music very well.
I was taking lessons. I quit, and I still don't know how to read sheet music very well. The thing is, people are gonna put your shit on the Internet for free regardless. So why be an asshole and why charge people money? It's just one of those things [where] everybody wins. You learn my song and get it for free.
Charis: You get more streams, probably.
Rio: I get more streams because people listen to it over and over. Then people don't have to pirate my shit online and everyone feels good. I feel good because I'm like, "Wow, a lot of people are buying this," or a lot of people are just getting this for free. I would say like, 95% of people just, you know, get it for free. That's totally fine.
Charis: Where can people access the sheets?
Rio: I have a sheet music section on my website. It just makes sense to me. I don't understand why other artists don't do that. Sometimes I'll go in on Guitar Tabs if somebody put my stuff in wrong and correct it.
Charis: So, you're non-binary. How do you feel like you tap into your masculine and feminine sides in your music creation or in your vision execution?
Rio: On a day-to-day basis, I am, like, butched the fuck up. I don't really leave my house looking particularly feminine, like, ever.
Charis: That's why [the "Good God!" visual] was such a reveal.
Emma: It was so fun to see.
Rio: I think that specifically in art, like my cover art, for example, I'm fully nude in the one in Valentine's Day, and I'm literally dressed head to toe as a fucking super femme chick in the "Good God!" one.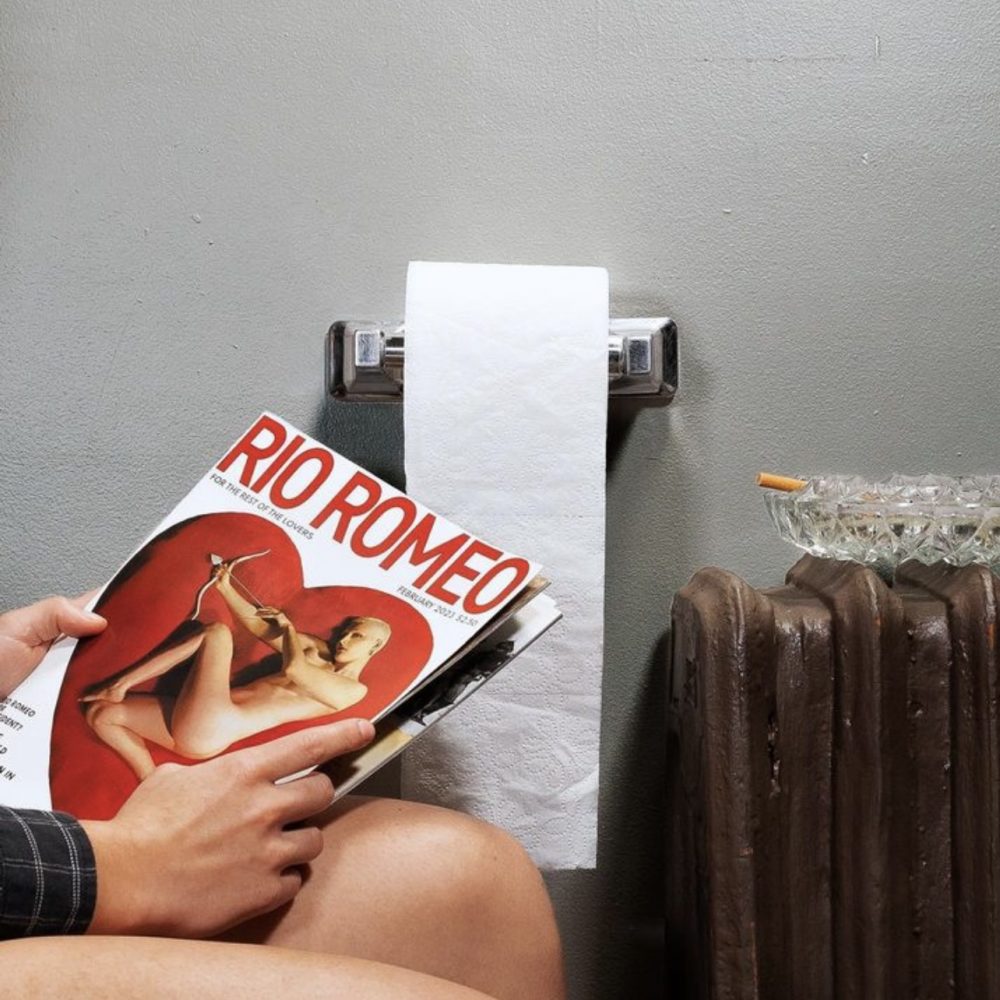 Charis: Do you feel like it's drag, almost?
Rio: I don't want to say it's necessarily drag because I lived up until I was 18 years old presenting really, really feminine. So it still is like, "Oh, I look like myself when I was 17." If anything, I can dress up and, like, be sexy, and then people pay attention. It's unfortunate, but it's fun to be able to poke at that, you know? Like in the posters that I'm releasing for Valentine's Day, it's like a magazine cover, which is the same magazine cover that was on "Danke Schoen." And there's all these little quips. T wrote most of them, but one of them is like, "sexploitation and advertising," and I'm naked right next to it. That's the world we live in.
I don't know. It's more of a fun thing for me to do. It's like dress-up. But it doesn't hurt that it sells, you know? I don't know if that's, like, bad of me to say.
Emma: A lot of the time I feel like dressing feminine is kind of like a fun little costume that I put on. And then people pay attention to me more because I'm wearing makeup. It's kind of like that.
Rio: Yeah, but on a day-to-day basis, I really don't look like that. I also think that to a certain end it's kind of empowering to be able to pick and choose when I want to look feminine. Because growing up, I grew up in a very conservative household where I was not allowed to cut, color, anything to my hair. My hair was down [to my lower ribcage] my entire life up until I fucking shaved it off. And so wearing makeup every single day was a big thing in my family. You're supposed to wear makeup every single day, you're supposed to wear the right clothes and look just hyper feminine all the time. So being able to choose and do it on my terms, I feel like it is kind of empowering.
Charis: Reclaiming.
Rio: Yeah, reclaiming it in a way and it's for my art too, which is so fun.
Charis: Have you always been so in touch with the masculine/feminine? Or is it something more recent now that you've shaved your head, dyed your hair?
Rio: I've been living my life presenting very butch since I was 18, but I really didn't know how to do it. You have to do it step by step and be like, "Oh, why don't we shirts fit me right?" And like, "What kind of pants do boys wear?"
Emma: There's so much research that goes into it, I swear.
Rio: I know. I feel like I got it down at 24, finally. And I think that I would have been a little bit too insecure to have to [dress butch]. Especially because I would go back into that more feminine side of things whenever I would see my family. So my mom would come into town, I would have to put on a full face of makeup and, you know, put on my little short shorts and my little girl shirt or whatever. I don't think that I would have opted to do something like that.
Even in 2018 — I was 19 then — I released my "Obnoxious Liberal," album. Nobody fucking knew about it because I didn't have an internet presence at all. I've made kind of the same thing [as the EP], where I have this little [cartoon] drawing of me, but I'm completely naked except for really big boots and have flowers sticking on my butt crack laying on the ground. It's really funny. So that kind of like, "Oh, I'm gonna be cheeky because it's funny and it's cool and it's and it's artistic."
It's really the same vibe as what I'm doing right now, of like, "Oh look, I'm naked!"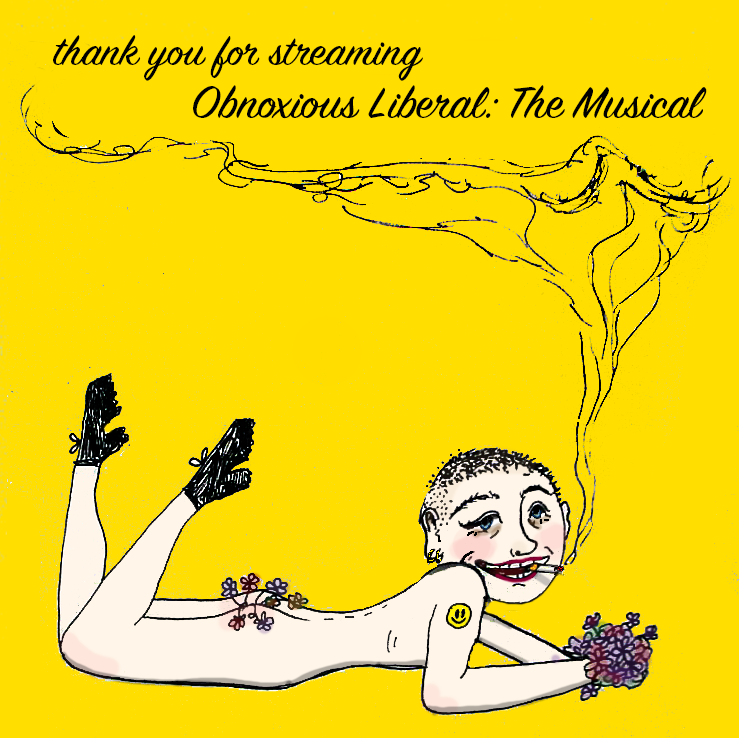 You can stream Rio Romeo's music on Spotify, YouTube, or Apple Music and follow them on TikTok and Instagram (@riodoeseverything) and Twitter (@romeovomit). They have lots of resources on their website, including sheet music for their songs, new merch, and past articles they have been featured in. You can also support them on Patreon, where they post journal entries, works in progress, and unreleased music.
---
Credits:
Author: Emma Blakely (They/She/He)
Artist: Charis (She/Her)
Copy Editors: Charis (She/Her), Bella (She/They)