Photo by Shuwen Cao
---
Co-written by Brenna Connell (She/They) & Mia Riedel (She/Her)
"Why am I so f*cking AWKWARD?"
"Alan, it's not that bad," you want to say to the dorky guy kicking a blow-up clown. "Pretty much everybody has a 'Magic Tree House' phase."
Of course, you can't say this because in this version of the world, you would have almost certainly perished in whatever cataclysm left Alan Alderman the last man alive. He now lives in his mother's basement, explaining his circumstances to a tape recorder for posterity. Only in the apocalypse would there be an upside to being an adult living in your mom's basement, which surprisingly has plenty of things to help him survive: jam, bread, soup, Fig Newtons, a radio, a recorder, and some smelly candles. Oh, and Alan's beloved book series, "The Magic Tree House." 
This is where "The Transient Bliss of Death by Fallout," written by playwright Blaire Battle (they/she), begins: in a basement, in the dark, at the end of the world. Alan's recordings don't give much insight into what in the world is going on, but they do give a step-by-step analysis of him losing his mind. The descent starts small, but then, there are voices talking to him from within the walls and now he's dancing with a toy clown named Bozo and now he's… on the floor beating up Bozo? No, no, this isn't real. He must be in hell, and hell "smells like Aunt Linda's candles!"
But — spoiler alert — our protagonist Alan Alderman (played by Luca John Filiz (he/him)) isn't alone. Soon enough, he catches a radio broadcast from the mysterious Love Zombie (played by Nicholas Roberts-Mataric (they/them)), who gives him faith that there might be other people still alive. The radio show host is also possibly Alan's father, so now we have an objective: find Love Zombie/Dad(?).
Not long after, he meets the badass, resilient trans woman Eva (played by Maize Voss (she/her)), who almost knifes Alan upon their first meeting. In the face of the end of the world, Eva refuses to back down and discovers herself in the ruins of society. Where almost everything else has crumbled and died, Eva blossomed and became everything she wanted to be before the fallout. She's fearless as she jokes around and catches Alan up on apocalyptic news. Eva has made herself home in the bleakness of what's left of the world.
Alan notices this. He also thinks she isn't real and maybe the basement really did drive him insane, but Eva says something along the lines of "No, stupid, you're not insane. Now get in my truck, we're going to the pharmacy."
Eva becomes Alan's rock in his world of delirium.
So there's a quick breaking and entering at a pharmacy; it's locked, and Alan thinks, "Welp, that's it, no pharmacy," just as Eva throws a brick through the window. Still clinging onto ways of the past, the politeness of the pre-apocalyptic world, Alan whispers into his recorder, "I'm a criminal now." Eva tells him to get over himself and help her raid the place.
Then there's a trip to a house that managed to escape the complete devastation of pretty much everywhere else (a.k.a. it's less destroyed than other houses). Over the course of their journey, Alan and Eva tentatively begin to share their pasts. Alan explains he was in his mom's basement, finally cleaning it out after she had died of cancer two years prior. Eva mentions her evangelical family and their doomsday-prepping tendencies, bitterly saying, "Normal is a trap, and I'm not falling for it." Both of them were clearly traumatized even before the world ended.
But there's a moment in the not-quite-bombed-out house — a moment where Alan and Eva play pretend as the "Mr. and Mrs. Smith" who lived in the house pre-apocalypse, a "Honey, I'm home!" parody. Eva helps Alan take off an imaginary tie, as if he was a businessman. And it's just a joke, of course. Who are they to even consider something as "normal" as having a life together when the world has ended? Hence, Alan goes into awkward mode when Eva kisses him, until Eva, amused, says, "I wasn't kissing you as Mrs. Smith."
Truly, it would have been delightful if everything ended here. A happy ending for all! Yet the realities of the apocalypse can only be avoided for so long. After all, is a play titled "The Transient Bliss of Death by Fallout" not going to have death by fallout? 
The fallout is on multiple fronts — the fallout of tensions in Alan and Eva's relationship; the fallout after they meet the Love Zombie, who turns out to be a fraud; and the fallout of, well, nuclear fallout. It's not clear how exactly the world ended, but there's enough radiation to poison both of the protagonists.
It's a painful yet beautiful play, and you find yourself wanting it to end but also keep going at the same time; you don't want to watch Alan and Eva fall apart, but you so desperately want them to find peace. The viewer has a moment where they can glimpse a heart-wrenching vision of what could be:
Alan: "What's more beautiful than dying in your lover's arms?"
Eva: "Living in them."
In their near-death states, they pretend to climb Mount Everest together, ride bikes together, and start a family together. Alan tells her it took the end of the world for him to find a girl to fall in love with. Eva replies it took the end of the world for her to even be a girl. Alan tells her she would've made a good mom.
They hold each other and watch the sunset. No rescue, no Love Zombie being Alan's father, none of that.
They die that way, holding each other, and daisies grow over them. Sometime in the future, Alan's recorder is found.
For history. For prosperity. For Eva.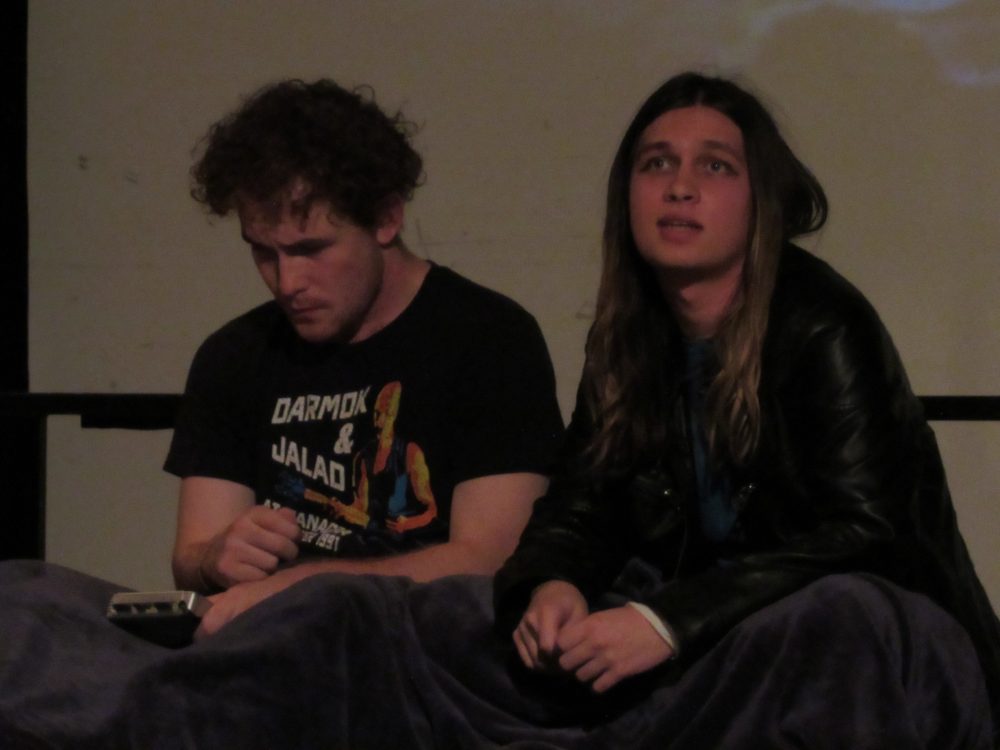 This was an incredibly moving play to see in person. The very format of the performance lent itself to intimacy — only a few dozen viewers, placed on opposing sides of a room with the center strip serving as a stage.
The most frustrating attribute of "The Transient Bliss of Death by Fallout" was also its most engaging. For playwright Blaire Battle, closure is something the viewer is not entitled to; you have to feel as Eva and Alan do, you have to fill in the gaps as you see fit, and you don't get clued in on any other details of the play. We know as much as the characters do, and that's terrifying. The love we feel, the tension in Eva and Alan's fight, the uncertainty about what seems to be the end of the world, it's unspoken, but God, is it heavy.
Another aspect that deserves recognition is the portrayal of Eva as a trans woman. She's fleshed out as her own character, first of all. But she's also allowed to have happiness and love — love with a man who only sees her as a woman and never questions her womanhood. Alan unconditionally and unquestionably embraces this one aspect of her life that others have always turned into a thorn in her side. He sees a rose where all others have only seen thorns. With the entire world around them falling apart, Eva finally has someone with whom she can be at peace. Having Eva's transness be normalized in the present, including her taking estrogen, even though she acknowledges the pain she's had to fight through regarding her family, is a beautiful, wonderful, relieving thing to see. At the end of the world, even after fallout, there is acceptance. There is love.
---
Credits:
Authors: Brenna Connell (She/They), Mia Riedel (She/Her)
Copy Editors: Maya Parra (She/Her), Bella (She/They)